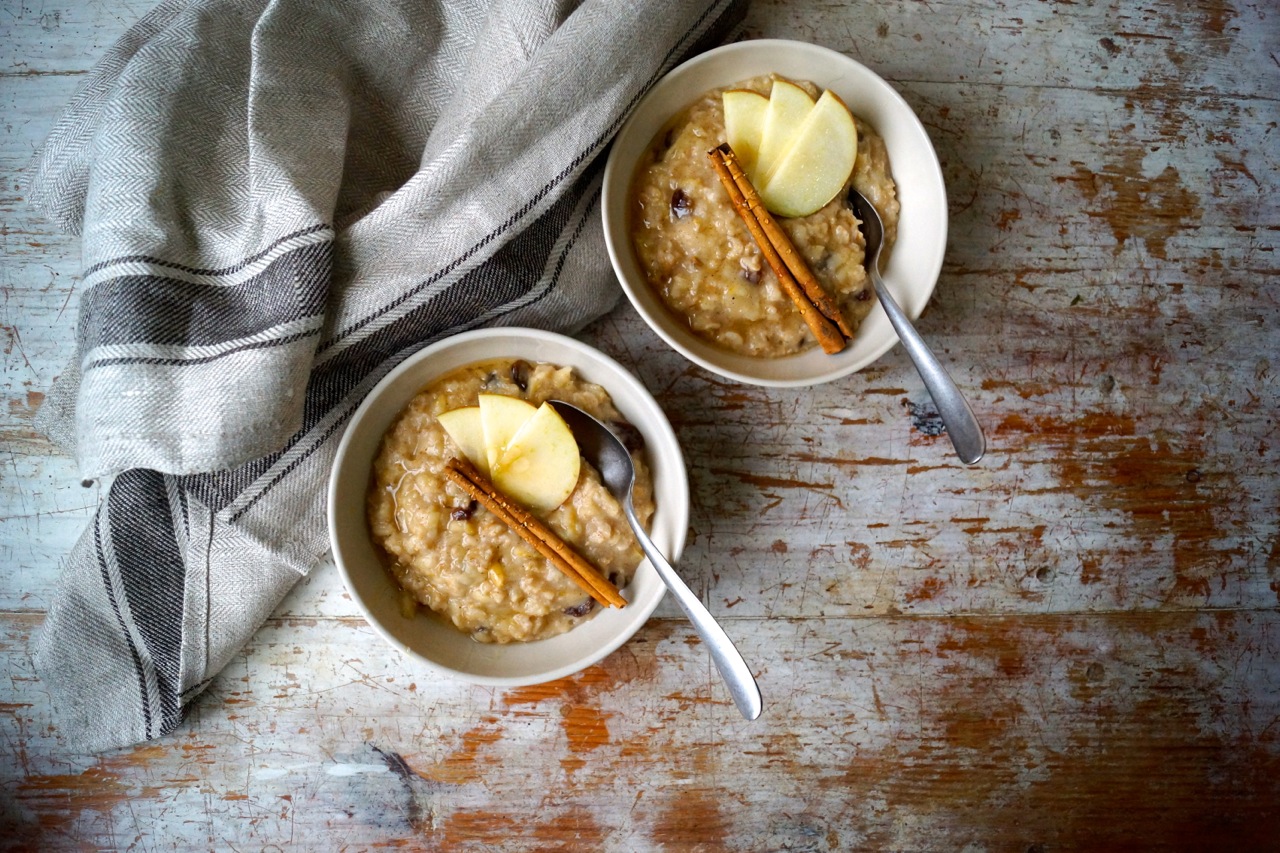 ---
When I was a kid, I didn't really like breakfast. It was always too early for me to get up. And I never felt I was able to actually enjoy what I was eating. This has changed a lot in the last decade or so. Breakfasting has become kind of a ritual to me now and I don't only see it as "something you just have to do" to get your body going but I really enjoy the chatting around our big breakfast table. The sipping of hot tea and coffee and to dig my spoon into something warm and comforting – like this Applestrudle Porridge.
In general, I enjoy warm breakfasts more than cold ones. And I have a tendency to ignore everything savory and to go straight for the "sweet" stuff. In Austria, people usually eat quite a hearty breakfast. Bread and rolls in all shapes and forms topped with ham, cheese, different spreads, etc. And while I enjoy these things too. I prefer to eat them at a longer breakfast or at a brunch. On regular days, I usually go for something quick, easy and sweet. So I guess I'm more on the portuguese side when it comes to breakfast.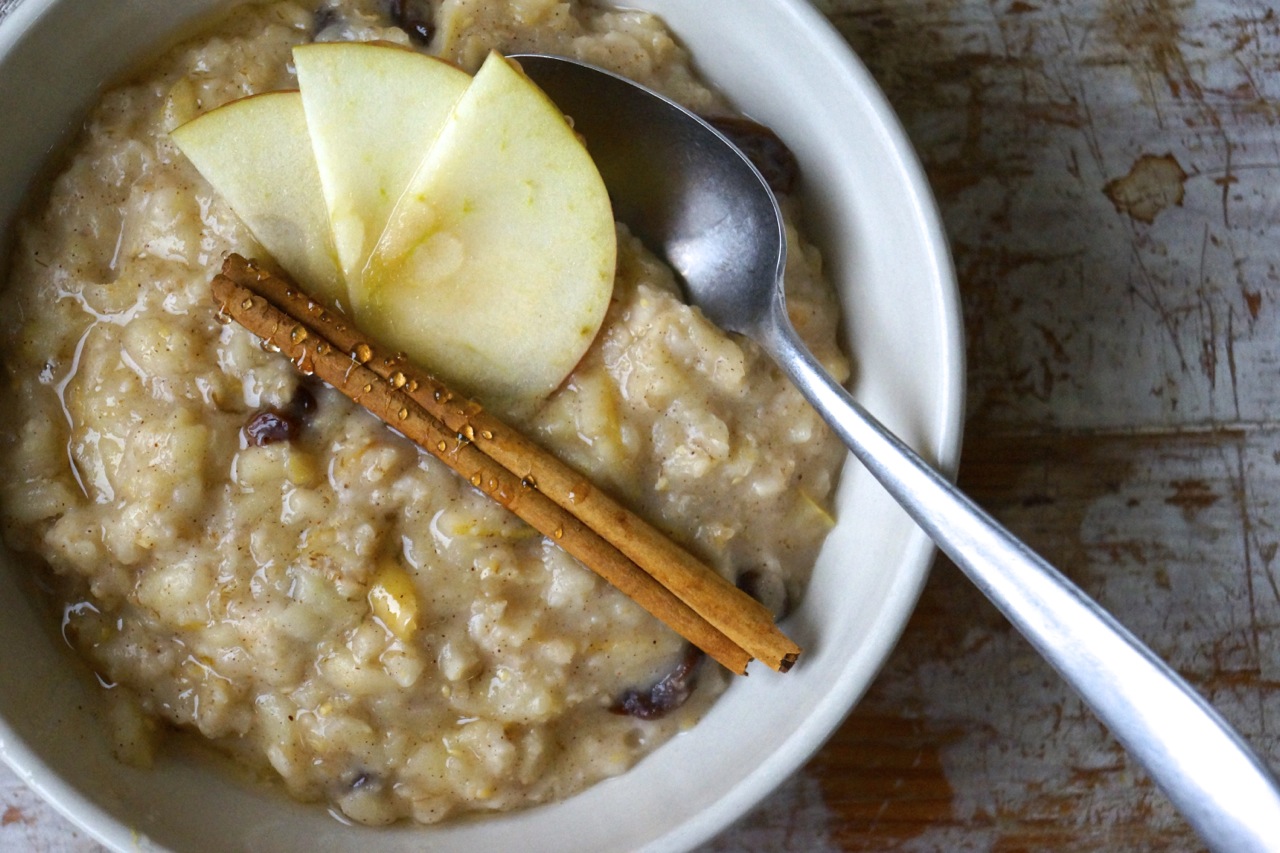 ---
In the case of this Applestrudle Porridge one could almost say I created a portuguese and austrian fusion dish 😉 The portuguese sweet tooth paired with the Austrian classic. There are hundreds of recipes for applestrudle but the taste is always dominated by warm spices and apples. So this porridge is infused with cinnamon and nutmeg. Naturally-sweetened through the help of some raisins and topped off with some crunchy walnuts.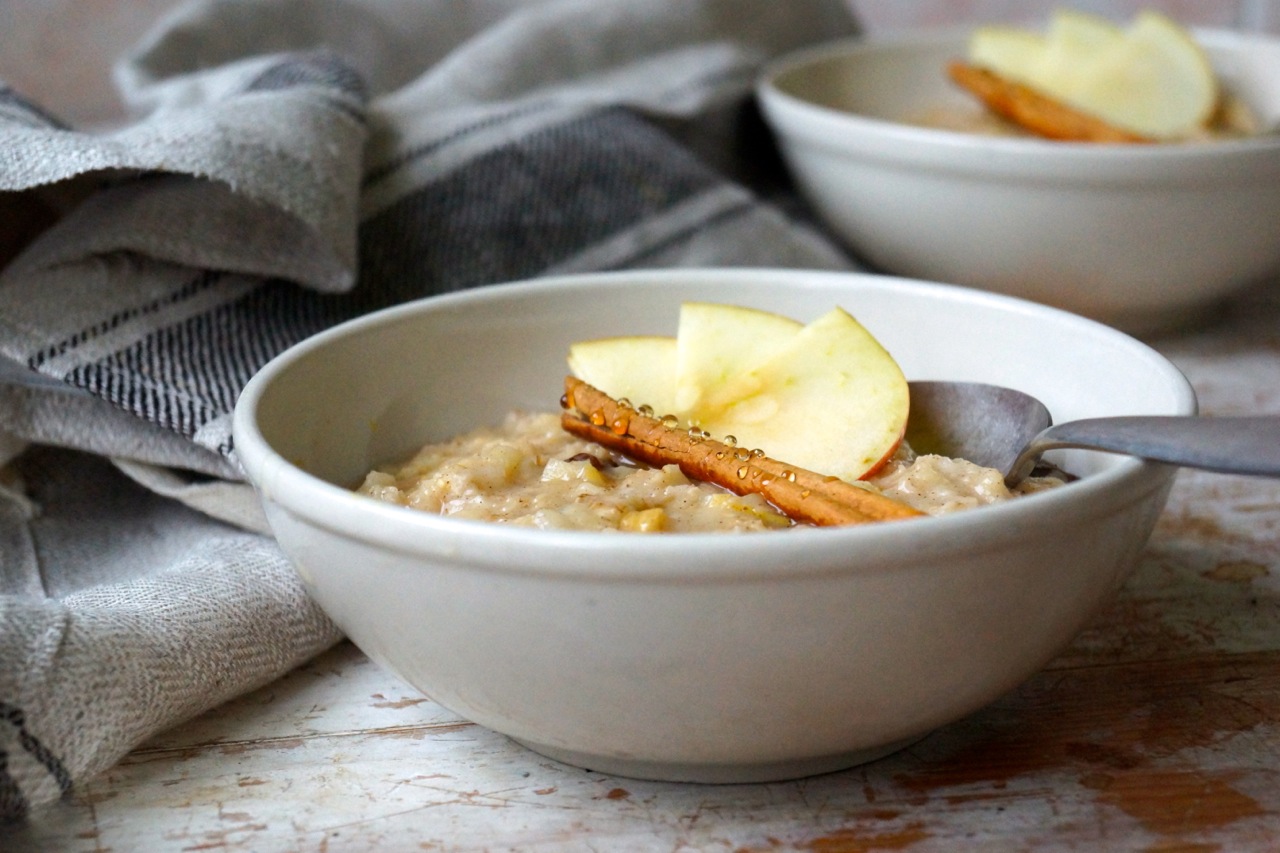 ---
Quick & Easy Applestrudle Porridge
Author:
Prep time:
Cook time:
Total time:
A warm and comforting porridge spiced up with some cinnamon and nutmeg. Naturally sweetened with the help of some raisins and topped with crunchy walnuts. Vegan, gluten-free, sugar-free and still perfectly delicious!
Ingredients
1 cup rolled oats
1/4 cup raisins
1/2 tsp cinnamon
pinch of nutmeg
splash of nut mylk (I prefer almond milk)
1 apple
1/4 cup walnuts
Instructions
Place oats and raisins in a small pot. Cover with 2 cups water, add a pinch of salt and let sit for 5 minutes. Meanwhile, grate the apple and roughly chop the walnuts.
After 5 minutes, place the pot over medium-low heat and bring to a simmer, stirring occasionally. Season with cinnamon and nutmeg and let simmer for 2 minutes.
Add the mylk and the grated apple and stir until combined.
Remove from the heat, pour into bowl and top with the chopped walnuts and some additional cinnamon.