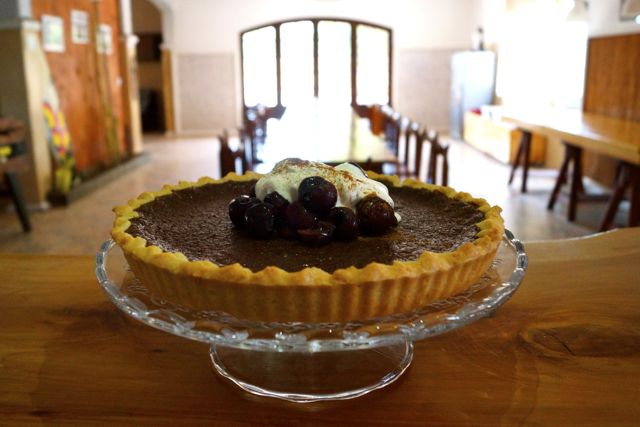 ---
As you might already know, I offer dessert to our guests twice a week. I personally have a super-heavy sweet tooth, but I usually do not care for the overly rich and heavy type of sweets. I rather dig my fork into a light and creamy fruit based dessert than into a rich chocolate cake with heavy cream.
However, occasionally I have chocolate cravings as well. So I came up with this semi-sweet baked chocolate mousse tart and it's the bomb. It's super rich and I bet you won't be able to go for seconds. At the same time though, it's not overwhelmingly sweet and a bit tart (pun intended).
The base is a quick and easy pastry and my go-to recipe for almost all the tarts I make. The filling is only as good as the chocolate you use, so make sure to head for the good stuff.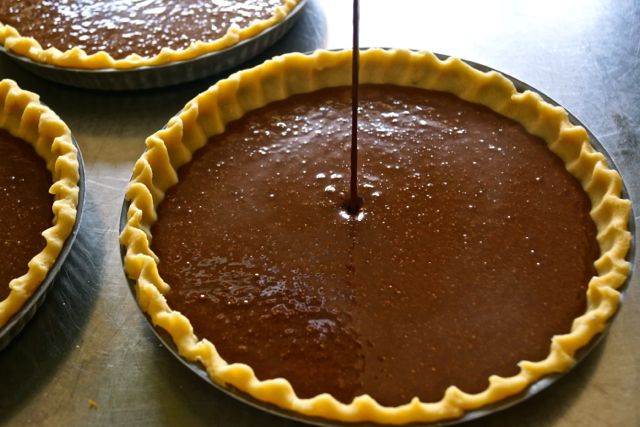 ---
I usually serve it with a mixture of whipped cream and sour cream, spiked with some extra cinnamon and topped with some seasonal fruit. Cherries work extremely well here, but also figs or pears add a nice fruity counterpart to the richness of the tart.
You can easily prepare the crust in advance and bake the tart whenever needed. Feel free to serve it semi-warm or completely cooled. However, I feel like the taste diminishes when cooled in the fridge and I prefer to store it at room temperature.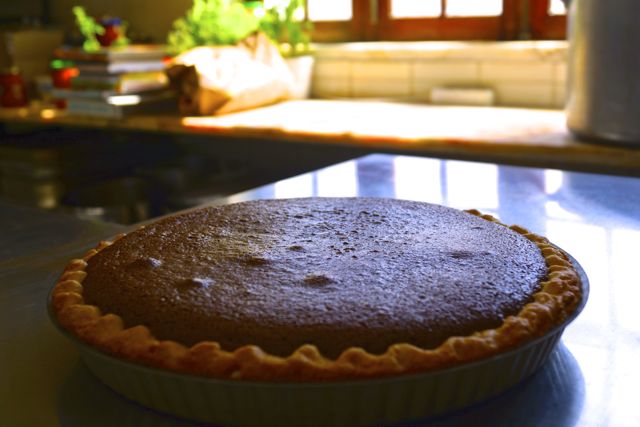 Baked Chocolate Mousse Tarte
Author:
Prep time:
Cook time:
Total time:
A rich chocolaty tart to satisfy your sweet tooth.
Ingredients
250g butter (room temperature), plus extra for greasing
80g confectioner's sugar
250g white, pastry flour
2 egg yolks
4 eggs
2tbsp. cold milk
150g dark chocolate (60-70% cocoa content)
75g unsweetend cocoa powder
1tsp. cinnamon
1tsp. vanilla extract
150g unrefined cane sugar
2tbsp. agave nectar
125g sour cream
seasonal fruit & whipped cream for topping
salt
Instructions
To prepare the crust, combine 125g butter with the confectioner's sugar and a pinch of salt in a medium bowl and mix using an electric mixer. Once combined add 250g flour and 2 egg yolks. Mix until you have a coarse consistence. Add 2 tbsp. cold milk (or water) and quickly knead into a smooth dough, using your hands. Form a ball, wrap in plastic foil and let dough rest in refrigerator for at least 1 hour.
Lightly grease a tarte/quiche tin (24-26cm) and set aside. Using a rolling pin roll the dough 2-3cm bigger than the tarte tin and place the dough into the form. Use your hands to even out the dough and form a roughly 2cm high wall. With a fork prick the dough 10-15 times. Place in the freezer for at least 1 hour.
The crust can be easily made ahead and placed in the freezer until further use.
In the meanwhile, preheat the oven to 160°C. Add the remaining butter (125g) and the chocolate to a heatproof bowl and slowly melt over a pot of boiling water (Make sure the bowl does not touch the water), stirring occasionally. Add the cocoa powder, cinnamon, vanilla extract and a pinch of salt to the butter-chocolate mixture. Set aside to cool slightly.
In a medium bowl whisk the remaining 4 eggs with the cane sugar until light and fluffy. Slowly add the butter-chocolate mixture, the agave nectar and the sour cream to the eggs and whisk until combined.
Add the filling to the prepared crust and bake in the preheated oven for 40-45mins or until the filling has grown solid in the center and the filling lightly springs back.
Let cool or serve slightly warm. Serve with seasonal fruit and whipped cream.