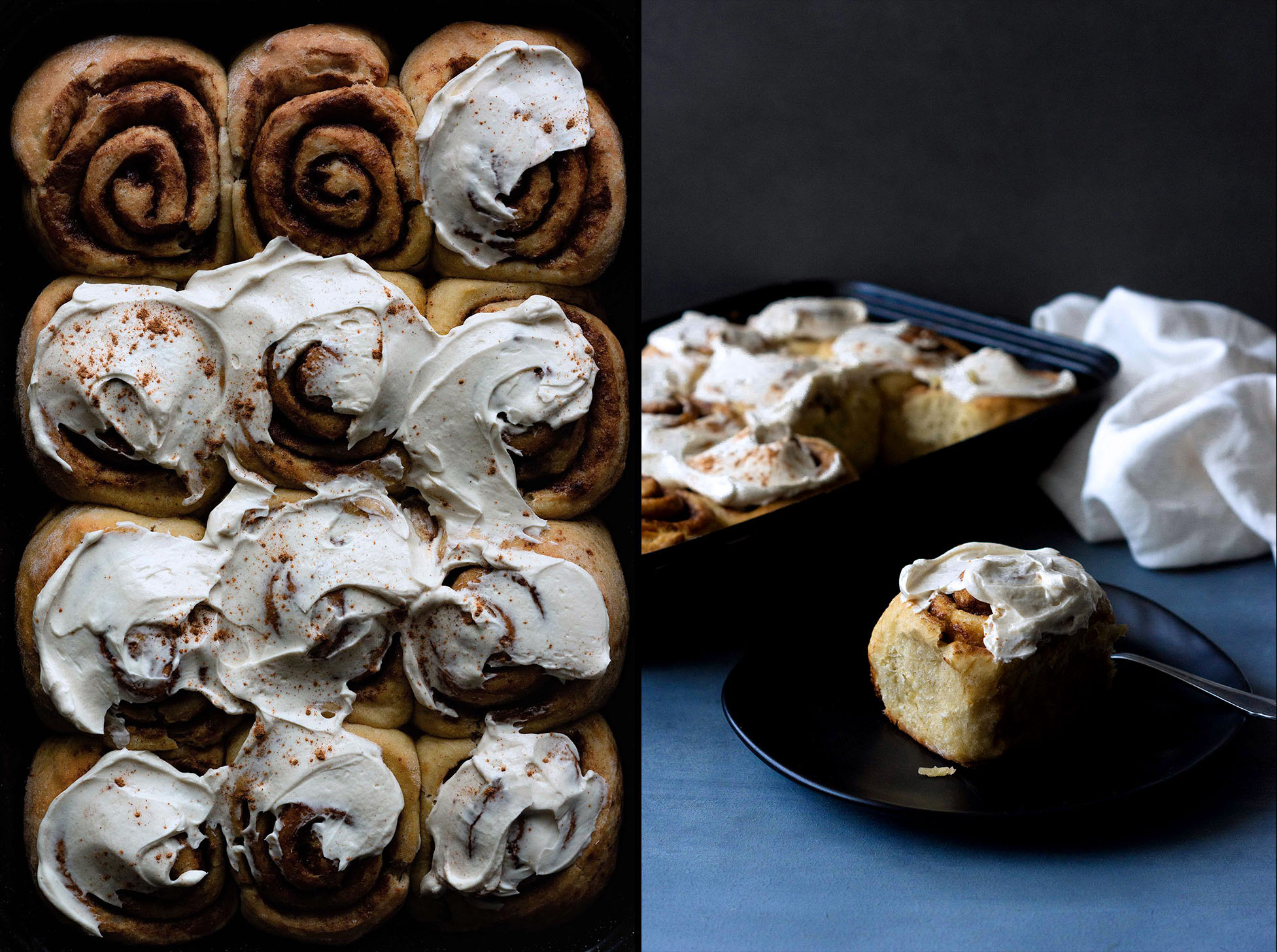 ---
Oh boy, currently I just can't get enough of comfort food. Especially frothy drinks and sweets to satisfy my winter sugar cravings are on a daily repeat. But, of course, I still like to keep it fairly "healthy" and make sure my treats are flavour-packed. This is why I decided to pack these sticky cinnamon rolls with an extra comfort-factor and add some chai spices to the mix. And, believe me, they don't only look good and smell heavenly, they taste absolutely amazing. Fluffy, soft, and just the right amount of cinnamon, cardamom and ginger.
Without further ado, here's some details about these heavenly rolls. First of all, as any baked goods that make use of yeast, you need to factor in some time when making them. So, be sure to read the recipe details before you go on making these. For I've been way too often stuck in the kitchen after-hours, waiting for my dough to be finished rising. Not ideal… to say the least… If you're in a hurry, or don't have all fresh spices for the Chai Infused milk at hand, you can easily use some Chai teabags and safe an extra 15mins for steeping the spices in the milk. Apart from that you'll need a bit more than 2 hours for the rolls to be baked up. It sounds like a lot, but maybe you can take the time to slow down a bit, meditate or do a little yoga practice while the dough is rising.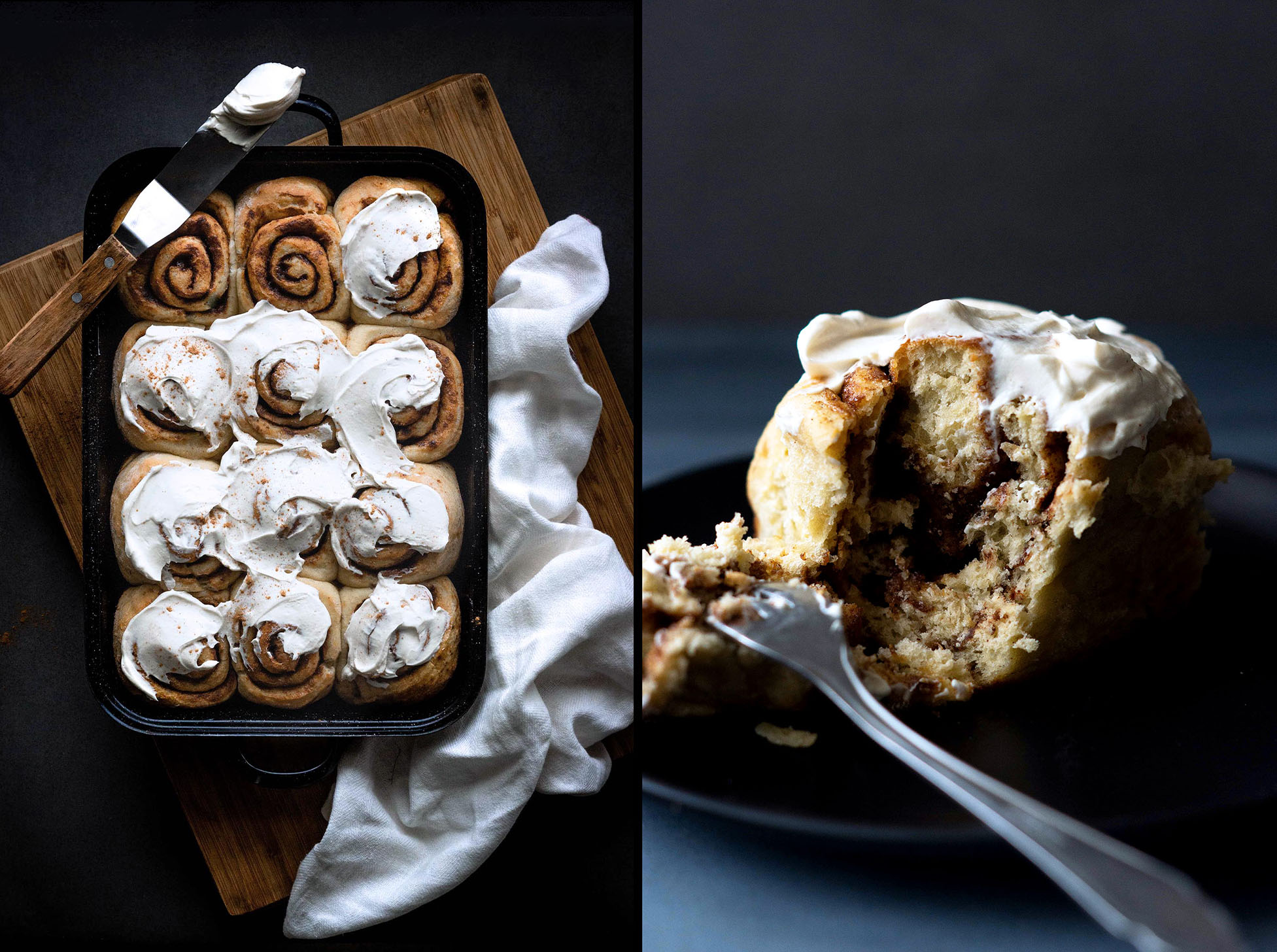 ---
Once you've made the dough and waited for it to rise it's time to assemble your rolls. Simply roll out the dough on a clean surface, or if you're like me and often don't have a rolling pin at hand, just push the dough into the right dimensions. Now it's time to make the filling. Spread your super soft butter (and yes, it is important that the butter is not only soft, but SUPER soft) evenly over the dough, sprinkle with the coconut sugar and the spices. Roll into a tight log and cut into 12 rolls. There's people out there who cut their rolls using dental floss and swear by it. I'm not really into that and would always rather use my sharp kitchen knife for jobs like these. As it's both more aligned with my minimalist kitchen approach as well as with my zero-waste thought. Whichever method you prefer, once cut place them in a buttered baking dish (no need to use baking paper – zero-waste again!), pop in your pre-heated oven and wait for the buttery scents of cinnamon, ginger and cardamom to fill the room.
The cream cheese frosting is totally optional here. And, I know, it's hard to source without creating some plastic trash. If you're lucky you find some at the deli that you can bring home in your own container. But it is, well, like the icing on the cake – haha 😉 Softened cream cheese whipped up until fluffy and sweetened with rich maple sirup. Mmmmmhhh… yum!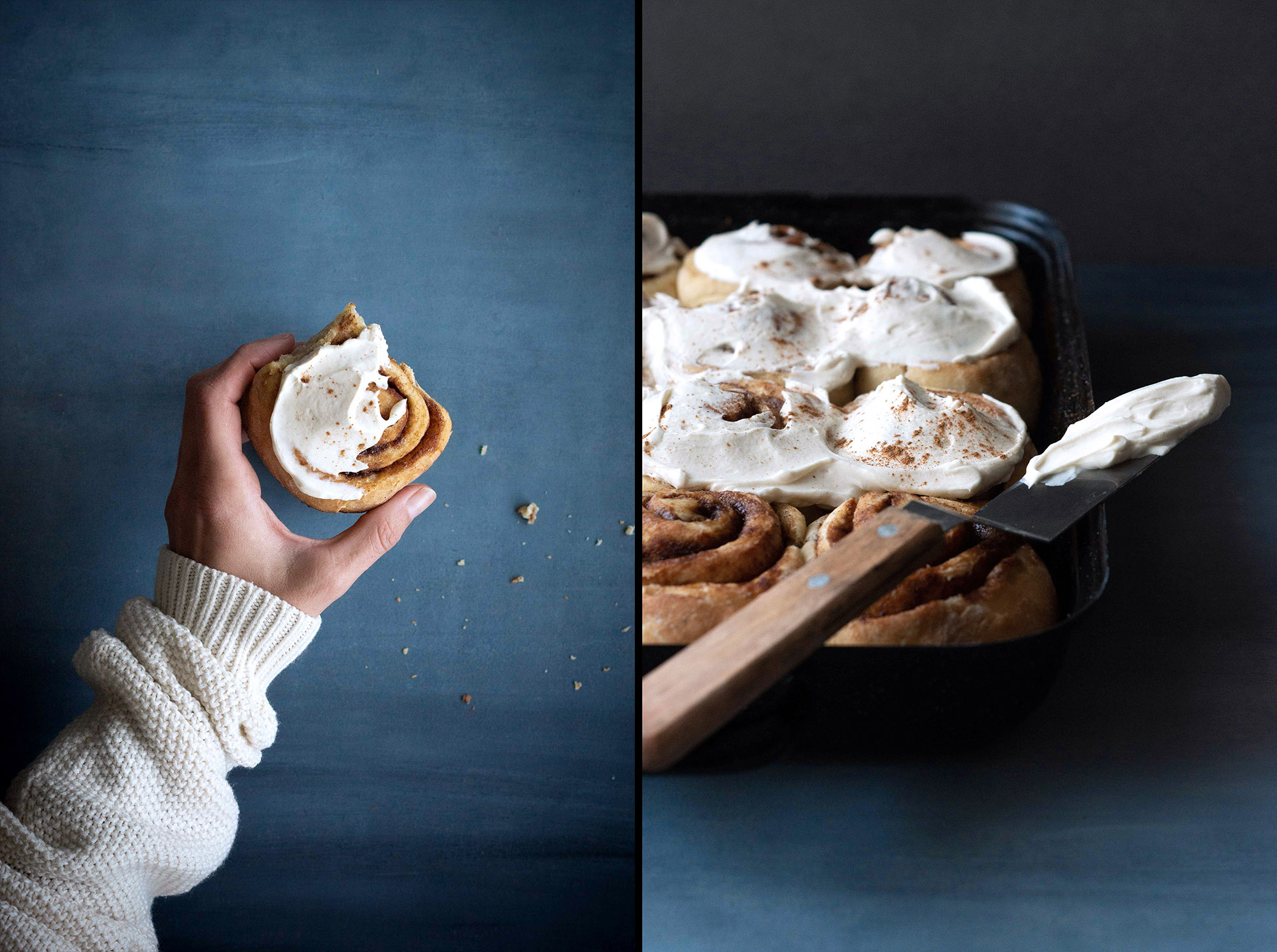 ---
So far so good. Here it goes: my first recipe shared with you in 2019! And, I promise, there's lots more to come. If you're keen to find out more – sign up to my newsletter here and you'll get every recipe delivered straight to your inbox.
Lots of love,
Anna
P.s.: Of course, I didn't invent the  recipe from scratch. Cinnamon Rolls have been around for ages (I guess). I adapted the basic recipe using Tieghan Gerard's recipe for her Easiest Overnight Eggnog Brioche Rolls which you can find on her fantastic blog Half Baked Harvest.
P.p.s.: If you happen to make this recipe, please make my day and leave a comment below! Or tag me in your creation on Instagram #themellowkitchn