Crispy spiced chickpeas & roasted sweet potato pieces on a bed of golden with kale. A tangy vegan tahini yoghurt drizzle poured over this flavour bed makes the perfect weeknight meal for a low budget and even less time.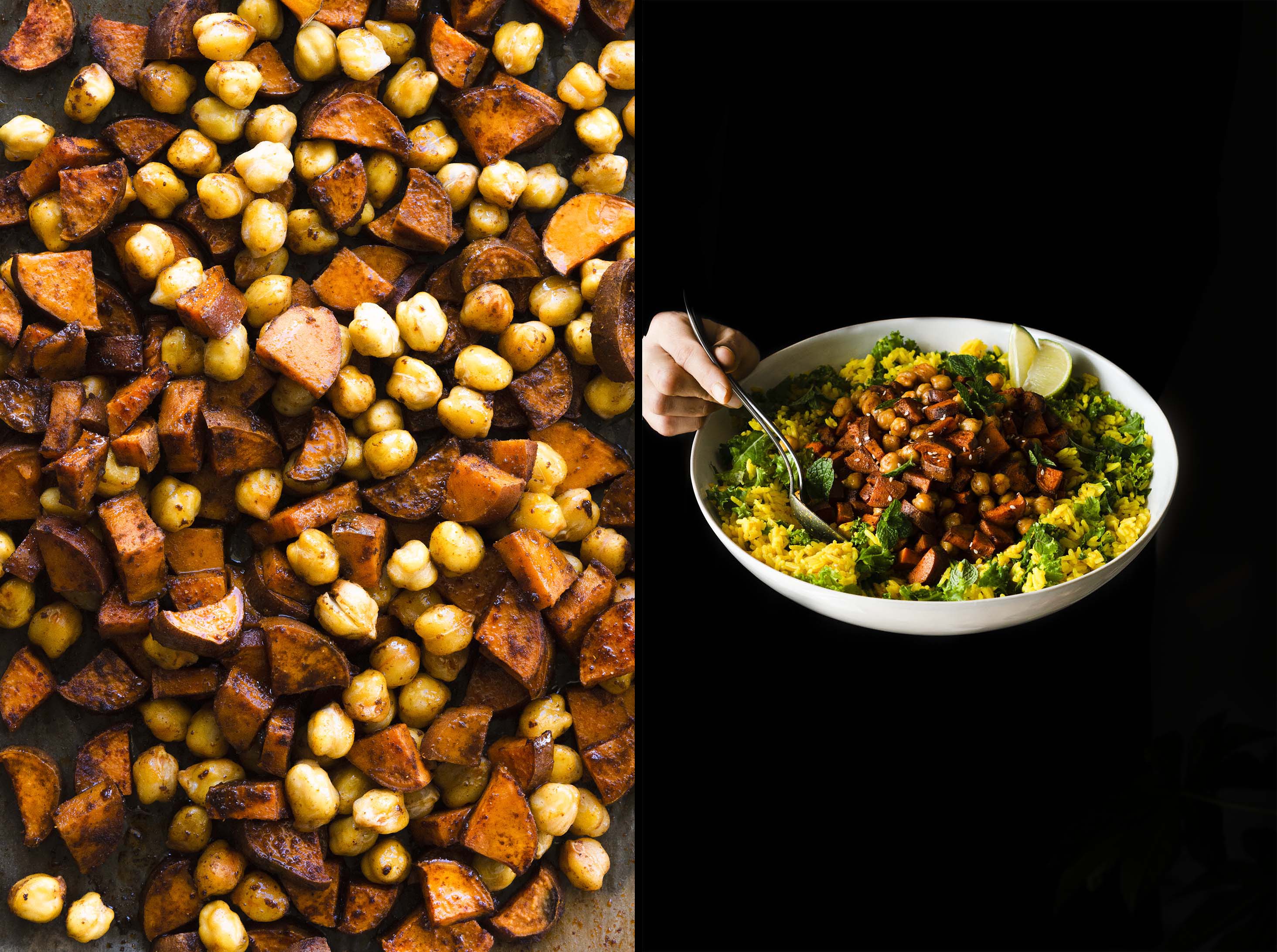 ---
We're living in peculiar times. It's been over a month now that we have been practising a kind of self-quarantine here at my house. We only leave the house if absolutely necessary. We've reduced shopping trips to the store to the bare minimum and we make do with what we have at home. What I've learned from this is that simple dishes like this golden rice do not need any fancy ingredients to be absolutely delicious and satisfying. It's the simple things, in cooking as well as in life in general, that make everything worthwhile. The moments spend with our loved ones. The stories and laughter shared around the table. And the satisfaction of a home cooked meal enjoyed in peace and tranquility.
Reducing my shopping trips to the bare minimum means that I meal-prep more often and make sure I cook with pantry ingredients as much as possible. This way I can ensure that there's always delicious food on the table without having to run to the store multiple times a week. Saves me not only time but also gas money and a lot of nerves. I have to mention though, that I get a box of fresh veggies delivered to my doorstep every week. That's a huge plus and keeps our little family supplied with fresh greens, fruit and other veggies that I like to use for my meals.
---
Also spices and fresh herbs make a huge difference in any meal, if you ask me. But especially when cooking with basic pantry ingredients. That's why I make sure I always have fresh herbs either in my fridge (wrapped in a damp kitchen towel to keep them for longer) or growing in my garden beds or pots on my porch. When it comes to spices, some of my favourites are curry powder, garam masala, turmeric and hot roasted paprika powder – all of these are combined in this beautifully simple dish and through their combination this meal becomes a flavour explosion.
If you've followed me on Instagram or read some of my recipes here in the blog you know that I employ a no-fuss cooking approach. I try to keep pans to a minimum and I'm the proudest if I come up with a recipe that basically cooks itself – like this pasta, for example. It's quite similar to this golden rice. Once you've got your sweet potatoes cut and seasoned, they go into the oven together with the chickpeas. Then you get your rice onto the stove and while all of it is cooking, you prepare the yoghurt drizzle and your garnishing. Easy peasy and all done under 30 Minutes!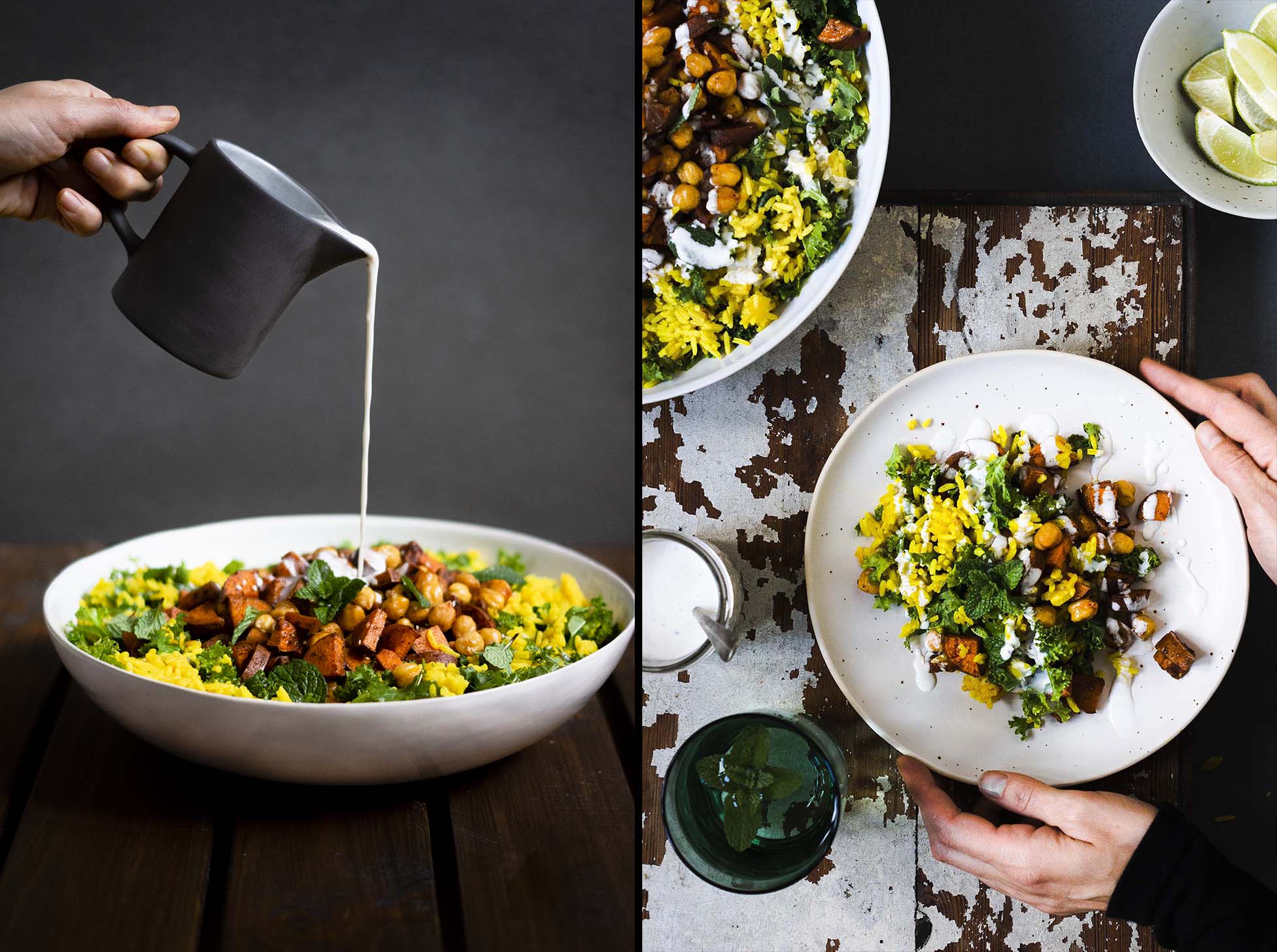 ---
I hope you enjoy this easy and straight-forward recipe. If you do so you would make my day if you leave a comment right here or on Instagram. Feel free to tag me @themellowkitchn and show me your creations of this dish!
From the bottom of my heart I hope that you and your families are well! And that it keeps that way. Make sure you eat healthy in these challenging times and I'm certain that soon enough we will look back at these times with relief.
Love always,
Anna