It's almost impossible not to love this salad! It's so good, I keep making double portions in order to have some leftovers for the next days. Why you ask? Well, because it's the perfect combination of grainy quinoa, sturdy kale, a tangy lemon-mustard dressing, crunchy almonds and fresh pomegranate kernels. And has everything a salad needs to have in order to really satisfy me without weighing me down. Perfect for lunch or a light dinner. Easy to prepare. Great for storing if you can't finish it or want to make it ahead to bring along to the office or the garden party. It's vegan and gluten-free, which makes it suitable for almost everybody. Swap the almonds for sunflower seeds and it just became nut-free!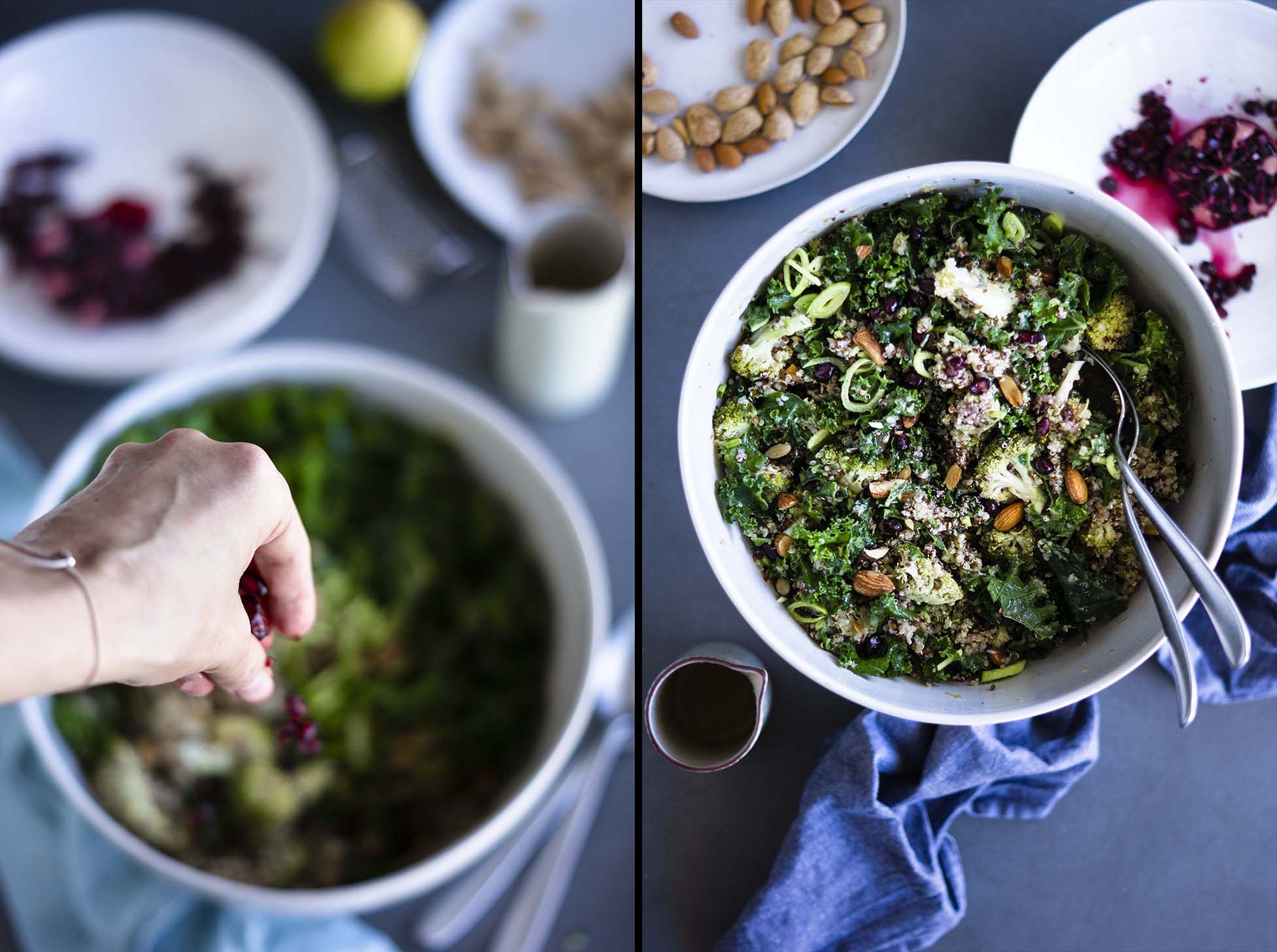 ---
Ok. So now that I told you why this salad is so awesome, let me tell you how I came up with this salad. I don't quite remember when I did but it was sometime 2 or 3 years ago at the surf camp. As always on Saturdays I was preparing salads for our BBQ night and I had been nibbling on some shell-roasted almonds all week. I had stumbled across these crunchy nuts at my local fruit and vegetable market (If you're ever around, check it out! It's awesome) and just couldn't stop eating them. So I decided our guests should have them too. I know, it might sound weird to create a salad just in order to eat more nuts, but that's how life is sometimes. Weird and messy. And definitely not linear but a constantly changing wave of ups and down and bends in every possible direction. And that's what I love about cooking and creating recipes. It's my way of bending and turning and moving and being creative. But let's get back to the salad, shall we?
Nuts, especially almonds, are high in good-for-you fats. But they need to be balanced. And what's better to balance fat than fresh greens. So I added fresh kale to the mix. Massaged, so it's easier to digest, of course. Cooked quinoa to make the salad filling without being overwhelming and roasted broccoli to add a healthy dose of vegetables. Also, I just love combining cooked or roasted vegetables with fresh salad ingredients. All mixed with some chopped spring onions and my go-to lemon-mustard-olive oil dressing and there it was: my roasted broccoli & kale quinoa salad.
This winter I added chives and pomegranate to the mix. And I have to say this really makes a difference. The fresh little pomegranate kernels add such a nice little surprise when they pop in your mouth. And they balance the sharpness of the spring onions with just a tad sweetness.
Before I let you try your hands at the recipe I want to say just one more thing: use your hands for this recipe! This is something I learned in my early twenties, when I worked for a catering company back in Austria. One of the chefs once told me that a salad is only great with a really good dressing massaged into every part of the salad. It's not enough to just pour the dressing over the salad and hope that it will spread out. Use you hands (throughly washed, of course – but I'm sure you're a master at this by now – thank you Covid-19 😉). Turn and mix the salad until you're sure every part of it is covered with the salad dressing. Try it! And then, lick your fingers – and enjoy!
So, this is it. If you really try your hands at this recipe. Please, please, please – let me know! Send me a DM or comment below. Tag me on Instagram or comment on Facebook. I always love to hear from you!
Lots of love!
Anna