June is definitely all about cherries. Those sweet little jewels are the perfect symbol of the beginning of summer. And I still remember how I stood in my grandparents garden having a pit-spitting contest with my older sister. Obviously I never won. But I was only in it for the fun of it, anyways. Can anybody relate?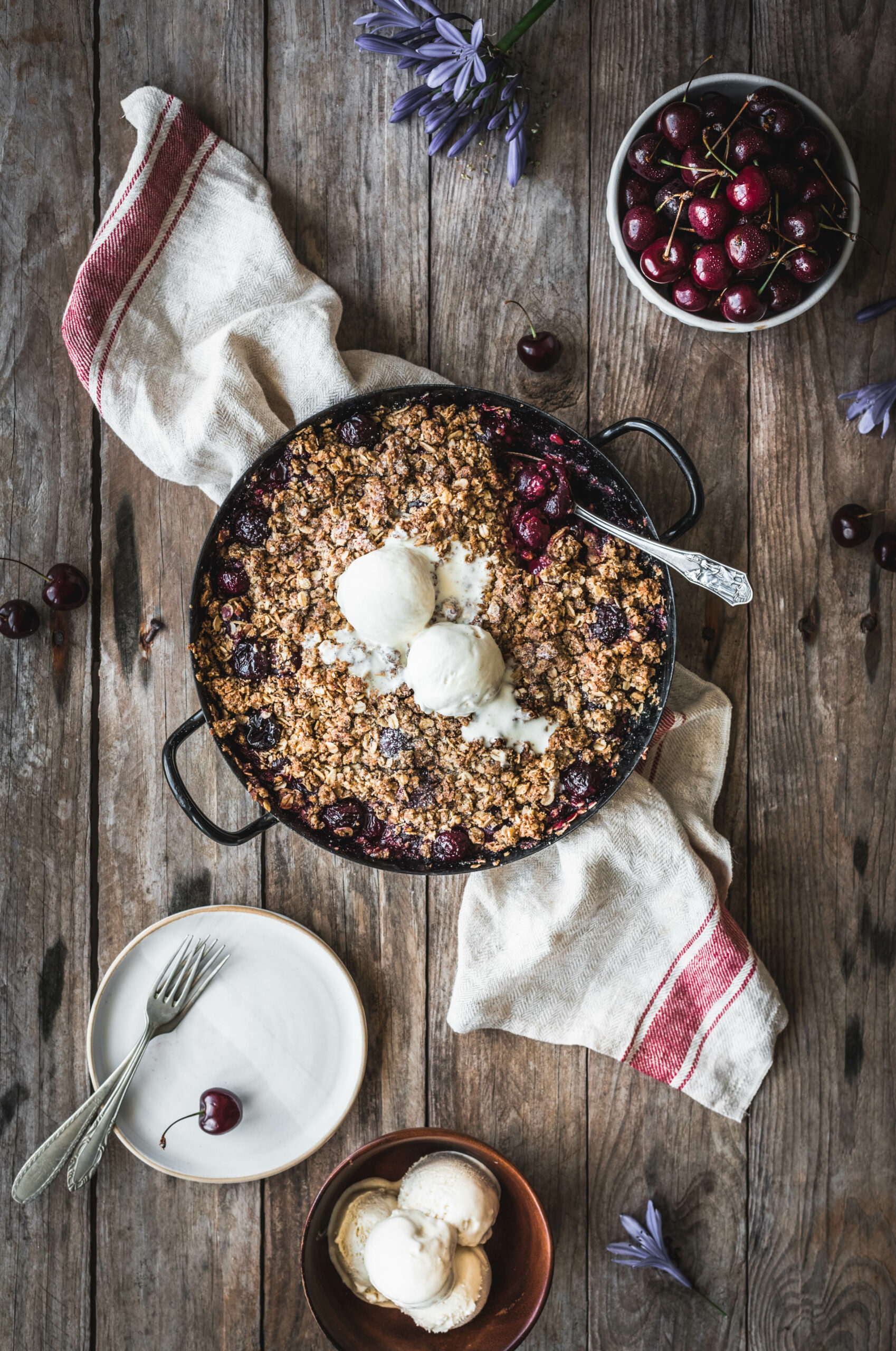 Cherries remain to be one of my favorite fruits of all times and it seems my little one is following in my footsteps in that regard. No wonder that I enjoy making all sorts of desserts with them. One of my favourites and, above all, simplest ways to use cherries is to bake a simple cherry crumble. Which is basically a thick layer of sweet & juicy cooked fruit topped with a layer of crispy oats. And if you wanna go all in, you serve it with a scoop of vanilla ice cream. The combo of warm, sweet cherries, crispy crumble & melting ice cream is pure heaven.
So, are you ready to pit some cherries?
---
Pitting the cherries is about the hardest part of this recipe. If you have a cherry pitter your life's gonna be a bit easier. If you haven't, get out that paring knife and start cutting. After you've removed all the pits, the cherries are simply tossed in a baking dish and covered with a crumbly mixture of butter, sugar, flour & oats. That's basically it. You're ready to serve your delicious summer dessert. Just pick a spoon & let's go – or as my grandpa used to say when I was a kid: "nimm' nen Löffel & iss mit". Which literally means "take a spoon & get eating".
Before I give you the recipe, I'd love to take a second to talk about Cardamom. I mostly use this Indian native spice in cooking savoury dishes like curry actually. But in some desserts I believe it makes such a nice addition and adds that special twist. For me, cherries & cardamom is like a love couple. They challenge each other & make each other better & stronger. Just like any good relationship should be, don't you agree? That's why I just adore that combination. I know, however, that cardamom can be an acquired taste. So, if you're unsure whether you like it or not, you can always start with a smaller amount. Maybe use just one capsule instead of the recommended 2.
So, what are you still waiting for? Here's the recipe! And if you're in the mood for some other summer desserts, how about you try my Cherry Hazelnut Sheet Cake or this Summer Raspberry Tiramisu.
As always, if you make this easy Cherry Cardamom Crumble please leave me a comment & let me know how you liked it. Or head over to Instagram & shoot me a dm or leave a comment on one of my posts. Your comments & feedback really make my day!
Yours always,
Anna