There's something about strawberries and white chocolate that makes anything with those two ingredients irresistible to me. Maybe it's a childhood memory. Maybe it's because the lightness of the strawberries just perfectly counteracts to the heavy sweetness of white chocolate. Whatever it is, it just has me wrapped around its finger. A swiss roll, or "Biskuitroulade" we Austrians call it, is usually not the cake I make on the regular. But this strawberry white chocolate version might actually bring a change to this. It's the perfect ratio of filling vs. cake. It's decadent, yet light and fruity. It's actually quite quick in the making. And it's strawberries and white chocolate! Need I say more?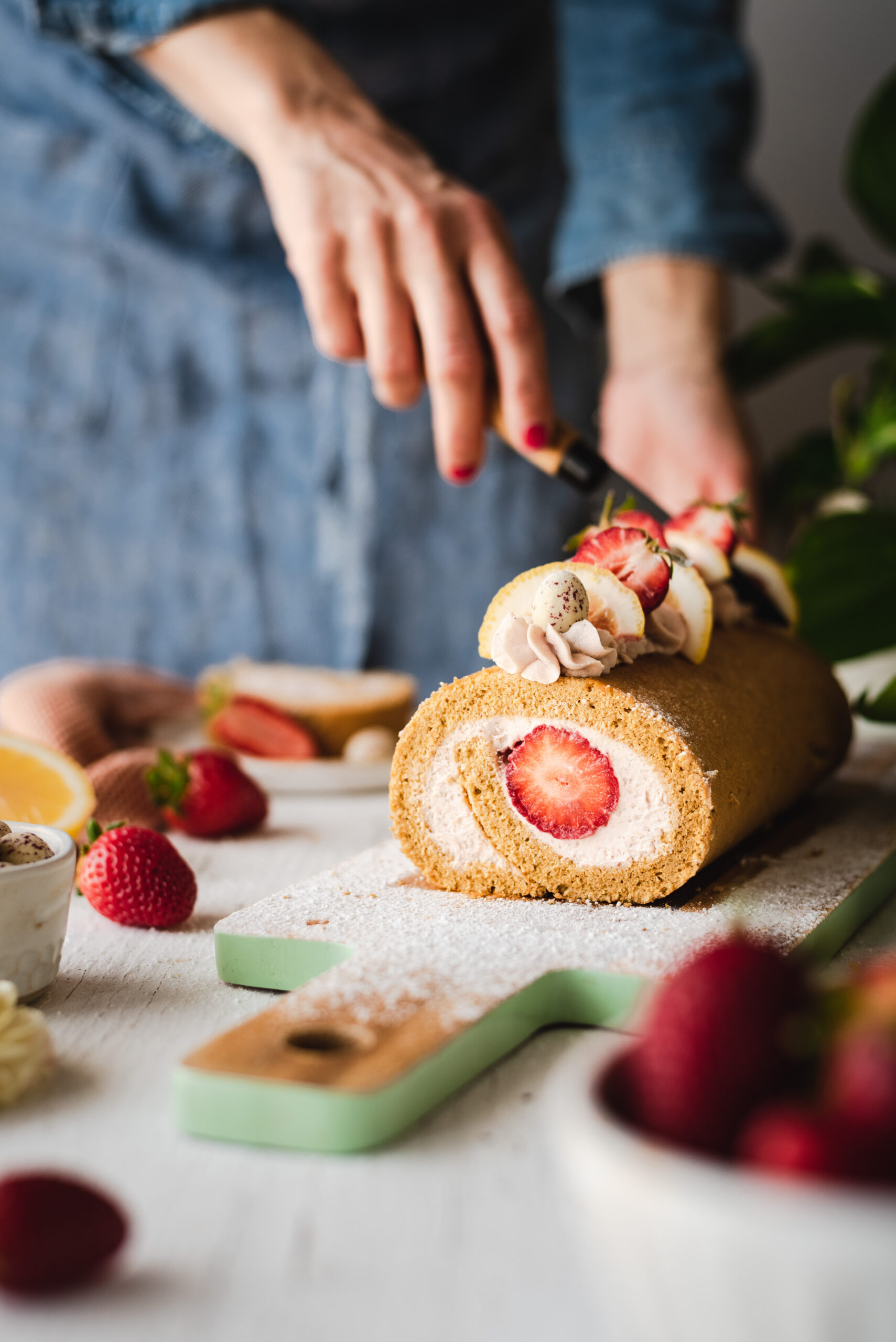 ---
The "original", or let's better call it the go-to recipe most people used when I grew up, is a rather understated cake roll filled with strawberry jam or sometimes whipped cream and strawberries. I'm not a big fan of strawberry jam. And I'm not a huge fan of cakey cakes either. So, naturally swiss rolls aren't on heavy rotation in my baking schedule. But, I have to admit, making these kind of cakes has its perks. Once you've accepted that you need to really take your time whipping those eggs, making the sponge batter is actually a quite quick procedure. And, apart from those gentle hands you need for folding in those egg whites, it's also a pretty straight-forward recipe. Another perk of swiss roll cakes is that they take much less time to cool before you can proceed than regular layered cakes. Given that they are much thinner, that probably doesn't come as a surprise.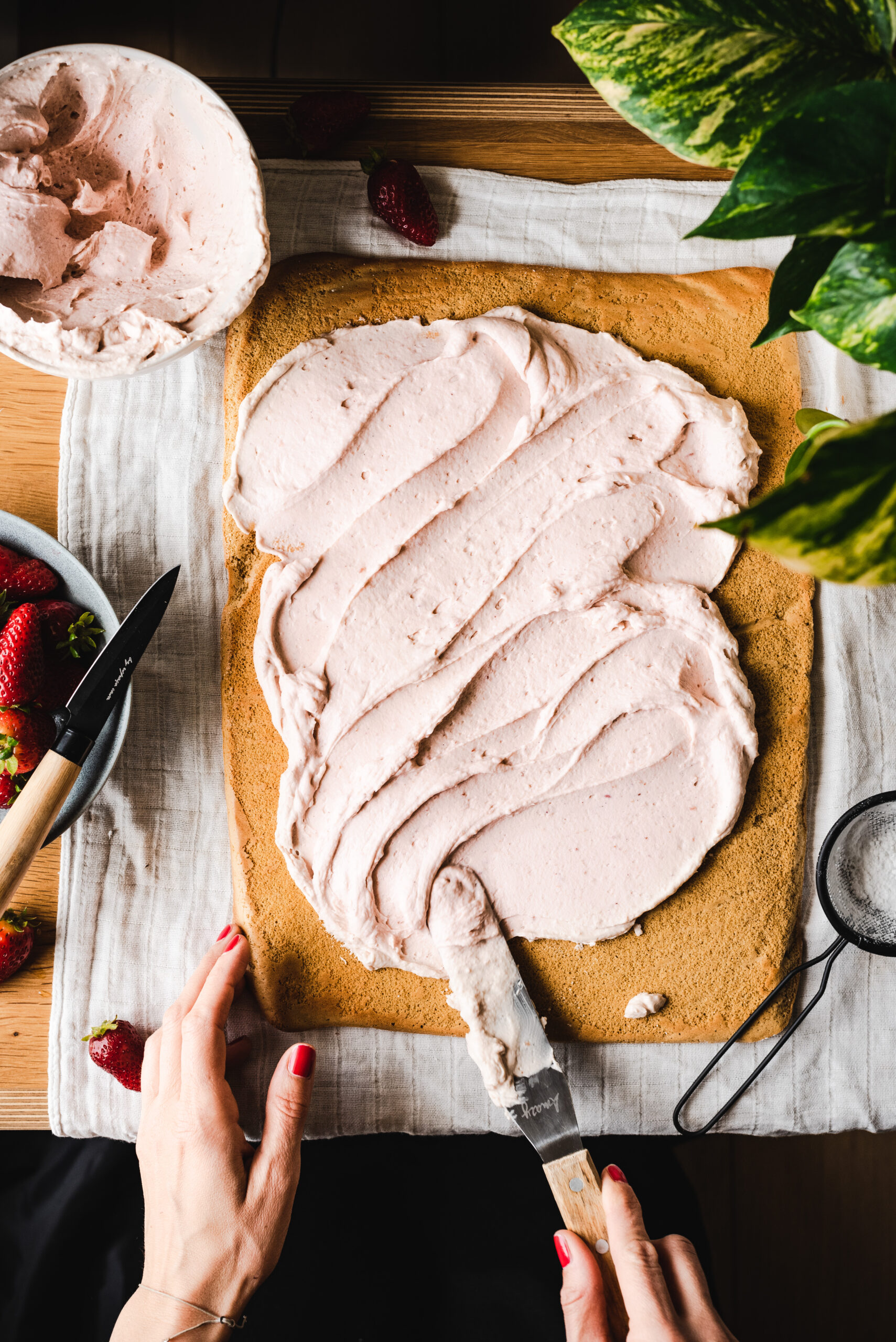 ---
As I already told you before, the "traditional" version would use whipped cream. And while I absolutely love the simple combination of whipped cream and strawberries, I felt that this cake needed a long overdue upgrade to make it into my hall-of-fame of recipes. Hence I swopped out whipped cream for mascarpone cream cheese. This Italian, full-fat, heaven of cream-cheeses is my go-to ingredients when I want to create something decadent and sophisticated. There's a certain tartness to mascarpone that I love and which works incredibly well with the white chocolate.
Alright then, before I leave you with the recipe, a quick word on the procedure. The cake and the filling need to be made separately. You can prepare one before the other. If you want to do so, I suggest making the filling before the cake. This way you can make sure the filling has set adequately before using it and the cake is still it's best, freshest version when being served. Once assembled you will need to let it come together and set once more. Usually half an hour should suffice. But if you want to be on the save side, an hour or even two won't hurt.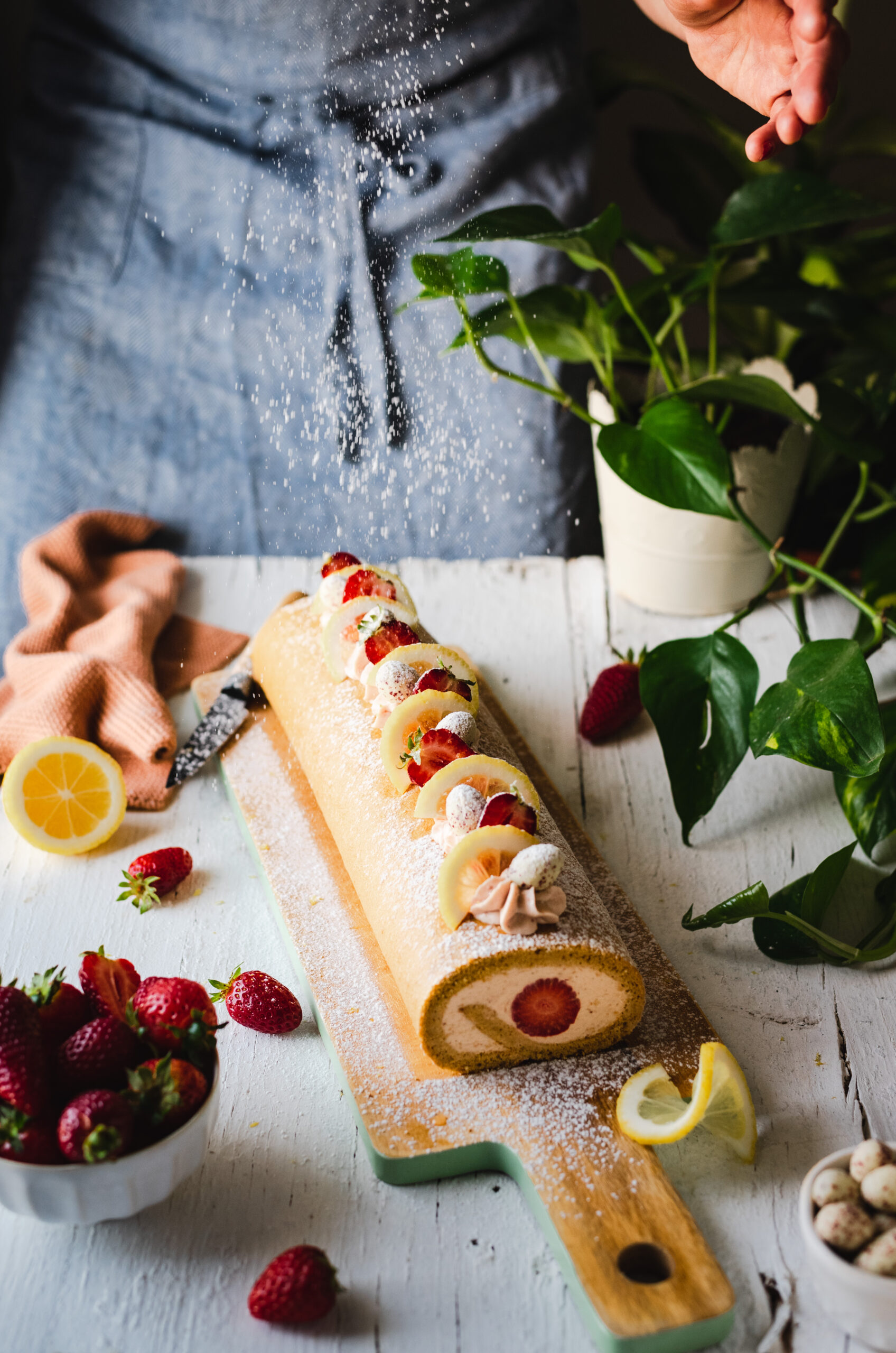 ---
While writing up this post, I just ate the last piece of the roll and I have to say, that even on its third day, it tasted heavenly. Although I would not recommend keeping it longer than 3 days in the fridge, as cut-up strawberries then to fade away quickly.
Also, one more word on the strawberries itself. This cake is only as good as the strawberries you use. I therefor strongly recommend buying organic strawberries or at least locally grown strawberries for this one. I know it's sometimes challenging to afford or get your hands on organic produce. But there's a reason why strawberries are always top of the dirty dozen list. Just saying.
And now, go make that Strawberry White Chocolate Swiss Roll & enjoy!
Lots of love,
Anna
P.s.: When you make it and are able to spare a couple of minutes, please leave me a comment here or on Instagram. And/or pin it over on Pinterest.