---
I have a confession to make: I truly adore the beauty of nature's colors. Especially when it comes to food… I guess this is why this bright pink beauty always puts an instant smile on my face. But its color is not the only feature that makes me smile about this soup. The earthiness of the beetroots paired with the slightly hidden spiciness of the horseradish is such a simple, but wonderful combination!
Also, I still remember the first time I ever had beetroot soup. My mum had made it for our Sunday family get-together and I had the same smile on my face that I have today when I blend beetroot into this magic creamy goodness. Back then, I not only smiled because of its taste but because it was the perfect soup for my mum to make. She just loves all shades of pink and her soup even matched the clothes she was wearing that day.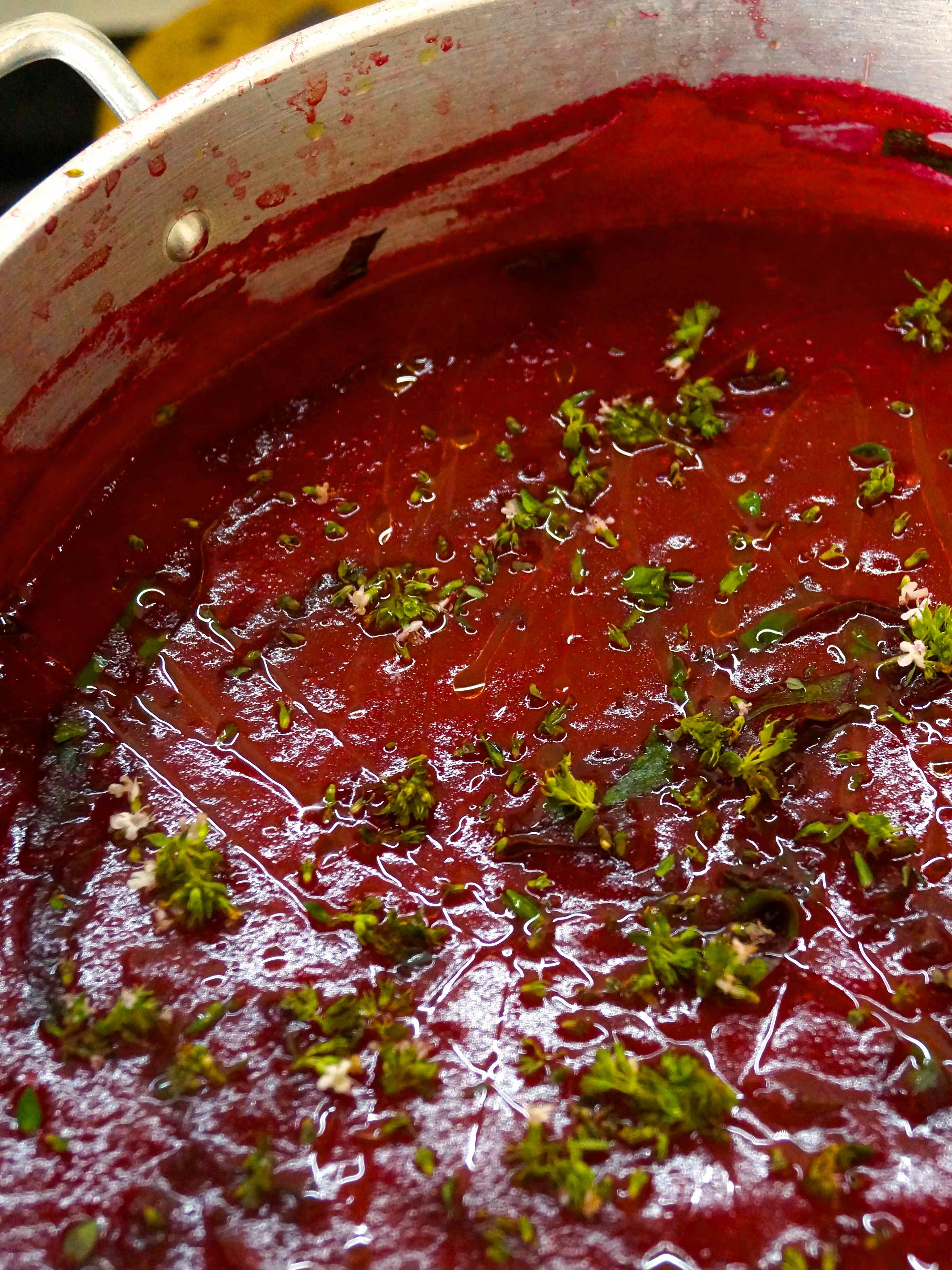 ---
In general, I think beetroot tends to get overlooked in the vegetable department too often. I know, peeling them can be a pain in the a**. Turning your hands, cutting board and clothes into a purple mess, which often sticks to the things like glue. This can be really frustrating. I've adjusted to that a long time ago though. If it bothers you, put on some rubber gloves to protect your hand, protect your cutting board with some plastic wrap and off you go – no excuses left!
If beetroot salad is the only association you have with them, the taste of this soup will totally blow you away! But enough hymns of praise… let's get cooking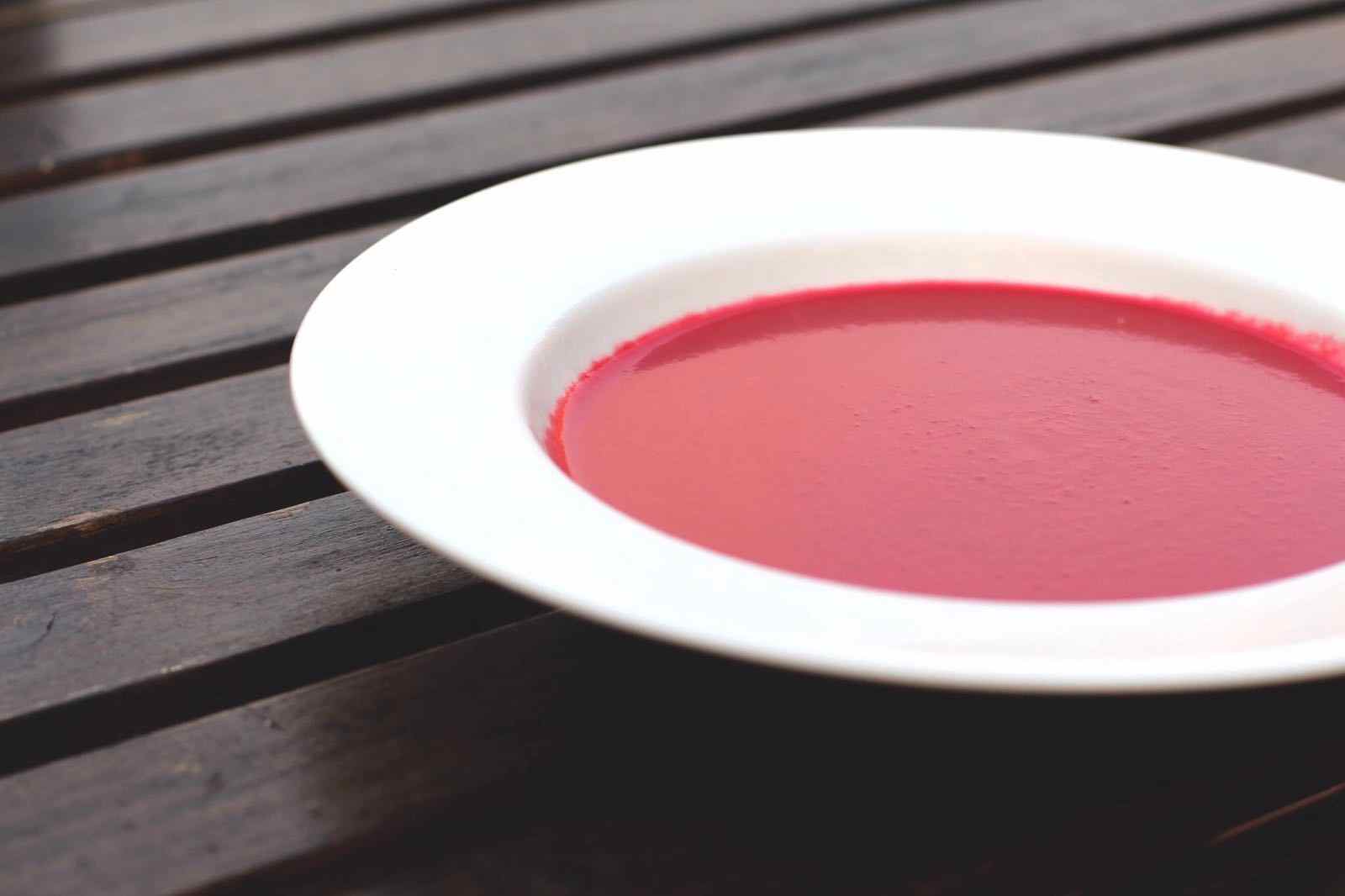 ---
picture taken by Marie Pfisterer (www.saltinmyhair.com)
Beetroot soup – a pink delight!
Author:
Prep time:
Cook time:
Total time:
This soup is a pure delight! Full of earthiness and bright as one would think only a painting could be.
Ingredients
600g beetroot
200g turnip (or potatoes)
1 small white onion
1 tbsp. olive oil, more for topping
½ tsp. caraway seeds
1/2 bunch of thyme
1 bay leaf
1 tbsp. horseradish (from the glass or freshly grated)
1 tbsp. apple-cider vinegar or white wine vinegar
sea salt & fresh pepper
Instructions
Peel and cut the beetroot and turnip into 1cm pieces. Peel and dice the onion.
Heat a medium tall pot over medium-high heat. Add the olive oil and the diced onion to the pot and roast until translucent, roughly 3-4 minutes. Add the caraway seeds and 6-8 sprigs of thyme and roast for 2 minutes, stirring occasionally.
Add the cut beetroot and turnip and top with water until the vegetables are entirely covered. Add the bay leaf, cover with a lid and let simmer over medium-low heat for 30-35 mins or until the beetroot is soft and tender.
Add a good pinch of salt and pepper, remove the bay leaf and the thyme sprigs from the soup and mix using an electric blender. Add more water if the consistency is too thick.
Season with horseradish, apple-cider vinegar, salt and pepper and top with some fresh thyme and olive oil.
Notes
Add some cream if you like!