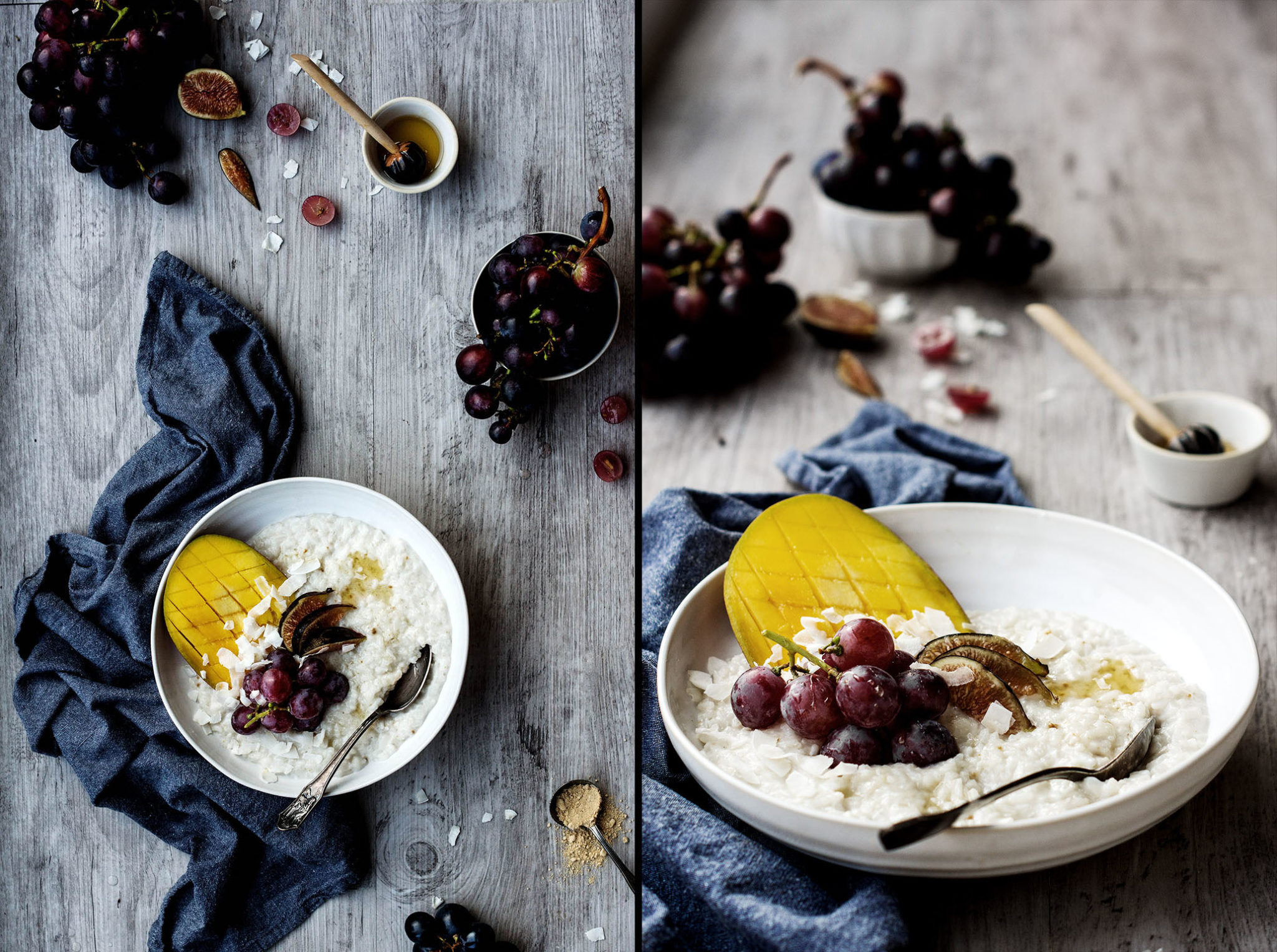 With autumn approaching in big steps I'm drawn more and more towards warm, comforting breakfasts. This maca coconut milkrice is just that! A small bowl of this naturally-sweetened creamy comfort breakfast will keep me satisfied until midday, making sure I have enough energy to start my day with ease. If you're into warm breakfasts this the perfect alternative to porridge or semolina. It's gluten-free, vegan and refined-sugar-free – so suitable for basically anybody!
Let's talk about more about the "secret" ingredient of this creamy breakfast bowl. Maca. No, not the green stuff you put in your latte but the light-brown powder derived from the peruvian root. Maca has an earthy taste to it, which doesn't come as a surprise if you consider that it's related to other cruciferous vegetables like broccoli, cabbage or kale. While maca is best known for improving your libido and helping both men and women in fertility matters, the golden-brown powder also helps increase your stamina, boost your energy levels and lightens your mood. A few of the things I definitely need in the times of changing season, where less daylight and foggy mornings make it hard for me to get going. If you wanna find out more about this ancient plant head on over here or here.
Apart from maca, which you can find in health food stores or better assorted supermarkets, all you need to make a pot of this creamy milkrice is some round-grain rice, coconut milk, seasonal fruit and a drizzle of your favorite sweetener. I drizzled mine with some honey, because I just love it's taste and sweetness. But you can easily go for agave nectar or maple sirup if you don't use honey in your diet. Basically, anything goes!
Well, that's all there is to say! Enjoy those foggy autumn mornings. And rest-assured, spring will come again!
Lots of love,
Anna
P.s.: I'd love to hear from you! So, why not leave me a comment right here on this post or send me a message on IG @themellowkitchn