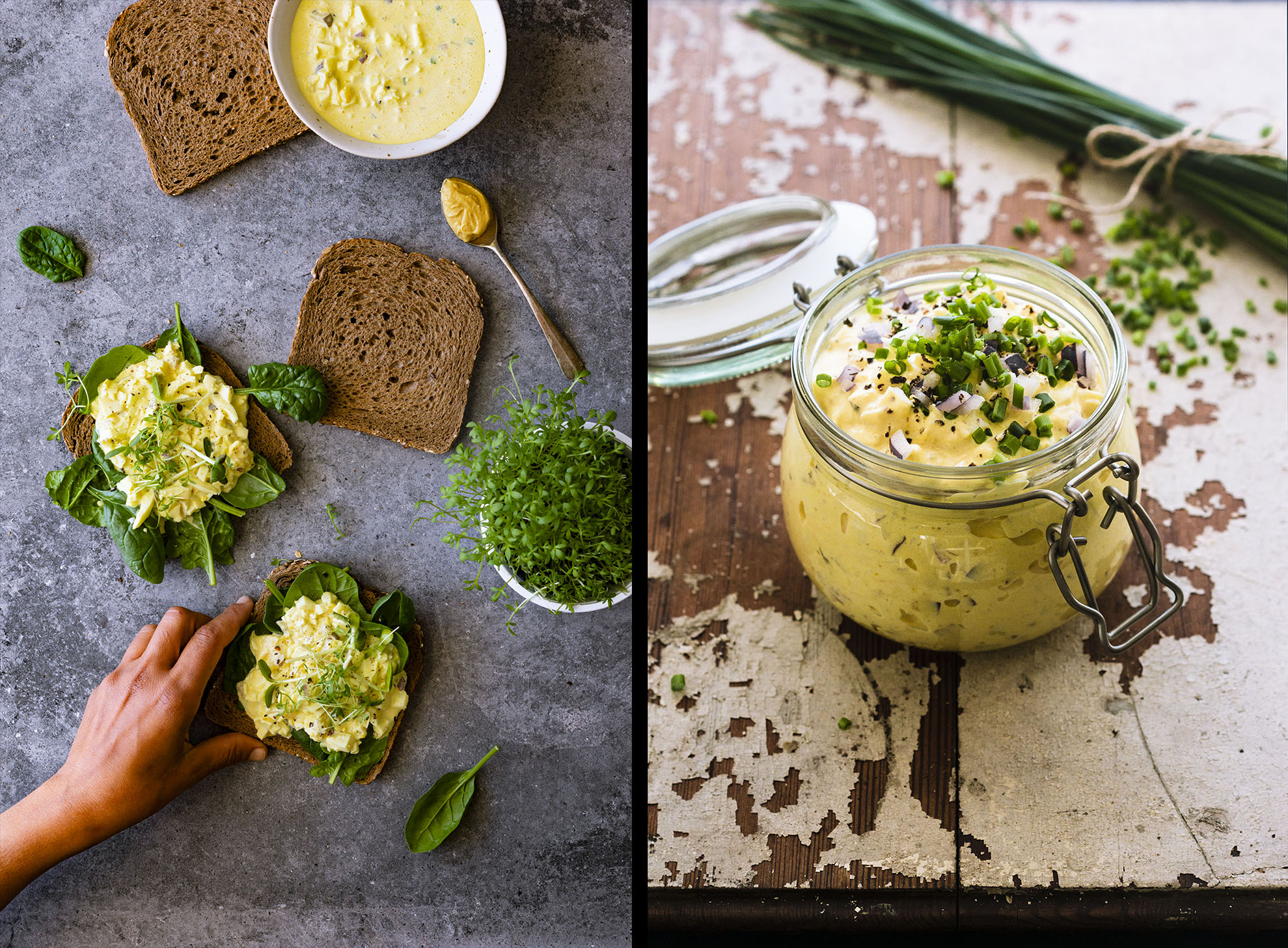 ---
Spring has finally arrived almost everywhere. You can see it in the blooms and greens that are popping up all around us. But also in the food isles and farmers markets. Fresh greens and veggies make up a much bigger majority these days in those places and also in my kitchen. And while I'm slowly transitioning into the warmer times of the year, my body and appetite long for fresh meals, big salad bowls and easily prepared snacks.
Spring and, especially, Easter time is known for lots of recipes with eggs. And this is for a reason: usually hens reduce laying eggs over the winter months and like the earth, which is growing new sprouts and buds in the spring, chickens get more active and lay more eggs at this time too. For some of us lucky enough to have their own chickens this phenomenon can be observed every year with the changing of seasons. Thus, a morning egg scramble or omelette becomes more frequent. Sometimes, however, I'm not in the mood for a "heavy" breakfast like this. Perfect time to turn to my easy turmeric egg salad.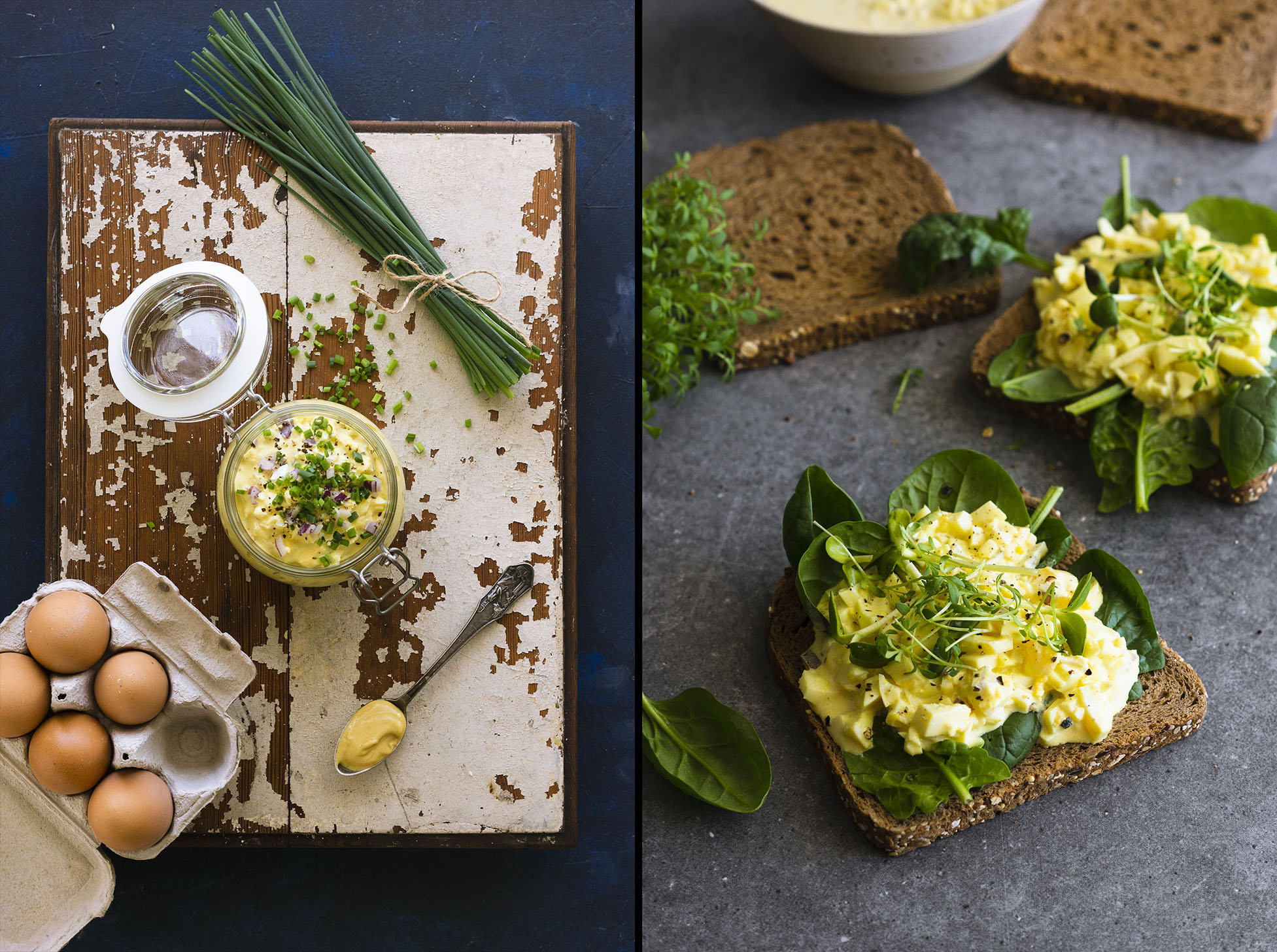 ---
This recipe only calls for 5 simple ingredients – most of them you probably have in your pantry anyways. It's super easy to make and the only actual cooking it calls for is making hard boiled eggs. Even the most unexperienced cook should be able to do that. But if you're unsure or want to have more information on how to boil eggs there's plenty of articles on the web like this or this one. Apart from that there's not much to do in this recipe. Just a little chopping and mixing and you're done.
What you'll get is a delicious, light, egg salad, which you can put on your breakfast toast, into your lunch sandwich or fill your halved avocado with if you're feeling fancy. There's no mayonnaise in this recipe. Simply because I don't like it very much and I don't think it's necessary  to create a creamy egg salad. But, this has one little drawback: over time the sour cream, which I use instead, tends to get a bit watery. For me, that's not a big problem, as we usually enjoy the egg salad straight away and there's nothing left to store. But, if you want to save some time in the morning or at lunch time, I would suggest you boil the eggs in advance to save some time later. You can even prepare the egg-yolk mixture and keep all the other ingredients chopped up in another container in the fridge. At lunchtime, you mix them together and you're ready to go!
---
Before I leave you with the recipe, a short word on sustainability. If you don't have your own chickens to lay fresh eggs for you, make sure you buy pasture-raised, grass-fed eggs only! There's nothing worth than seeing chickens cooped up in small cages on top of each other. It's the most humane choice there is. And, apart from that, it's also better for your health and wellbeing. Find out more about it here.
Lastly, if you used to grab an egg salad packed in a throw-away plastic container at the deli, these times are over too! Simply store your homemade egg salad in a repurposed glass jar (e.g. a saved nut butter or dried tomato jar) and take it with you to work or uni. And don't worry, it won't go bad that quickly. As long as you don't leave it standing out in the sun, of course.
I really hope you enjoy this easy recipe! If you make it, I'd love to see your creations on IG – simply tag me @themellowkitchn and/or #themellowkitchn so I can see it.
Love always,
Anna