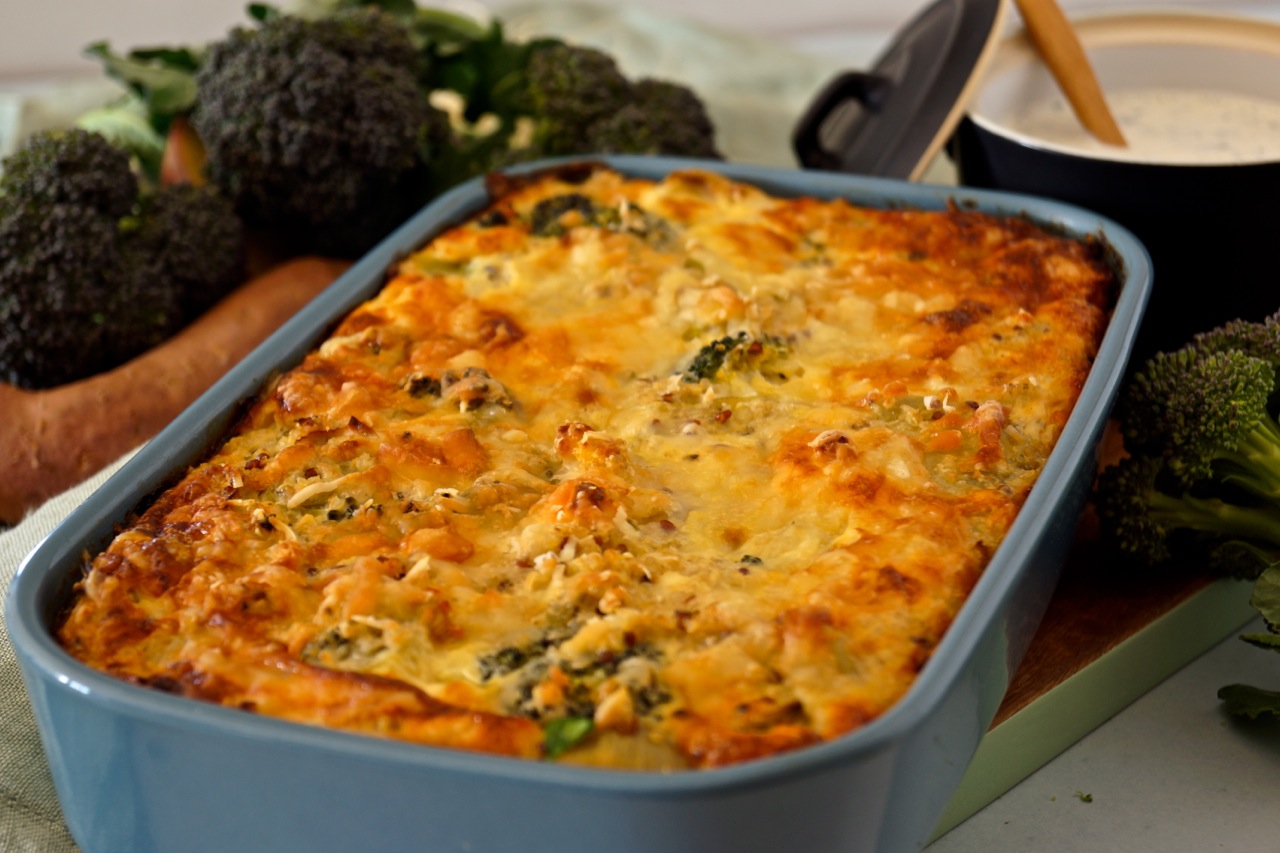 ---
One of my favorite non-grains is quinoa. I love it cold, as in a lovely fall salad with roasted vegetables. Warm and sweet, as in a creamy porridge topped with some fresh fruit. Or savory, as in this hearty quinoa bake packed with flavor and nutrients. I've been making this dish for quite some time now here at the camp and, while most people are skeptical before trying, I've received the most unexpected compliments for it.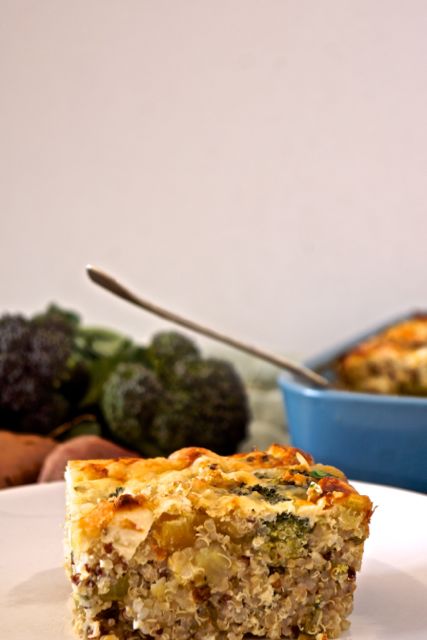 ---
It's gluten-free, which is definitely a plus! It's low-carb, which I usually don't care too much about but if you follow a low-carb diet this dish is perfect. And, most noteworthy, this quinoa bake is loaded with proteins of all different kinds – quinoa, obviously, eggs, and cheeeeeese. And don't forget about all the vegetables hidden inside of it! Overall, it's a complete meal without too much fuss. Once it's in the oven you have time to clean up the kitchen, prep the table or do some yoga. Whatever you feel like!
Serve this dish with some fresh leafy salad and a yogurt or sourcream dip. If you have leftovers, simply put it in an airtight container and store in the fridge. It makes the perfect cold lunch the next day!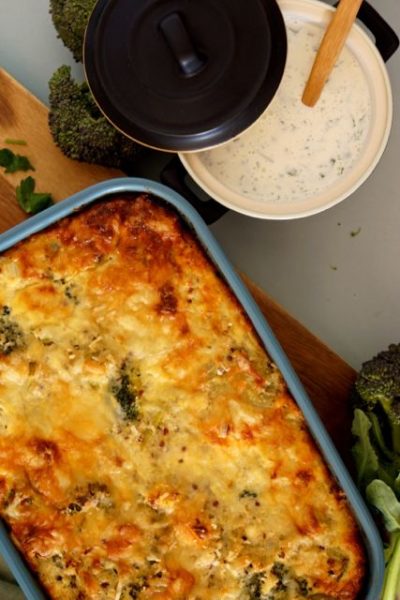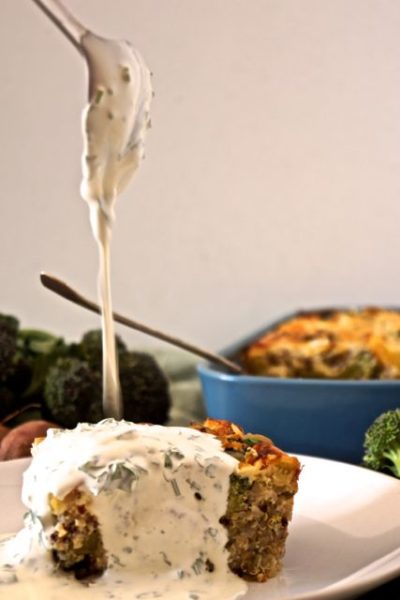 ---
Oh, and did I mention the benefits quinoa offers to your diet? It's the least allergenic of all crops, it's wheat-free, and gluten-free. It's an additional source for calcium, fantastic if you follow a vegetarian diet. And it provides your body with magnesium, manganese, several B vitamins and vitamin E. And if that wasn't enough, quinoa also contains all 9 essential amino-acids. (Find out more about the benefits of this superfood here.)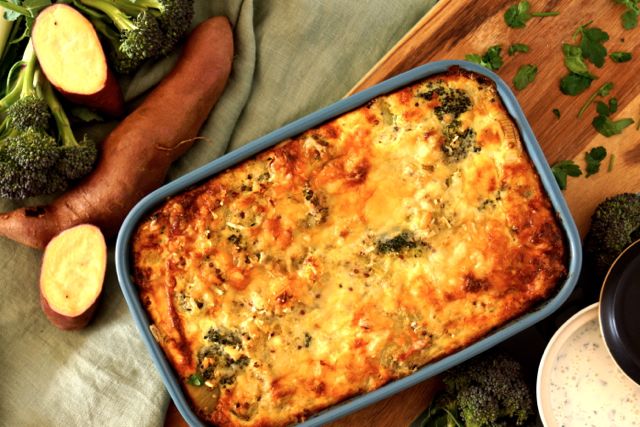 ---
Hearty Quinoa Bake (vegetarian & gluten-free)
Author:
Prep time:
Cook time:
Total time:
This quinoa bake is the perfect healthy comfort food! It's loaded with protein from the quinoa, eggs and the cheese. Packed with veggies and it's gluten-free!
Ingredients
210g (1 ¼ cup) uncooked quinoa (white or red or a mixture of both)
625ml (2 ½ cup) water
1 bay leaf
400g sweet potatoes or carrots (or a mixture)
400g broccoli
1 small leek (about 1 cup)
1 hand full of fresh parsley
4 eggs
200ml (1 cup) sour cream (or heavy cream)
1 clove garlic
100g (2/3 cup) feta cheese
100g (1 cup) grated cheese (cheddar, gruyere or parmesan)
nutmeg, salt & black pepper
butter for greasing
Instructions
Rinse quinoa under cold, running water until the water runs clean. In a small pot, bring quinoa and water to a boil. Add bay leave and a pinch of salt. Lower heat to low and cook quinoa uncovered, for roughly 15 minutes. Turn off heat, cover with a lid and let quinoa rest for 5 minutes.
Meanwhile, bring a large pot of water to a boil. Peel the sweet potatoes and/or carrots and dice into 1cm cubes. Cut the broccoli from the stems and divide into bite-size florets.
Once the water is boiling, add ½ teaspoon of salt and the sweet potatoes and/or carrots to the water Let simmer for 5 minutes, then add the broccoli and blanch for another minute. Strain the vegetables and rinse under cold running water or quickly cool in a bowl of ice water. Transfer to a mixing bowl and set aside.
Clean the leek and cut into ½ cm pieces. Roughly chop the parsley. Add to the vegetables and set aside.
In a small bowl whisk the eggs until they are homogenous. Add the sourcream and mix until incorporated. Mince the garlic and add it to the mixture and season with ½ teaspoon of salt, a good pinch of nutmeg and fresh black pepper to your liking.
Grease a casserole dish (30x20cm) with butter and preheat oven to 190°C. Loosen quinoa with a fork and pour over the vegetables. Mix carefully using a wooden spoon or spatula. Cut feta cheese into ½ cm cubes and fold into the quinoa-vegetable mixture. Transfer mixture to casserole and pour egg-mixture over the bake. Cover with grated cheese and bake in the preheated oven for 45-50 minutes or until the bake has set completely and the top is golden brown.
Serve with some fresh salad and a sour cream-herb dip.
Notes
For the sour cream herb dip: combine 200g of sour cream with ½ tsp. of salt, fresh black pepper, ½ tsp. mustard, a minced clove of garlic and ½ cup of chopped herbs; e.g. parsley, chives, basil