Is there anything better than a plate of creamy risotto? YES! A risotto combining the 2 most delicious vegetables of spring: wild garlic & asparagus. Even better yet if it's a combination of white AND green asparagus. Ok, enough praise about this insanely delicious risotto and back to the facts. Unlike most of my recipes, this one actually depends on some on-hand cooking for almost an hour. And while that might sound like a lot for some of you (yes, nap-time breaks can be awfully short! That I know from experience!), it's absolutely worth it. Big promise!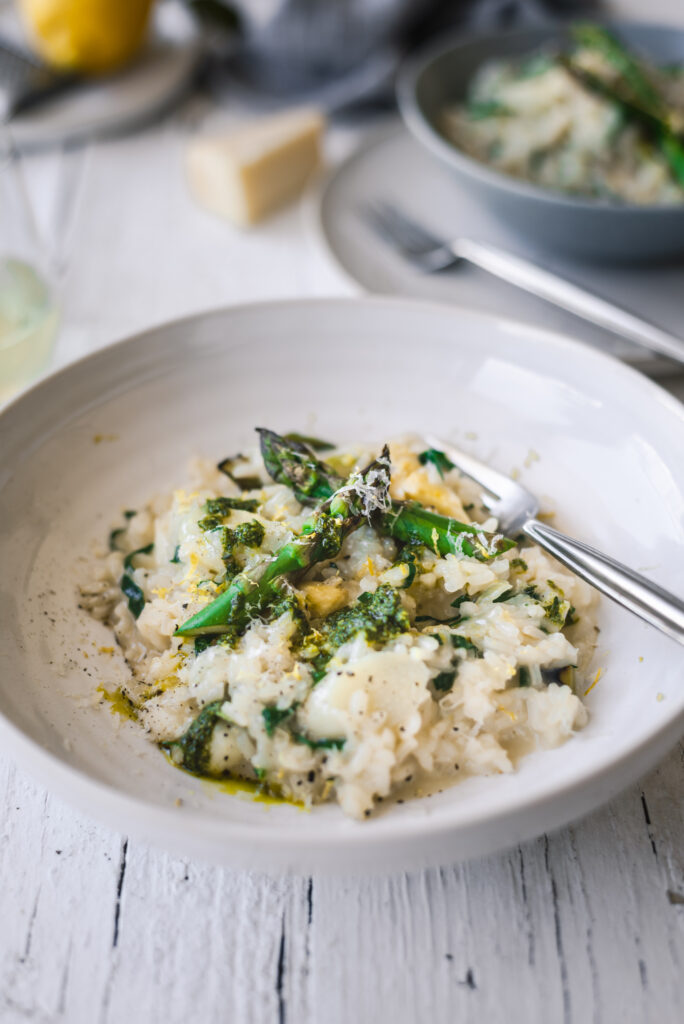 ---
So, Spring is finally here! At least that's what the calender says. The sun should come out more regularly now and first blooms have already made their way through the dark soil to please us with their color and scent. Just like wild garlic is making its way more and more through last years fallen leaves to finally cover the earth in a rich and delicious smelling green again. Foraging wild garlic at this time of year has always been one of the perks for me living in Austria. Now, that I split my time between Portugal and Austria I hardly ever get the chance to actually collect wild garlic. That's why I feel especially blessed this year to have had the opportunity to collect the first delicate leaves a couple of weeks back.
From this first batch, collected right at the beginning of the season, I made an utterly flavorful pesto (you can find the recipe below under the risotto recipe or simply click here to head right to it). It's really simple, no fancy or overly expensive (yes, I'm looking at you pine nuts!) ingredients involved. And it's also incredible versatile, as you can see here or you could use it here instead of the regular basil pesto. For me, that's one of the most important parts in making my own sauces and condiments. They need to be easy to make, flavorful and, above all, versatile to use. Because what good is it, when you have something in the fridge or pantry that you hardly ever use when making food for you and your loved ones!? Don't you agree?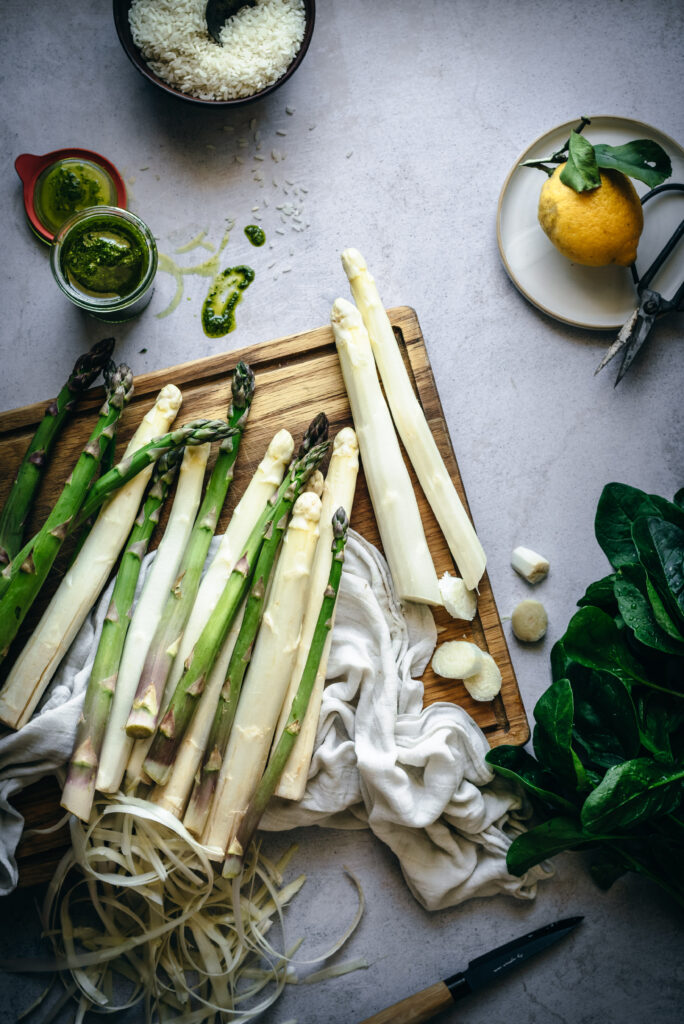 ---
But let's talk about the actual dish here: a creamy, delightful risotto. Infused with the most delicate flavors. A mixture of white and green asparagus, the above mentioned wild garlic pesto, hearty parmesan and delightful, uplifting hints of lemon peel. The combination is the bomb. I promise! You can serve it as it is, or with a fresh green spring salad to balance the richness of the risotto.
Before I leave you with the recipe, I want to really quickly get back to the time that's needed to actually get this dinner on the table. Usually my recipes are very quick, I'm speaking of 30 minutes or less of actual hands-on cooking time. This one will cost you about 1 hour of your time, but as said before, it's absolutely worth it! And I promise, the time will pass really quickly, all while rewarding you with incredible smell and flavor.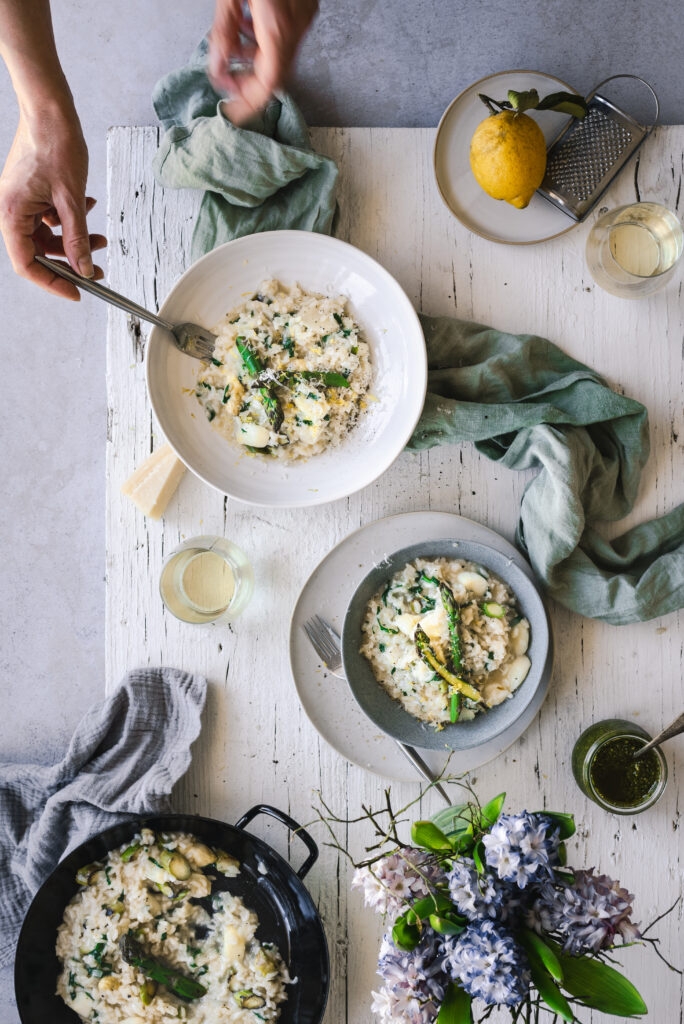 ---
So, why does this recipe take so long? Well, for one, every good risotto starts with a flavorful broth. And in order to get flavor into the stock you have to cook it from scratch. The best thing about this though, is that you can also make use of the asparagus peels and ends. Falling right into place with my low-waste kitchen ambitions. Another, is that in order for the flavors to unfold it's best to slow-cook the rice over medium-low heat. This way it has the time to really come together. 
So, without further ado. Here's the recipe! I hope you cook it in your own homes sooner or later. And if you do, please give me a shout out. Either here in the comments, on Instagram or pin it on one of your boards on Pinterest. 
Lots of love,
Anna