It is said (and argued about) that breakfast is the most important meal of the day… Personally, I really enjoy breakfasting. For years I had the tradition to meet up with my friends celebrating my birthday while brunching in one of the awesome breakfast places in Vienna. (Breakfast is a big thing in Austria, esp. in Vienna). I could spend hours over a freshly brewed cup of coffee, munching away on the delicousnesses the buffet offered, chatting away with my friends. Especially dishes like these Coconut Blueberry Pancakes would be what I was looking for on such an occasion…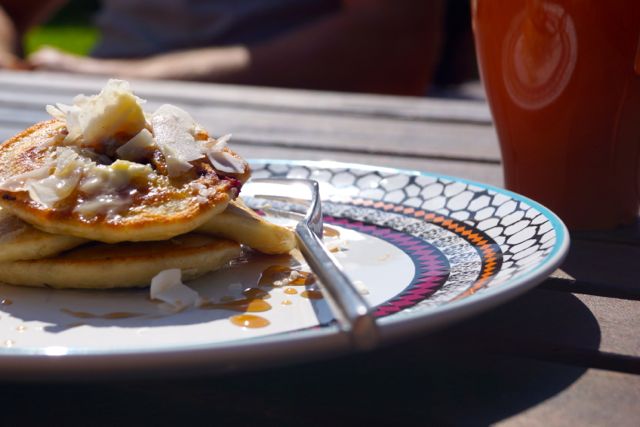 ---
In Portugal, breakfast isn't a big thing. Like in other southern European countries, breakfast consists of coffee and something quick and sweet (un pastel de nata ou un queque). Here @Mellowmove however, I could live out my passion for breakfast from the beginning on. While adding homemade spreads and jams to the buffet, I also came up with the idea of having one special food item each day. This will change from day to day. It might be something healthy like porridge or bircher muesli or at some days I'll go full in and prep some pancakes. Yipppeeee!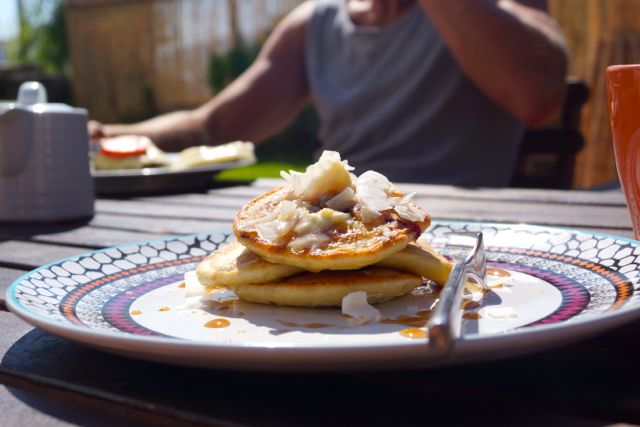 ---
This is actually my go-to recipe. They are fluffy and light. They bake up wonderfully in a couple of minutes and I love the subtle taste of coconut. And I love them even more when it's blueberry season and I can jazz up the dough with some fresh blueberries. Soooooo gooooodddd!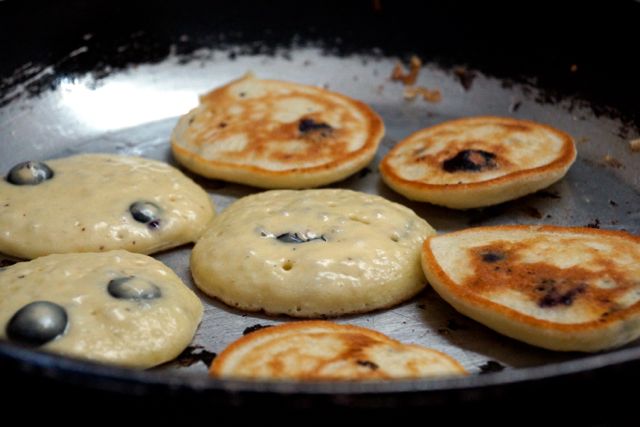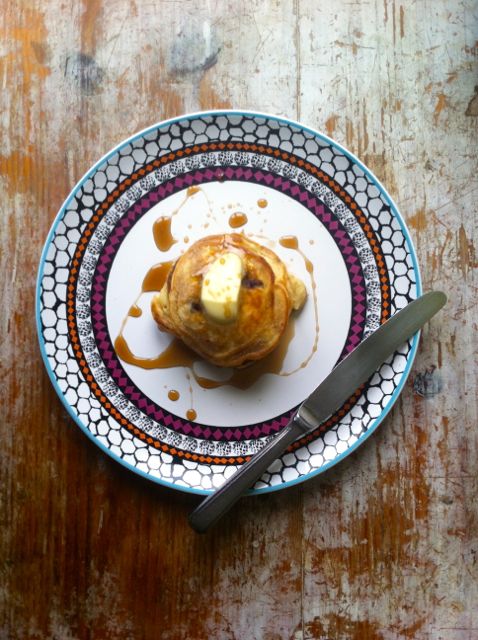 ---
Coconut Blueberry Pancakes
Fluffy and light Coconut Blueberry Pancakes. My go-to, easy to whip-up recipe for those moment when you need a little bit more than porridge 😉
What you need
200g (1¾ cup) white flour
1 pinch of salt
1 tbsp. vanilla sugar or vanilla extract
1 tbsp. granulated sugar
2 tsp. baking powder
200ml (3/4 cup) coconut milk
3 eggs
2 tbsp. coconut oil
What to do
Place flour, salt, vanilla sugar, sugar and baking powder in a medium bowl, stir to combine.
Combine the eggs with the coconut milk and vanilla extract and wish until combined. Stir into the dry ingredients just until combined, let batter sit for 5 minutes.
When the dough is ready to use, heat a medium skillet over medium heat. Add ½ tbsp. coconut oil to the hot skillet and use a tablespoon to drop parts of batter into the skillet. Let cook for 1-2 minutes, until bubbles start to form at the top and flip over to bake through.
Repeat with remaining batter & enjoy!