Spring is finally here when both wild garlic & asparagus are back in season. And I'm absolute lovin' the combination! It's fresh, flavorful and an absolute perfect match. Paired with a creamy risotto you have yourself a fancy spring meal.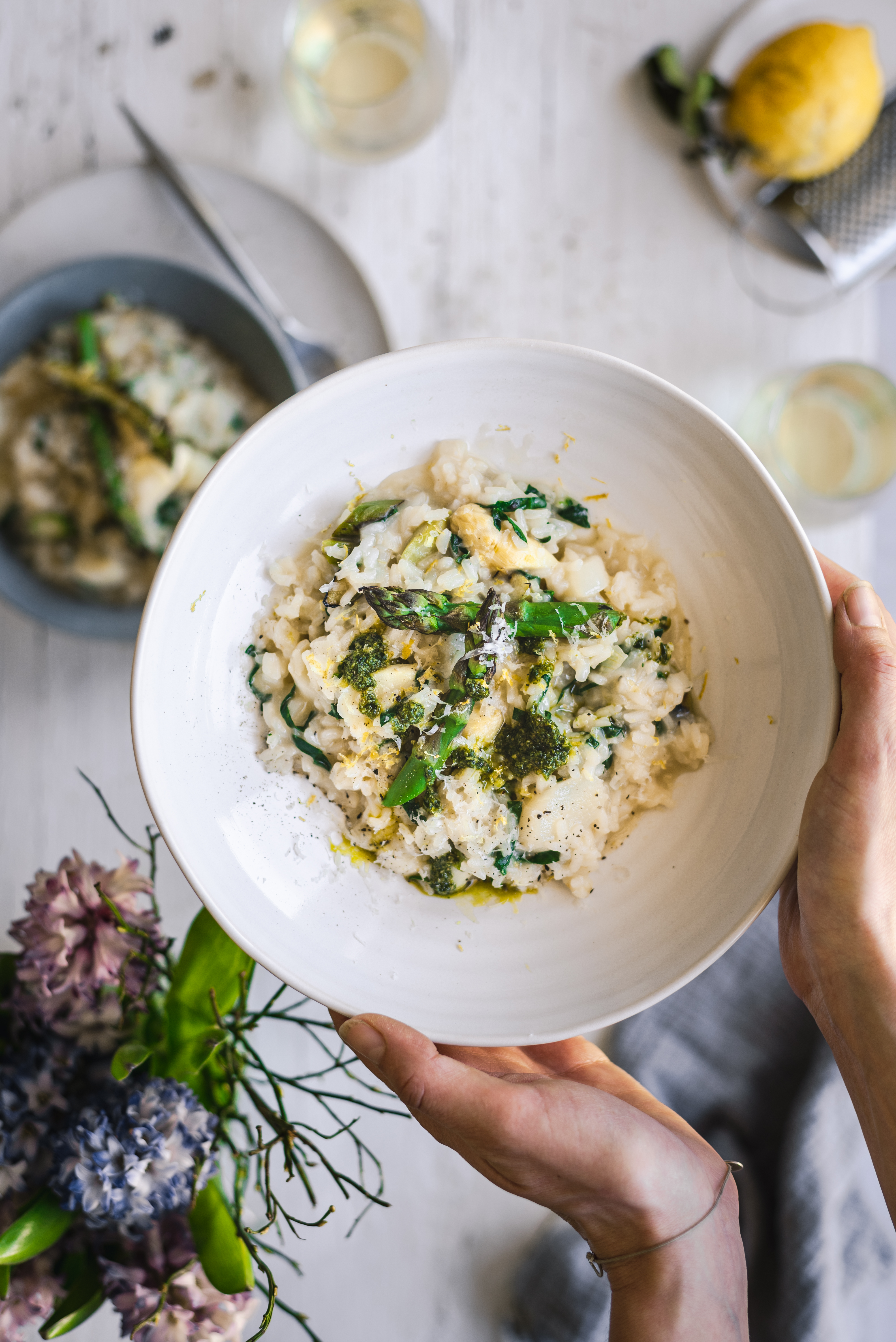 Prep Time: 30m
Cook Time: 25m
Total Time: 55m
Ingredients
For the Risotto
125

grams

onions (about 1 small)

1

clove garlic (1-2 more if you\'re not using wild garlic)

2

twigs fresh thyme

280

grams

risotto rice (e.g. Carnaroli or Arborio rice)

125

millilitres

dry white wine

300

grams

white asparagus

300

grams

green asparagus

2

tablespoons

olive oil

1

tablespoon

butter

50

grams

parmesan or pecorino

1

small hand fresh wild garlic

2

tablespoons

wild garlic pesto

1

small organic lemon
For the Broth
1

small onion

10

cm leek

125

grams

small carrots (about 2 small ones)

2

bay leaves

1 1/4

litres

water

2

teaspoons

kosher salt

2

twigs parsley
Instructions
To make the broth
Put a medium pot on high heat, cut onion in half and place cut side down into the pot. Charr onion for 3-5 minutes or until nice golden brown.
Meanwhile peel white asparagus, trim ends off green and white asparagus and add peels and ends to the onion.
Peel or wash carrot, cut in half lengthwise, add to the pot together with washed leek, peppercorns and bay leaves.
Add water to the pot, add lid and bring to a boil. Once boiling add salt, reduce heat and let simmer for at least 15 minutes.
To make the risotto
While the broth simmers, start prepping for the risotto. Peel onion and cut into small cubes. Peel garlic and cut as small as possible.
Cut white asparagus into 1/2cm rounds and put aside. Cut green asparagus into 1cm pieces and put aside in a separate bowl.
Finely grate parmesan or pecorino cheese and set aside. Wash fresh wild garlic and cut into thin stripes and set aside.
Wash fresh wild garlic and cut into thin stripes.
Once the broth is almost ready, you can start your risotto by putting a heavy-bottom pot in medium heat. Add 2 tbsp olive oil and the cut onion and sauté until translucent, about 4-5 minutes.
Add garlic, fresh thyme and rice to the pot and stir through. Wait 30-60 seconds, then add white wine and stir through. Let evaporate for 1-2 minutes. Reduce head to medium-low.
Add broth through a thieve, one cup at a time. Always stirring through vigorously. Come back to the risotto every other minute or so, stirring.
Once the rice has been cooking for 10 minutes, add white asparagus and stir through. Keep adding broth until there is none left. Still will take about another 10 minutes or so.
Place a pan on high heat. Add green asparagus and charr for 3-4 minutes. Then add to the risotto.
Once you've used all the broth and the rice is creamy and almost cooked through add butter, grated cheese and thinly cut wild garlic. Stir through. Season with salt & pepper and let sit for 1-2 minutes with a lid on.
Serve with freshly grated lemon peel, more cheese and a drizzle of homemade wild garlic pesto. Enjoy!
Notes: Find recipe for the wild garlic pesto below. You can also use parsley or basil instead. If you don't have fresh wild garlic at hand to finish off the risotto, feel free to substitute it with fresh baby spinach or arugula. If you don't have white asparagus, substitute with more green asparagus.