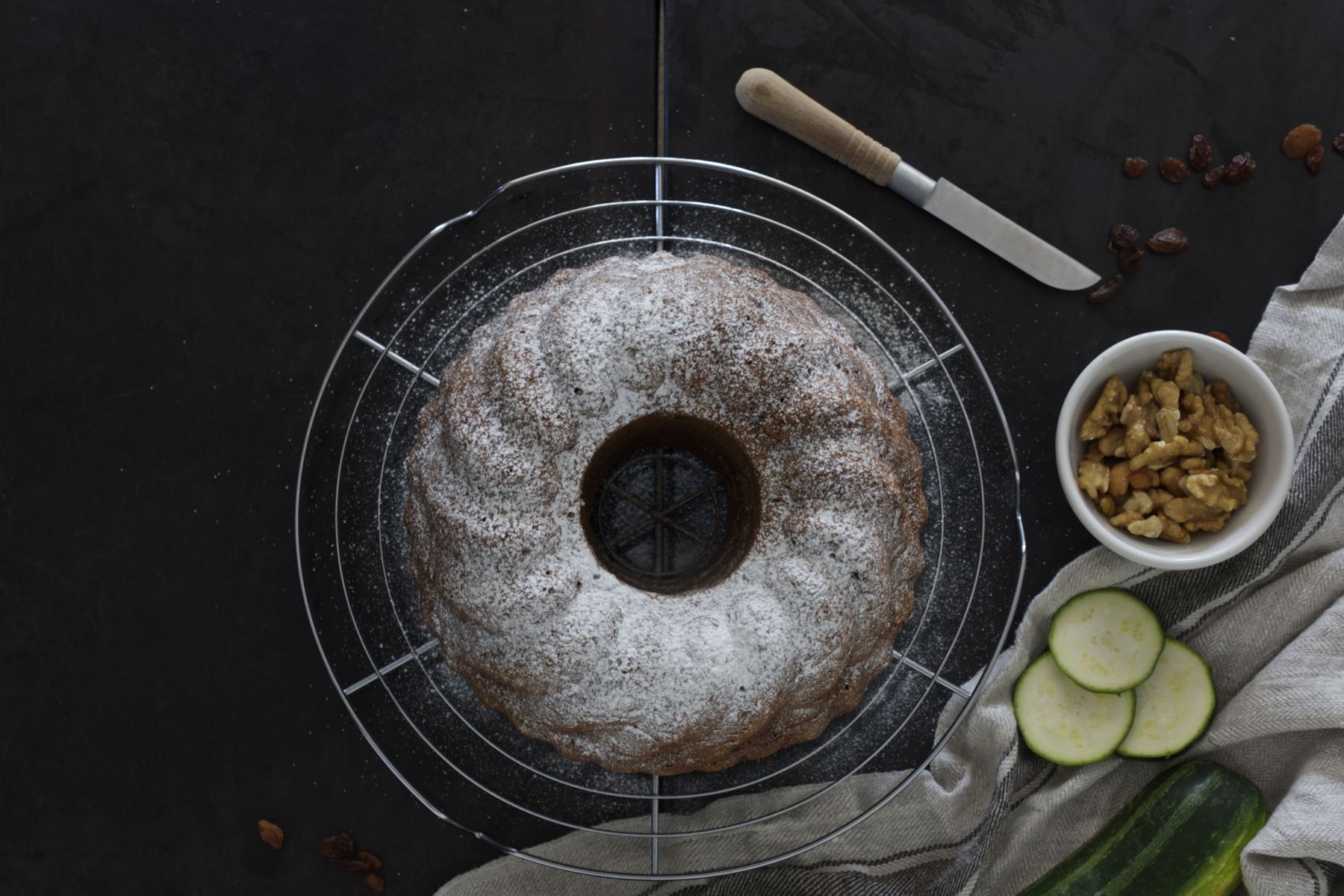 ---
Is there really such a thing as healthy cake, you ask? If there is, it definitely is this moist, fluffy Zucchini Bundt cake. Besides hiding vegetables into something sweet (which I absolutely love doing – sneaky-me ;)), this cake is made with extra-virgin olive oil! Which means lots of health benefits for you and your body. It's rich in monounsaturated fats and packed with antioxidants, which in my opinion is all I could ask for in a cake. The added walnuts and raisins or cranberries (whichever you decide to use) give this cake an extra nutritional boost, and add more healthy fats and antioxidants. So there's absolutely no reason why not to have cake for breakfast! Yeahhhh!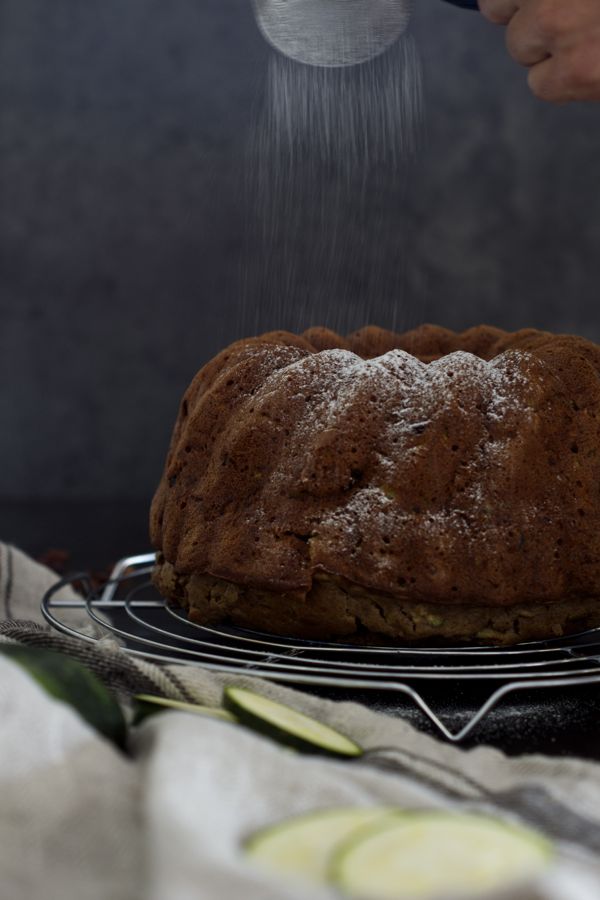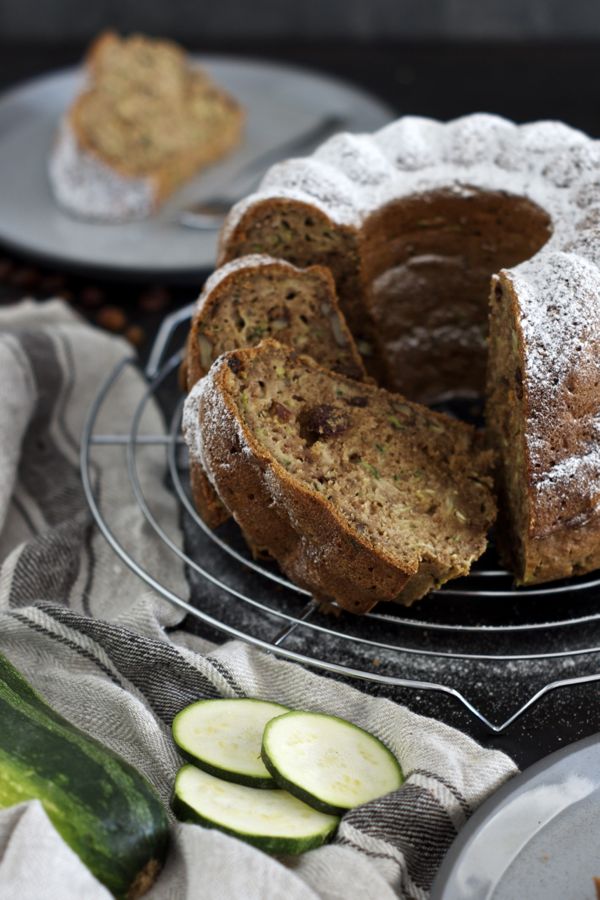 ---
Another reason to make this cake today and not wait until tomorrow is how easy it is to make this healthy treat for you and your loved ones! Just one bowl, no extensive mixing or kneading involved. Simply through all the ingredients together, pour into your preferred cake tin and bake for 50mins and your ready to go! And I'll assure you, everybody will love this cake – even vegetable-cake skeptics.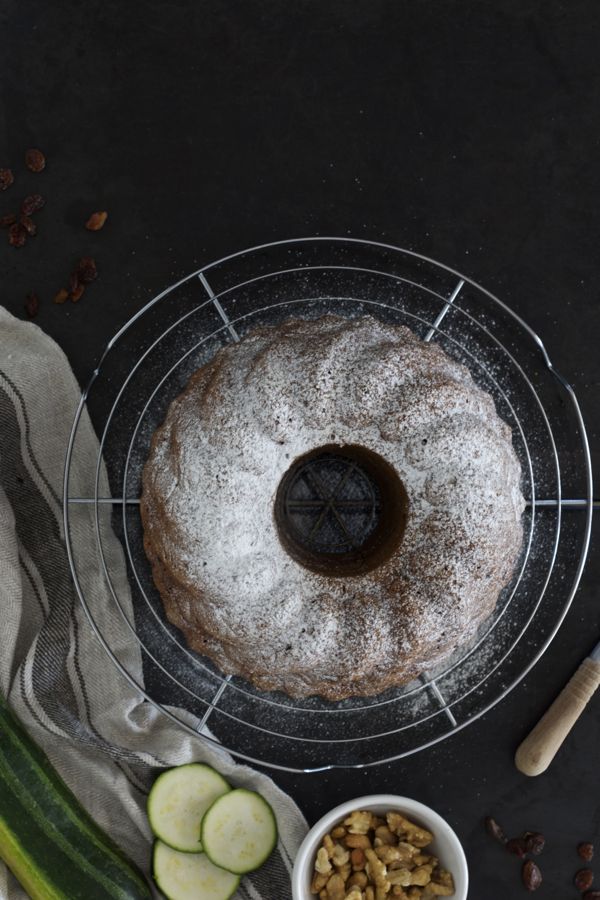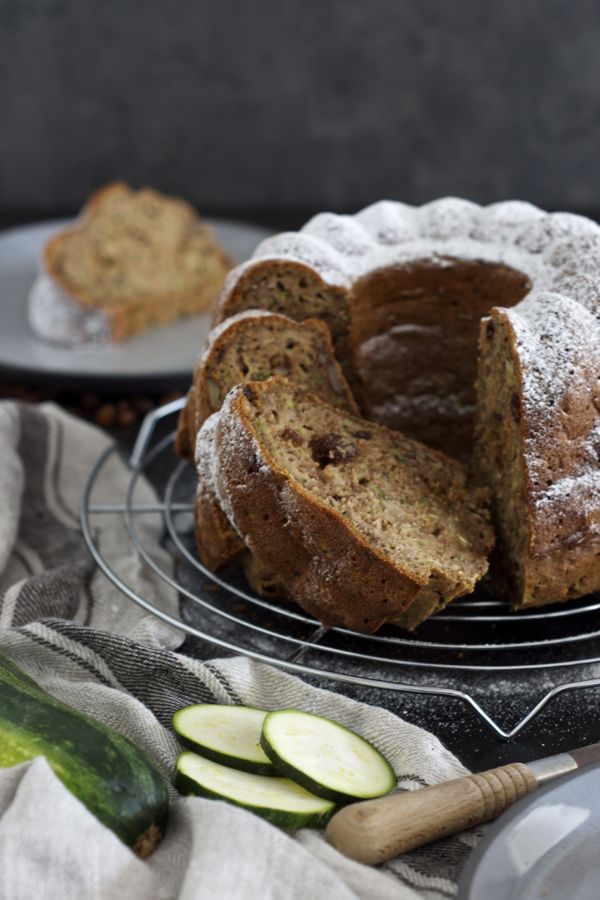 ---
Also, if you're not yet sold on this delicious and healthy treat, try to imagine the sweet and slightly spicy smell of the cinnamon and nutmeg which float through your kitchen when baking this cake. For me, this is the perfect autumn/winter cake. Although I make it year-round, just because I love it sooooo much! By far, my favorite cake recipe until now… but who knows what's to come 😉
Healthy Zucchini Bundt Cake
Author:
Prep time:
Cook time:
Total time:
This healthy Zucchini Bundt Cake will make you come back for more without any regrets! It's moist and fluffy, not too sweet and extremely satisfying. Also, it's the perfect Sunday afternoon teacake or a quick breakfast bite if you're having a rushed start into the morning – either way, the nuts and dried fruits will nourish both your body and soul.
Ingredients
4 eggs
½ tsp salt
150g (3/4 cup) light brown or turbinado sugar
160ml (2/3 cup) olive oil, extra-virgin
200g (3/4 cup) sour cream
1 medium zucchini, coarsely grated (3 cups or about 500g)
2 tsp vanilla extract or 1 tbsp vanilla sugar
390g (3 cups) whole spelt flour
3 tsp ground cinnamon
1/8 tsp ground nutmeg
1 tsp baking powder
½ tsp baking soda
100g (3/4 cup) walnuts or pecans
100g (3/4 cup) raisins or cranberries
Instructions
Preheat oven to 180°C (350°F). Grease a bundt cake pan and set aside.
Crack the eggs into a large bowl, add salt and beat with an electric whisk. Mix in the sugar and beat until well combined and slightly fluffy. Add olive oil, sour cream, grated zucchini and vanilla.
Combine flour, cinnamon, nutmeg, baking powder and baking soda. Stir into the egg mixture and whisk until combined.
Add nuts and dry fruit and incorporate using a spatula or wooden spoon.
Transfer to baking tin and bake in preheated oven for 50mins. Leave for another 5 to 10 minutes if cake tester doesn't come out clean.
Notes
Adapted from Smitten Kitchen's Zucchini Bread
This recipe was adapted from Smitten Kitchen's Zucchini Bread recipe