A wonderful spring flavored quiche that serves easily as a light lunch or dinner, a make-ahead starter or potluck contribution. You can make the base ahead a couple of days to save time. Prepare the filling right before baking and you're ready to eat in no time.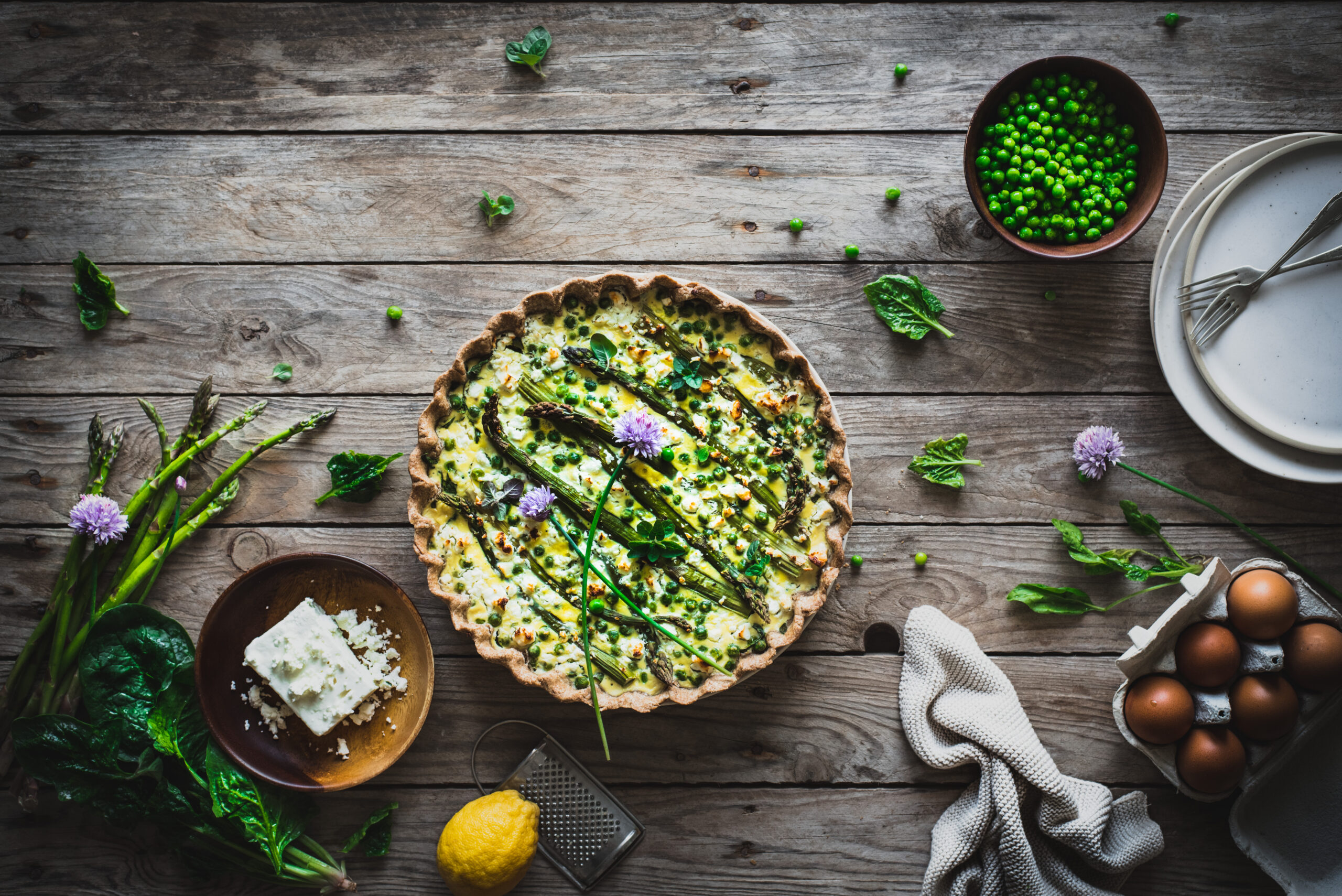 Prep Time: 30m
Cook Time: 40m
Total Time: 1h 40m
Ingredients
For the base
125

grams

cold butter, a bit more for greasing

150

grams

whole spelt flour

100

grams

light spelt flour

1/2

teaspoon

fine salt

3

tablespoons

ice-cold water
For the filling
250

grams

green asparagus

80

grams

fresh spinach

100

grams

raw or frozen green peas

5

eggs, organic

200

grams

sour cream

1

big garlic clove

2

sprigs lemon thyme

zest of 1/2 organic lemon

1

teaspoon

fine sea salt

freshly ground black pepper

100

grams

feta or crumbly goat/sheep cheese
Instructions
Prepare the base
Cut the cold butter into 1/2cm pieces. Place flours and salt in a medium bowl and mix through.
Add cubed butter to the flour and use your hands to mix the butter thoroughly into the flour. You want the butter to be broken up and well combined, but don't overmix.
Once you have a crumbly consistence add 2 tablespoons of ice-cold water and work the dough into a smooth ball. If the dough seems to dry add another tablespoon of water. Form into a smooth ball.
Move to a sealable container and place in the fridge for 15-20 minutes. Note: You can make the dough ahead of time, but if you leave it in the fridge for more than 1 hour before continuing, take it out 10-15 minutes before rolling it.
Prepare a 24cm pie dish and lightly grease the bottom and the sides. Roll out dough onto a floured surface until the dough is a round disk of about 26-28cm diameter.
Roll the dough onto your rolling pin and move over the pie dish. Gently place over the pie dish and press the dough onto the bottom and up on the sides. Tuck the dough under to make an even rim. Use a fork to pierce the dough on the bottom 15-18 times. Place in the freezer for at least 30mins, or up to 3 days.
Prepare the filling
Preheat oven to 200° Celsius.
Wash asparagus and cut or break off the woody ends.
Wash spinach, dry in a salad spinner and cut into 1cm stripes.
Add spinach to the prepared pie crust and place asparagus on top of the spinach. Fill the gaps with the green peas.
In a medium bowl mix the eggs with a whisk. Add sourcream, thyme leaves, minced garlic, lemon zest, salt & pepper. Mix thoroughly. Pour mixture into the prepared dish.
Break feta into pieces and place all over the filling.
Bake quiche for 40-45 minutes or until nicely golden-brown.