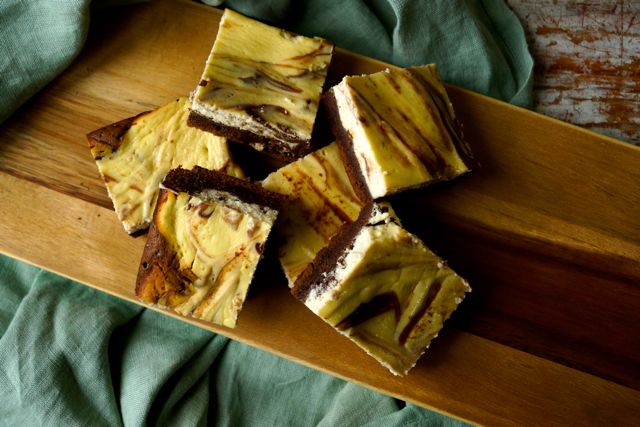 ---
It's been raining outside and my mood has been dull like the weather for the last couple of days or so. So, I thought, no excuses! Get you're a** moving, make some cheesecake brownies and shoot some pictures for the blog.
Taking pictures for this page is something I seem to be having a love-and-hate relationship with. On the one hand, I enjoy being artistic (in small dozes) and there is so many food bloggers out there, which I adore because of their amazing pics. On the other hand, I ever too often am not able to find the right angle, have the props ready that I'm looking for, or manage to get the picture from my head to transform into an actual photo.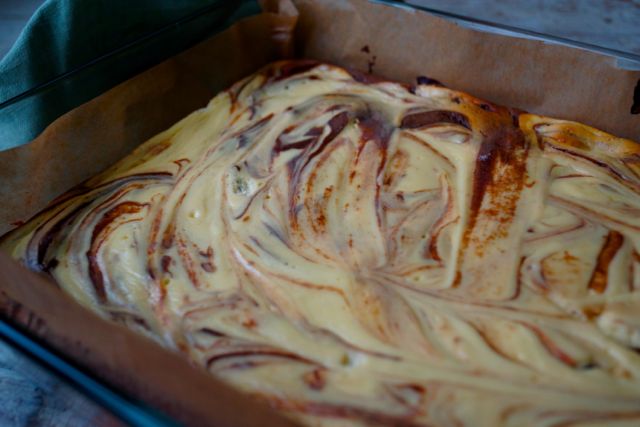 ---
While I know this is partly due to the perfectionism, which I've been fostering for almost 33 years now. I still can't seem to turn it of. Only, the older I get, the more I seem to become aware of this urge inside of me to make everything perfect. To have the control about every little bit and piece around me and to get my chaotic self disguised by a perfectly organized outside.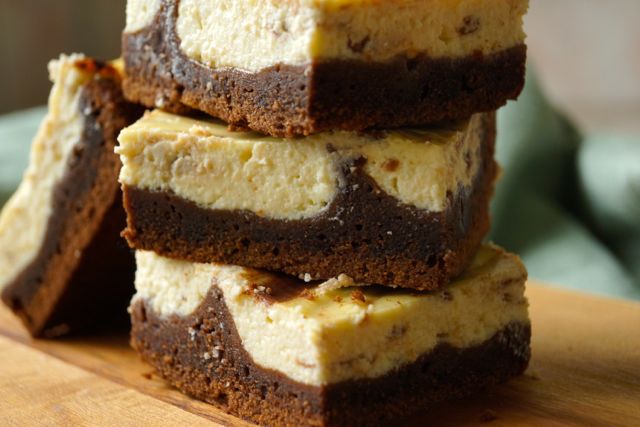 ---
The last month that I have been working on getting the blog ready, I've experienced this urge of perfectionism painstakingly. It has cost me valuable time and an inexplicable amount of nerves. So, today when I was baking these cheesecake brownies I was reminded of the everyday imperfections that make us human. But, for once, I didn't frown at them but I embraced them.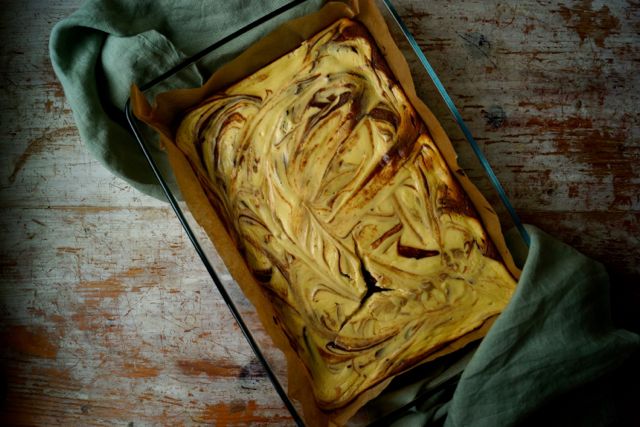 ---
So, here they are, my imperfect, but yet even more delicious Cheesecake Brownies. Because, hell yeah, for once you don't need to decide between cheesecake and brownies – you can have them both! Perfect if you're like me and decision making isn't, well let's say, your fav. But regarding my decision-making, or rather, decision procrastinating issue I'll write about another time…
This recipe was inspired by Smitten Kitchen's Cheesecake-Marbled Brownies, who adapted it from Gourmet, June 2007
Cheescake Brownies – gooey & moist
Author:
Prep time:
Cook time:
Total time:
For those days when you can't decide between chocolate brownies and cheesecake. A soft and moist chocolate brownie base that holds a gooey and tart cheesecake topping. Simply delicious…
Ingredients
brownie base
125g (bit more than ½ cup) butter, cubed
100g (3.5 ounces) dark chocolate, roughly chopped
200g (1 cup) light brown sugar
1 tbsp unsweetened cocoa powder
1 tsp cinnamon
1 tbsp vanilla sugar or 1 tsp vanilla extract
pinch of salt
3 large eggs
125g (1 cup) all-purpose flour
cheesecake batter
500g (16 ounces) quark (or if you can't find it cream cheese, softened)
1/2 cup sugar
1 tbsp. vanilla sugar or 1 tsp. vanilla extract
2 egg yolks
Instructions
Preheat the oven to 175°C (350°F) and line a 30×20 rectangular baking pan with parchment paper.
Prepare brownie batter:
Slowly melt the butter with the chocolate in a heat-proof mixing bowl, double-boiler style (bain marie). To do so, place the mixing bowl over a small pot of simmering water.
Once the chocolate is completely melted remove the mixing bowl from the heat and whisk in the light brown sugar until combined. Add the cocoa powder, cinnamon, vanilla, salt and mix until combined. One after the other beat in the eggs. Whisk in the flour until just combined and spread the mixture into the baking pan.
Prepare cheesecake batter:
In a small mixing bowl whisk the quark with the sugar and vanilla. One at a time, add the egg yolks and mix until combined. Spread the batter over the brownie batter and, with the help of a butter knife or spoon, make some chocolate swirls into the cheesecake batter.
Bake in the preheated oven for 40-45 minutes, until the centre is set. But don't overbake them. They still need to be soft and moist after cooling.
Notes
Inspired by Smitten Kitchen's Cheesecake-Marbled Brownies[br]https://smittenkitchen.com/2009/09/cheesecake-swirled-brownies/