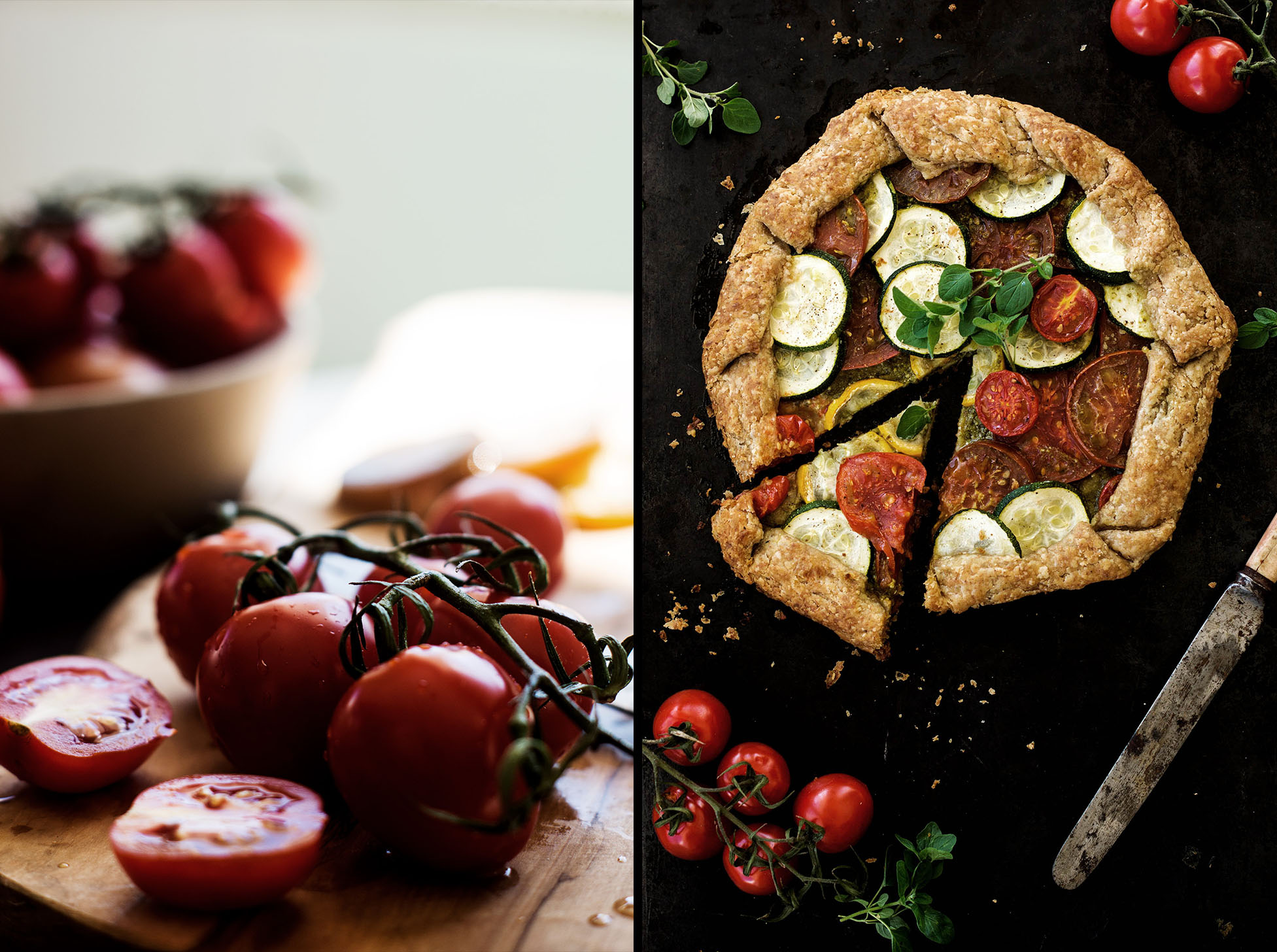 ---
Oh, boy! Where has the time gone… It feels like summer has just arrived and at the same time we're running head on into fall. But before we warm ourselves inside out with hot stews and hearty, fall salads, let's soak up summer once more and make the most of those super ripe tomatoes and endlessly growing zucchinis. Fun fact: did you know that zucchini comes from zucchina, which means tiny squash in Italian? And that courgette, which is often used synonymously for zucchini, has a French origin? Anyways, it's basically the same plant: a longish, green or yellow summer squash. And a super versatile summer vegetable!
When it comes to tomatoes, there's nothing better than self-grown, organic ones, don't you think? And if you've ever tasted a sun-riped tomato directly from the vine, it will be hard to go back to store-bought ones. So, why is it that self-grown tomatoes taste sweet and pleasing, while store-bought ones usually taste, well, bland and boring? It is actually due to the breeding of commercial plants and the industry's efforts to produce uniform luscious red tomatoes, because they believe that's what the consumer wants? But why change the taste for the worst, you ask? Well, when tomato breeders decided to favor the uniform ripening of the tomatoes and deliberately cross-bred this feature into almost all modern kinds it actually resulted in a blocking or inactivating of another gene responsible for the amount of sugar that is produced inside the tomato and thus results in a less tasty tomato. Crazy world, if you ask me!
---
Anyways. To me, tomatoes are the perfect summer vegetable and I can't get enough of those endless varieties that you can find at the farmer's market. Colorful heirloom tomatoes, meaty oxheart tomatoes, dark red or even black varieties, anything goes! They are super easy to grow too. You don't even need a big garden to do so. A pot on your balcony will do to bring up a medium sized plant. Try cherry tomatoes if you're new to gardening. They are pretty resistent and will get ripe sooner. Also, tomatoes are almost 95% water and full of nutritional value. They are relatively high in fiber and a good source for Vitamins and Minerals, as well as antioxidants. The perfect summer veggie to make sure you're well hydrated on those hot days.
And now, finally, to today's recipe: a vegan Summer Zucchini Tomato Galette. I once read that the galette is the 'lazy person's pie' and it made me fall in love with this crazy little baked delicacy even more! I love simple and easy recipes that bring out the flavor of each ingredient while giving you more time for other things. (Like maybe, baking a cake – haha).  The dough for this galette is really basic: fat, flour, water and a splash of apple cider vinegar – so no fancy ingredients here, and it can be thrown together in the matter of a few minutes. You can even make it ahead of time and store it in the fridge for up to 2 days. Everything else you need to make this fresh summer galette is a high-quality pesto or, even better, a homemade one, like this one, ripe summer tomatoes and a couple of zucchinis and voilá – you've got yourself a lovely light lunch or dinner or a beautiful starter for your next dinner party!
By the way: Do you have a favorite summer vegetable? If so, let me know in the comments or on IG @themellowkitchn – I'd love to hear from you!
Enjoy the rest of your summer!
Anna
xx