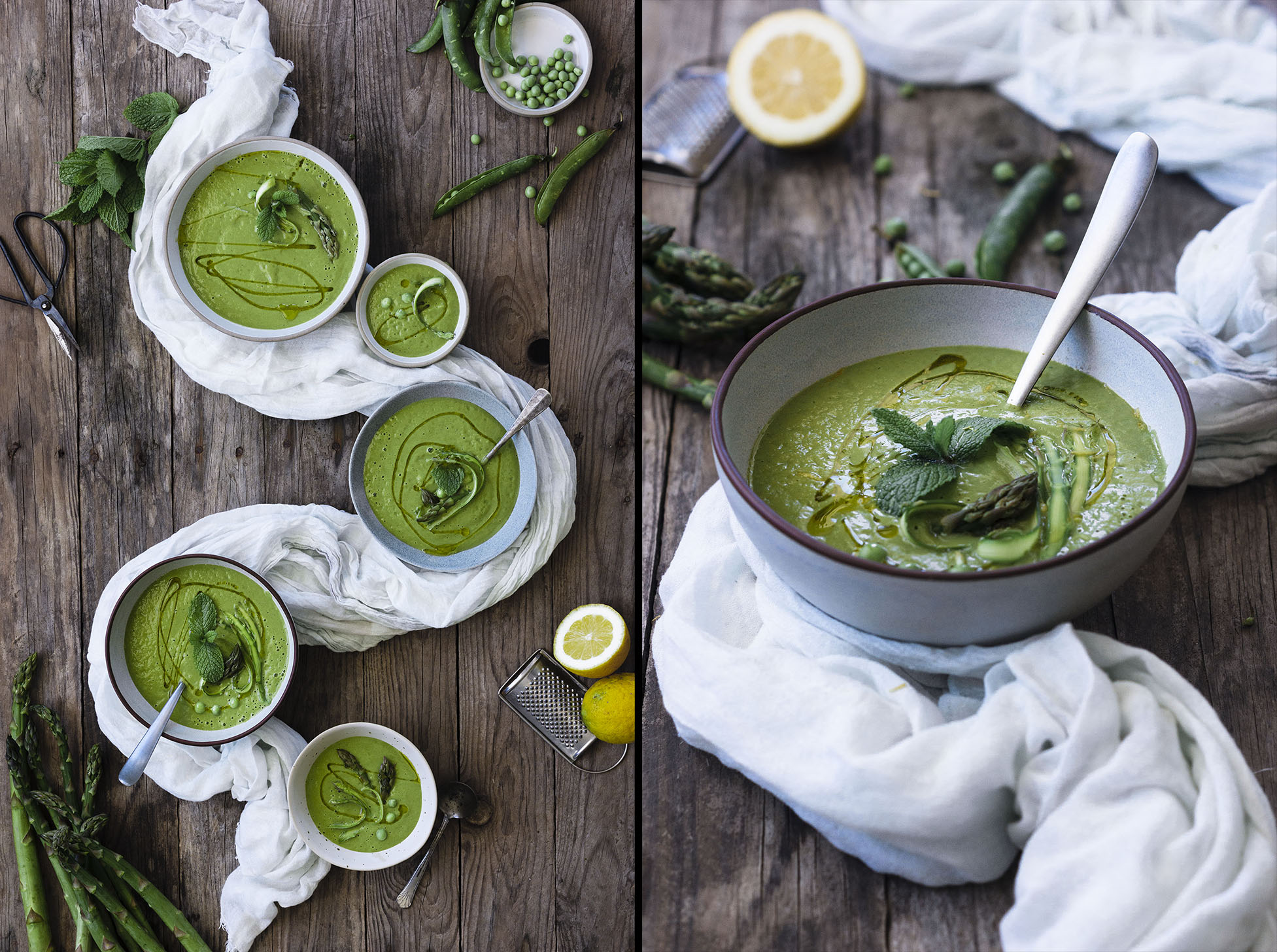 ---
I love this time of year! It's usually warm enough during the day to get out the first summer clothes and at night it's still cool and fresh enough to cuddle up and enjoy a warm cup of soup. And my fresh green asparagus soup with spinach and mint is just perfect for this kind of season. It's refreshing, light and, at the same time, comforting and satisfying. Serve it with toasted, crusty bread or eat with a sandwich or wrap for lunch or dinner.
When you read through the recipe you'll see that the soup is really straight forward and there's nothing really fussy to do. You simply make your own quick veggie stock by boiling the pea pods and woody asparagus ends and add this to your sautéed vegetables. Easy peasy and full of flavour. Also, I'm a big fan of using the entire vegetable when cooking, so nothing of nature's goodness is wasted. A win win for everybody.
As most of my soups, this asparagus cream is vegan and minimalist in the ingredients. But, if you feel like alternating the recipe or you can't find fresh spinach for example, please feel free to make your own variation! You can easily replace the spinach with some mangold or a mixture of herbs and/or rocket salad. Adding some leafy greens at the end with give you an extra detox and vitamin boost. Just don't get stressed out about any of it! Cooking should be fun, inclusive and an act of self-care. So, go with the flow and make it your own recipe.
If you happen to make this recipe or even take a picture of it, please feel free to tag me @themellowkitchn and/or #themellowkitchn. Or leave a comment right here on the blog! It always makes my day to hear from you!
Keeping it short and simple today. I'll leave you with the recipe and hope to hear from you soon!
Anna