A crispy crust filled with fresh Heirloom tomatoes smothered in a creamy egg & sour-cream filling. A very simple but delicious dish that you can enjoy as a light lunch, dinner or serve as an appetiser or for brunch.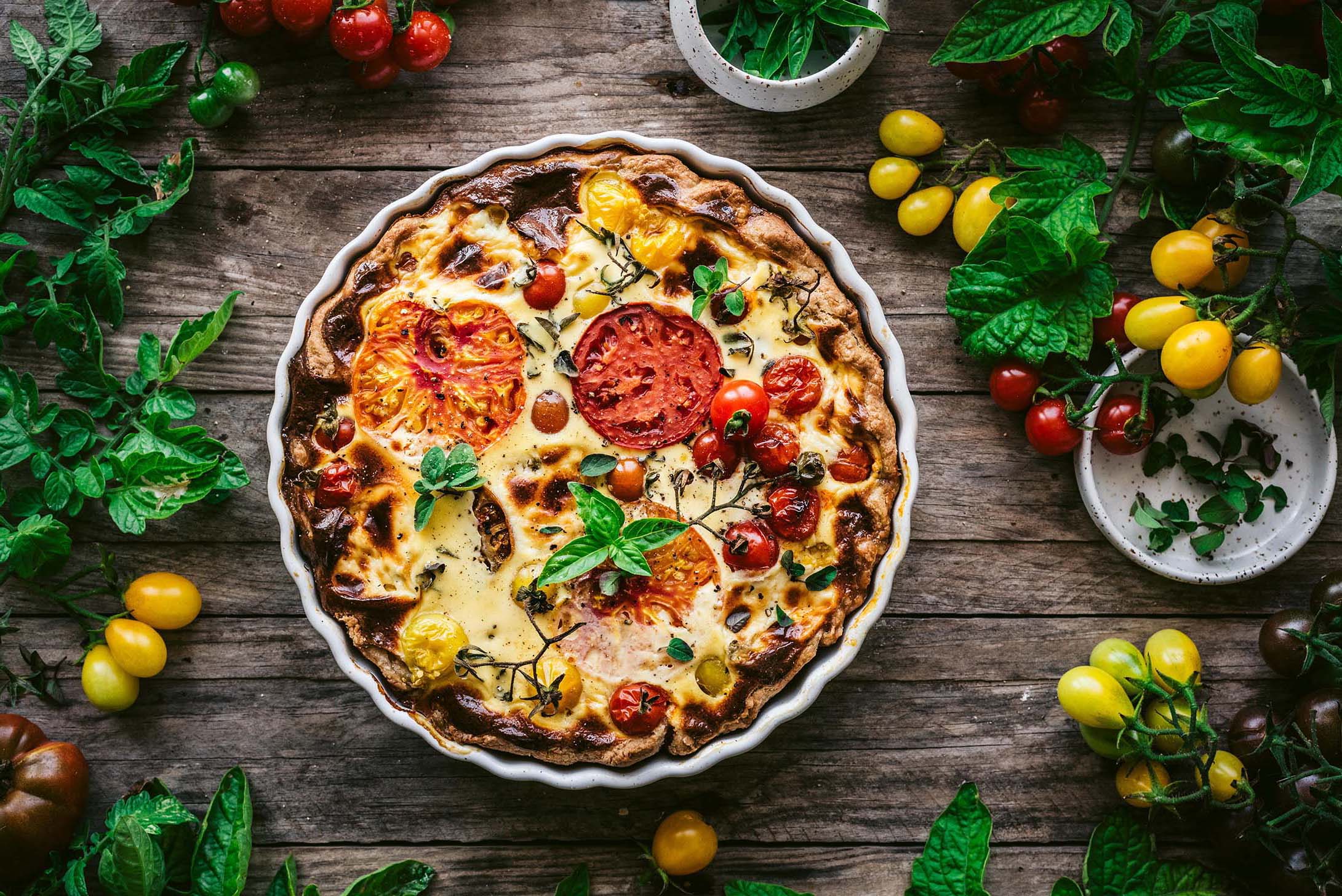 ---
Sometimes things can be so simple, right? Like peanut butter & jelly, or a simple crepe with sugar & lemon juice, or everybody's darling: avocado on toast. Just like these, this easy Tomato Quiche is incredibly simple. In a beautiful, straight forward way.
The star of this dish is definitely the Heirloom tomatoes. This perfectly ripe summer vegetable becomes even more delicious when baked. And the creamy egg-filling makes a wonderful contrast to the juicy tomatoes.
Baking from scratch
Of course, when making a quiche you can always fall back on a store-bought dough. Especially when you're in a hurry. But the beauty for me lies in making your own dough from scratch. Basically, all you need is flour & butter. Just make sure you're using cold butter & you don't overwork the dough. It doesn't have to be perfect. Little bits & pieces of butter in your dough actually make it even better & flakier. You can even make the dough ahead of time, store it in the freezer & just pull it out once you need it.
---
Mixing up the filling is equally straightforward. You whisk the eggs with a whisk or fork, add sour cream, season to taste & you're ready to go. All left to do is to fill your baking dish with the last fresh Summer tomatoes, pour the egg mixture over them. Add the mascarpone & bake until set.
It's all about the dough
You all know that I love working with my hands. And kneading your own quiche dough is the perfect way to do that. Although, kneading might not be the best word to use here. Because the less you knead your quiche dough the better it will actually turn out. You wanna make sure you only work it as much as you really need for the dough to come together. And that you end up having bigger as well as smaller pieces of butter throughout your dough.
---
How to serve it
Like with basically all quiches, you can serve it warm or cold. Which makes it wonderfully versatile and a great dish to prepare in advance if you want to bring it to work, a potluck or serve to your friends at a brunch.
As always, if you make this recipe I would love to hear from you how you liked it. Simply leave a comment below or connect with me on instagram.
Lots of love,
Anna