The other day my mum said she finds pumpkin to be boring most of the time and it's taste is too blunt for her usually. I was stunned, to be honest. I have always enjoyed pumpkin and I would have never thought that anybody would call the taste of pumpkin 'boring'. So I got thinking about pumpkin and what I love about it. And I came to the conclusion, that the 'boring' impression of pumpkin some seem to have is to me a wonderful, mellow, food vehicle for any flavour I would like to make shine through. But maybe I'm simply a weirdo, 'cause I think there's no veggie I would consider boring. I just luuuuuuvvv all their different flavours and textures and if you let me, I'll go on about each and every one of them for hours 😉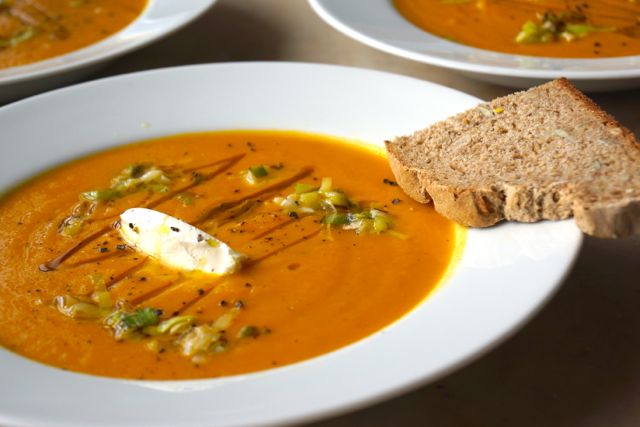 ---
Especially in soups, however, I enjoy the creaminess, earthiness and richness of pumpkin (a lot of '-ness' here…) And its subtle taste leaves room enough for spices and condiments to shine. You can spice it up with ginger, garlic, all kinds of herbs and flavours or you go for the simple and straightforward. Like with this version of a simple roasted pumpkin soup.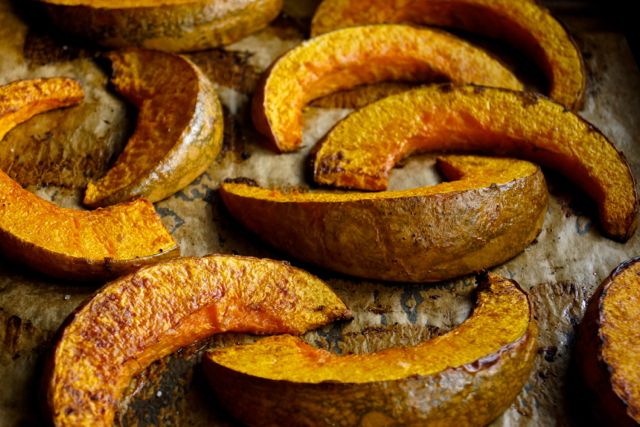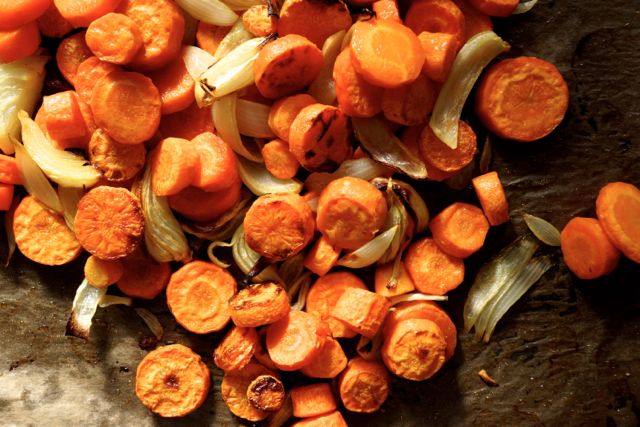 ---
Roasting the pumpkin and carrots enhances their true flavours and adds depth to the soup. The cumin and some chilli flakes add just enough warmth to let the simplicity of the vegetables come forward without being overwhelming (Though beware of the chilli, it might get really spicy depending on what kind you use). And still, it's a completely different taste then the traditional Austrian way of making a creamy pumpkin soup, where you usually use caraway seeds and parsley and top it off with some roasted pumpkin seeds and cold-pressed pumpkin-seed-oil.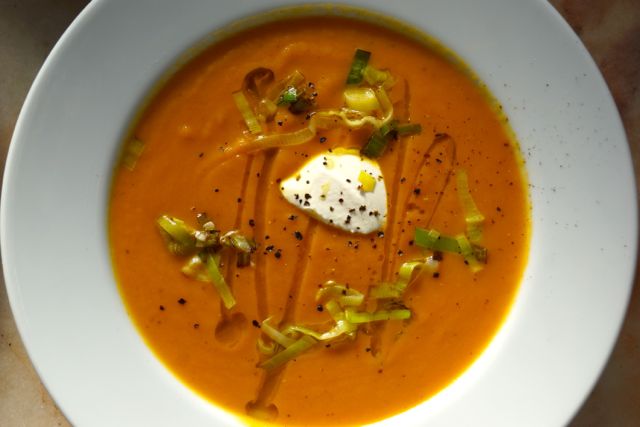 ---
This recipe can be vegan if you want it to. Simply omit garnishing the soup with sour cream or use a vegan substitute instead.
Simple Roasted Pumpkin & Carrot Soup
Author:
Prep time:
Cook time:
Total time:
A simple, warming and comforting soup for the cooler days of the year. Less than 10 ingredients needed and no stirring involved.
Ingredients
1,5kg pumpkin (I used butternut squash for this one)
1kg carrots
2 tbsp. cumin powder
¼ tsp. red pepper flakes
4 tbsp. olive oil
3 small white onions
3 cups vegetable broth
salt & black pepper
1-2 tbsp. apple cider vinegar
1 leek
200g (vegan) sour cream
Instructions
Preheat the oven to 180°C (375°F) and line two baking sheets with parchment paper.
Wash the pumpkin and cut into half. With the help of a sharp spoon remove the seeds and strings. Cut into 2 cm wedges and place in a bowl. Cover with 1 tbsp. cumin powder, 1/8 tsp. chilli flakes and 2 tbsp. olive oil and mix until well coated. Transfer to a baking sheet.
Peel and dice the carrots into 1-1 ½ cm pieces and transfer to a bowl. Top with 1 tbsp. cumin powder, 1/8 tsp. chilli flakes and 1 tbsp. olive oil and mix until the veggies are well coated. Transfer to the second baking sheet. Peel the onions, cut into 1/8 wedges and place on top of the carrots.
Roast veggies in the oven for approx. 45 minutes, or until soft and slightly charred on the edges. In the meanwhile wash the leek and cut into 1/2cm wheels. Heat a medium pan over medium heat. Once hot add the remaining 1 tbsp. of olive oil and roast the leeks for 4-5 minutes. Set aside.
Once the veggies are done, set aside the pumpkin and let cool for 10 minutes. Meanwhile transfer the carrots to a blender and top with hot veggie stock.
When the pumpkin is slightly cooled remove the peel with the help of a small sharp knife or a spoon. Add the pumpkin flesh to the blender and blend until smooth and homogenous. Add a little more water if needed to reach the consistency you like. (Personally, I like my soups rather thick and creamy) Season generously with salt, black pepper and a splash of apple cider vinegar. Serve the soup topped with sour cream and leek.