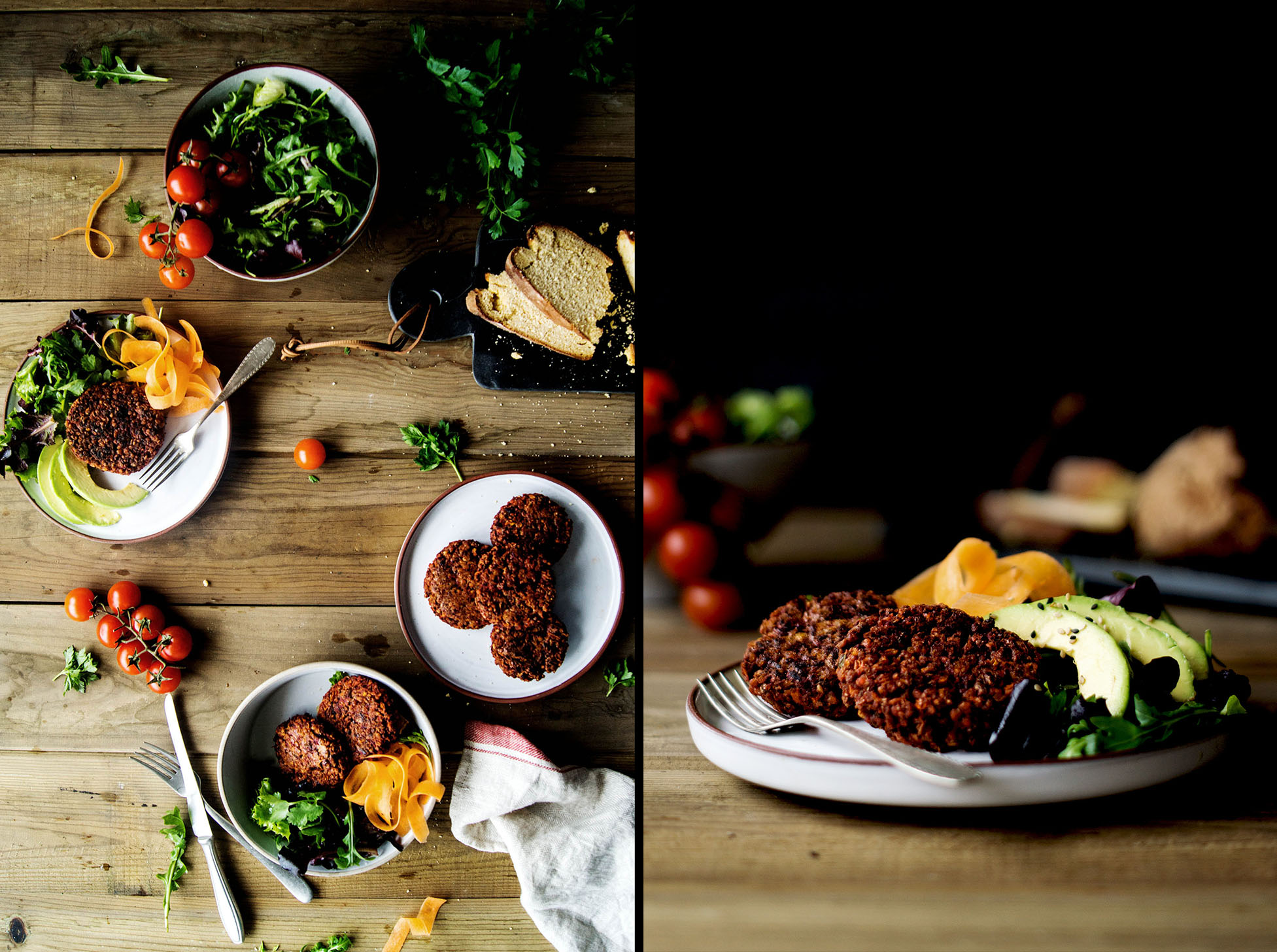 ---
Finally! These versatile Beetroot Buckwheat Patties have been sitting in my drawer forever! Some of you have been asking me for this recipe after eating them here at the camp. Others have asked me for ideas on what to make of buckwheat without even knowing these vegan and glutenfree patties existed. To all of you, and to the many of you who might have never thought of making vegan patties or even cooking with buckwheat, I have to say: these are exactly what you waited for. They are crispy, flavorful and packed with nutrients. It's pure please having them stored in your fridge and just reaching for one or two of them when you need a quick dinner or lunch. Or you make them for burger night, as I do ever so often.
Okay, okay, I will stop bragging about how good and versatile they are and start giving you some facts. Lets start with the amount of effort you have to put into these little fellows. Apart from cooking the buckwheat kernels and roughly chopping and grating some veggies, these patties come together pretty easily and in a matter of minutes. However, there is some resting and cooking time involved, so make sure you read the recipe entirely before starting, so you don't get taken by surprise. If you meal prep, these are amazing to make on a sunday, stored in the fridge and eaten throughout the course of the week. One thing which comes in handy when making these patties is a food processor. It doesn't need to be anything fancy like this one, any type will do. I have to admit, I haven't tried making them without a food processor, but maybe grating the veggies finer and chopping all ingredients together might work too. Let me know if you try.
---
Apart from how easy they are to prepare, they are also good for your body and the planet. They are plant-based, which means there is no animal product involved and will still be a crowd pleaser! I promise you, thanks to the spices and their lovely crunch you will not miss meat in your burger at all. Even better, they are packed with nutrients. I won't go into detail here, but carrots and beetroot are both known for their positive attributes and health benefits. If you want to find out more go here for an informative read. Another plus of this recipe is that you can make it pretty much all year round. Both carrots and beetroot are very resilient and they can be grown pretty much all year round. You probably know, that I'm really conscious about cooking seasonally. I believe that with our food choices and especially with not buying out-of-season products we not only do something good for us and the planet, we also set a statement as consumers.
Before I leave you with the recipe, a quick word about buckwheat. If you've never used buckwheat before, do not fear! Nowadays you can buy buckwheat kernels in pretty much any supermarket (best would be to source it bulk in a shop like this one to avoid unnecessary packaging). Just head to the health isle or look for the gluten-free section. Which brings me straight to one of the best attributes of buckwheat. It is gluten-free, which means anybody sensitive to gluten or wheat products can enjoy these patties as well. And even though it's name might suggest otherwise buckwheat has nothing to do with wheat. In fact, it's not even a grain, it's a seed, just like amaranth or quinoa. If you wanna find out more, here's an article to get you started.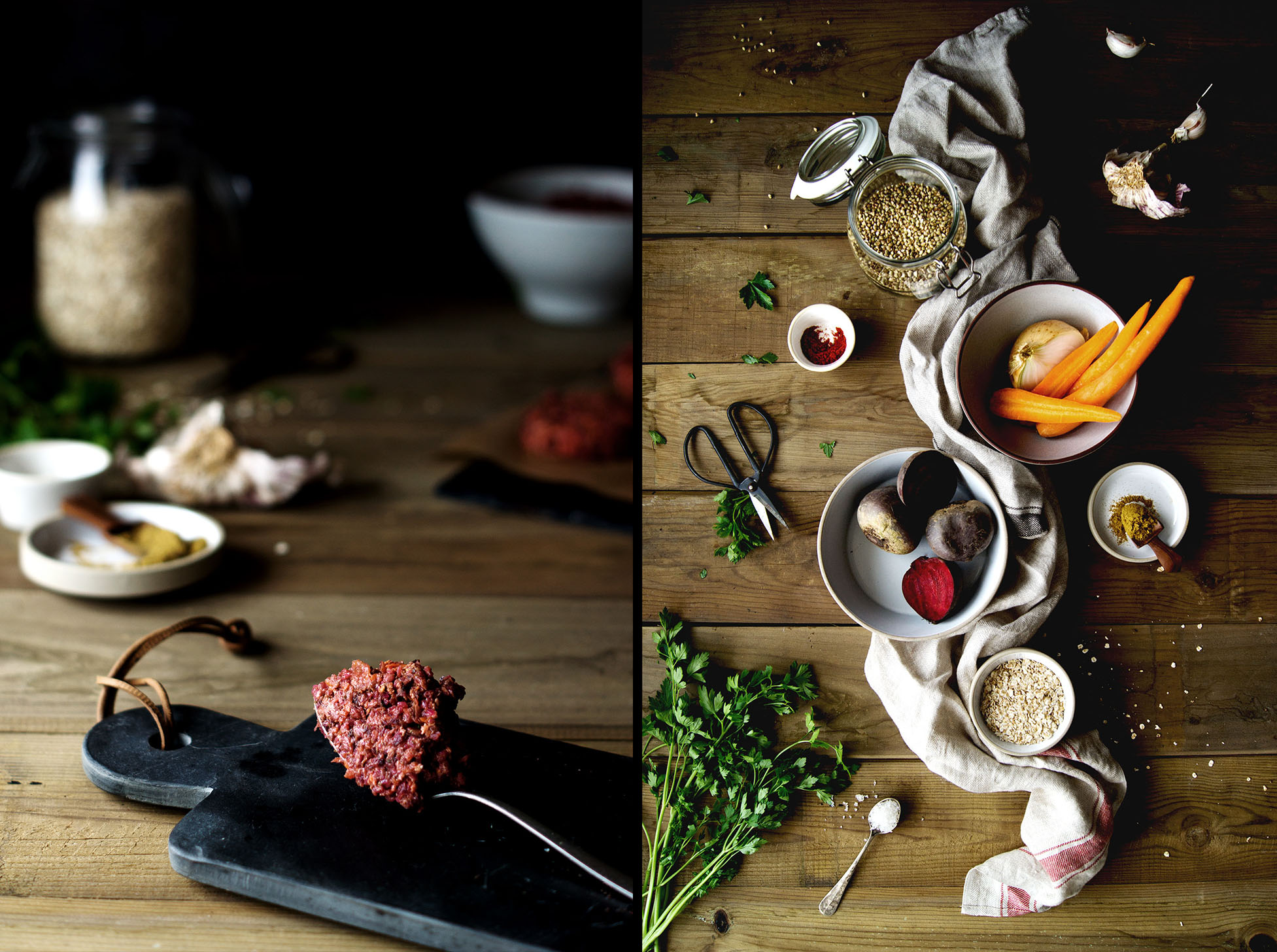 ---
Lastly, a word of caution. These patties are vegan. Thus, they don't make use of any egg as a binder. Which means that you have to press them together carefully and be gentle when flipping them half-way through baking so they don't come apart. I've had very good experiences with the texture and the binding every single time, but vegetables tend to have different levels of fluids in them according to the season and where they are from and how long they've been stored for. So, if you feel like the mixture is not holding together well, try adding a little bit more oats or oat flour. And/or let the mixture rest a little longer, so the oats absorb more liquid. This should do the trick.
Well, this one did turn out longer than expected! Enjoy the recipe and as always, let me know in the comments how you liked it and don't forget to tag your creations #themellowkitchn and/or @themellowkitchn – I'd love to see them!
Lots of love,
Anna
P.s.: Please find German recipe below