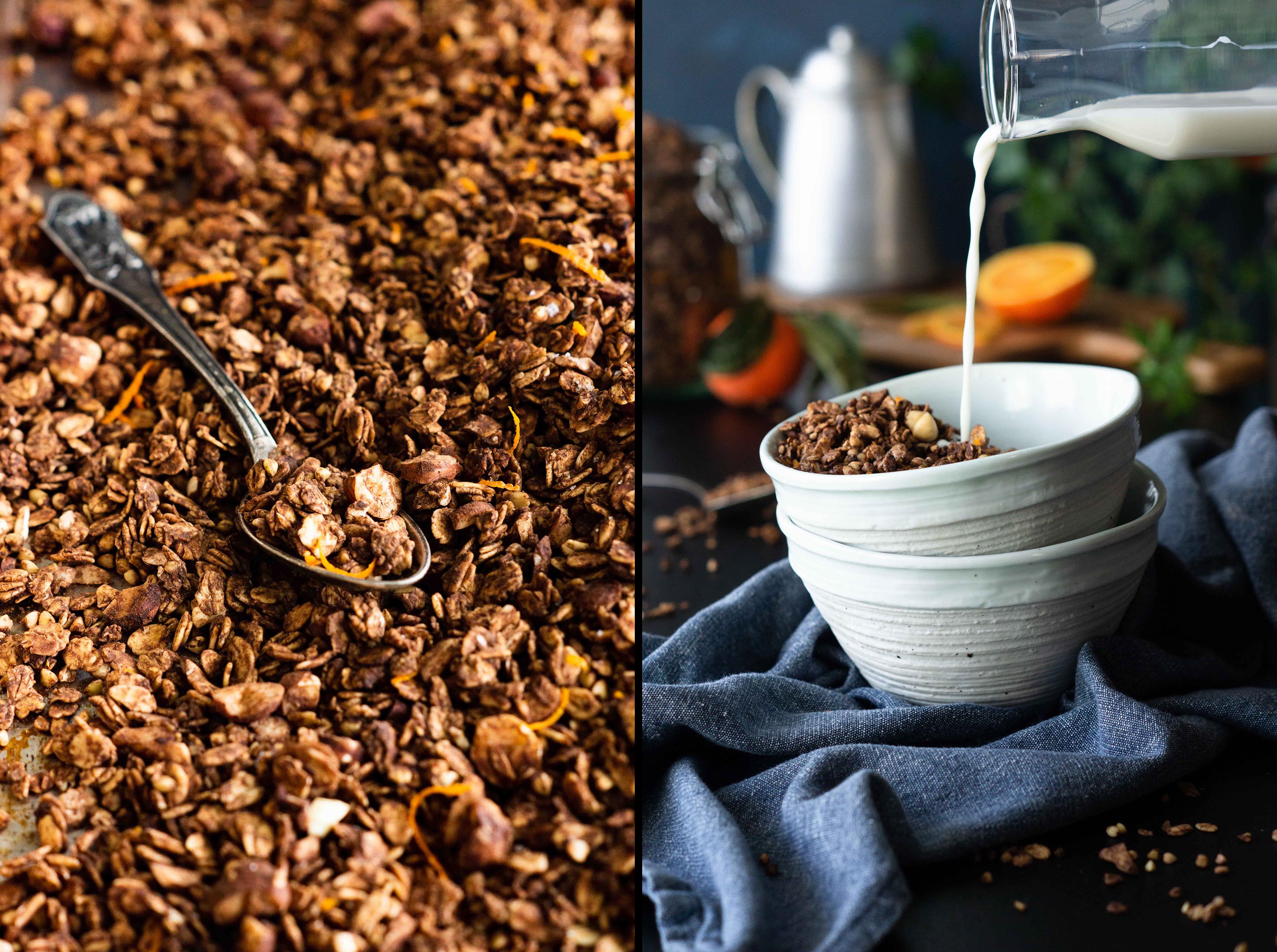 ---
Let's be honest my friends: winter can be dreary… with temperatures around zero (at least in most some parts), snowfall, thunderstorms or rain showers, and short days drifting into early nights it can be a challenge to keep a sunny attitude. And it's only natural that in times like these we crave healthy yet satisfying food that lifts our spirit. Treats, snacks and dishes that compensate for the outer circumstances, so to say…
This wintery homebaked granola is just that!
It's…
nutritious – thanks to buckwheat groats and hazelnuts.
packed with flavour – yes, I'm looking at you cinnamon and orange zest.
naturally glutenfree & vegan
refined-sugarfree – yet, perfectly sweet due to maple sirup and coconut sugar.
healthy enough to not make us throw our new-year's resolutions out the window just yet.
And, I promise you, it will let the sunshine back onto your breakfast table and into your belly.
Apart from all these obvious benefits and advantages over store-bought alternatives, I love making my own granola because it's yet another way for me to reduce my waste. Especially, hidden additional plastic bags that you often find inside cardboard boxes. I buy all ingredients in bulk and bring my own containers (old jars) with me when doing so. Makes both me and the planet happy. You can find a list of package-free supermarkets all over the world here.
And now, it's time to make some granola!
Simply mix all dry ingredients in a bowl, pour over the wet ingredients and give it a good stir. Spread everything out on a baking tray – no need for baking paper if your baking tray is clean, or why don't you try some reusable baking paper next time? Bake for 30 mins, rotating and flipping half way through and voilà – your homemade Chocolate Orange Hazelnut Granola is ready!
Of course, you can swop out the ingredients according to your preferences. If you prefer almonds over hazelnuts, no problem at all. Or your intolerant to nuts? Mix in some sunflower or pumpkin seeds instead. Everything's possible. Chocolate is not your thing? Why don't you try my Simple Coconut Pumpkinseed Granola – it's one of my all-time favourites and I'm sure you'll love it too.
P.s.: If you make the recipe, please leave me a comment below or on Instagram @themellowkitchn – I'd love to hear how you like it!