Is your garden overflowing with zucchini's at the moment as well? If that's the case or you just love this versatile summer vegetable as much as I do, I've got you covered with this easy appetizer recipe. Grilling zucchinis is such a wonderful way to get the most flavour out of this crowd-pleasing vegetable. And when you then just add a high-quality virgin-olive oil, some salt & garlic, nothing can go wrong if you ask me.
---
I love serving grilled zucchinis as an additional side to my favourite Burger or on a Pizza Margarita. But when I'm in the mood for something much simpler and lighter, I turn them into a quick starter using crispy ciabatta or baguette topped with some quickly whipped-up feta. Just imagine biting into a slightly warm, crunchy piece of bread with a cream of salty feta topped with some garlicky, roasted zucchini.  Can there be anything better?
The ultimate Summer on-a-plate experience if you ask me. But try it yourself. I'm sure you won't be disappointed.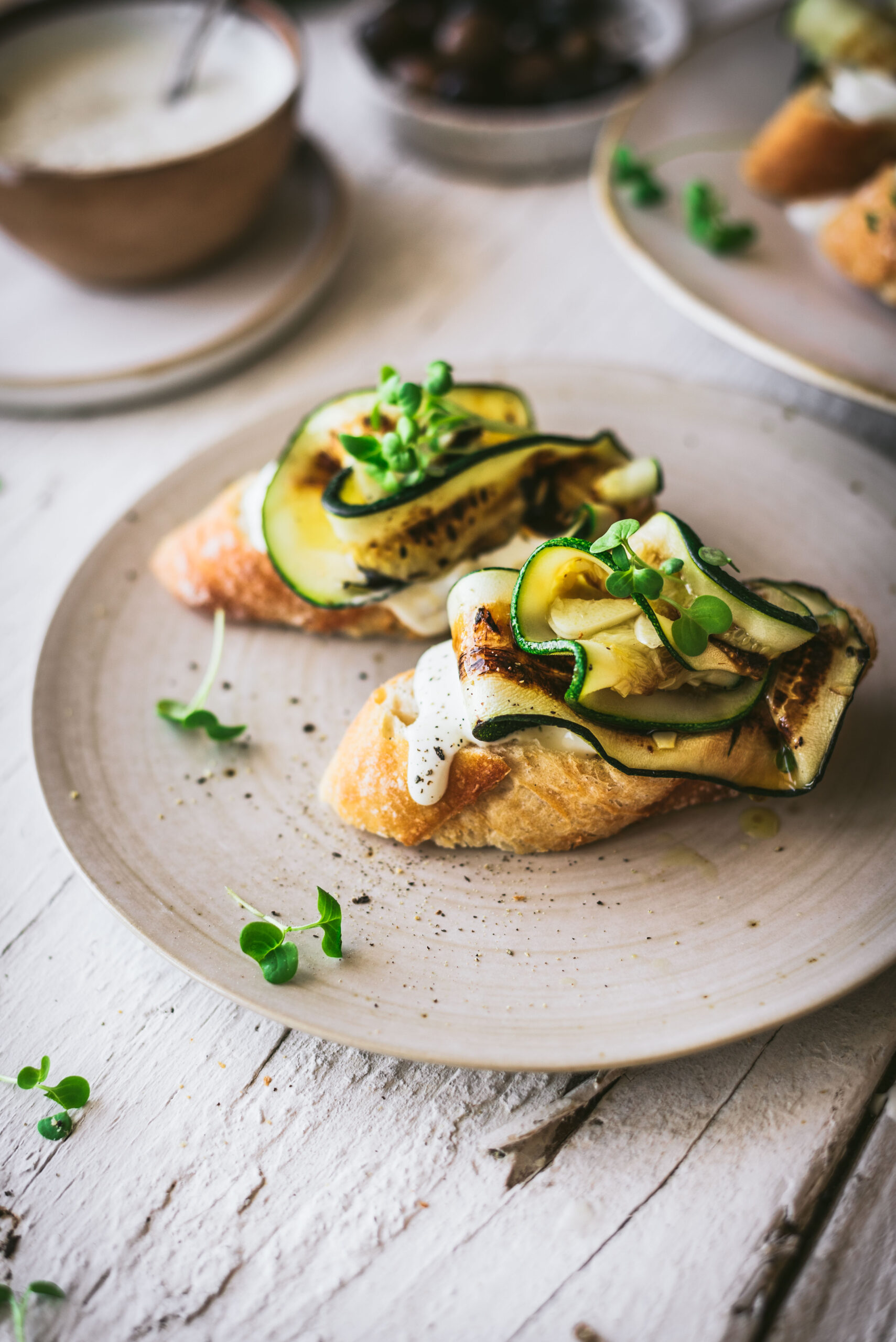 ---
What I LOVE about this recipe:
It's easily prepared in less than 15mins 
It's great to use up old bread or leftover bread
It can easily be made in advance
And, it's an absolute crowd-pleaser
If you do try this recipe, leave me a comment below or head over to my Instagram page @themellowkitchn & leave me a comment over there. I always love to hear from you!
Hope you're having a wonderful, relaxed Summer!
Lots of love,
Anna
P.s.: You can also pin this recipe on one of your Pinterest boards or share it with your friends if you like.
P.p.s.: And if you're looking for more recipes to use up your garden Zucchini's, how about this cake or this savoury galette?