This simple Lemon Tomato Zucchini Linguini have rapidly become an everybodies darling around here. Easy, quick and so delicious! A creamy white sauce with hints of lemon and tomatoes topped with roasted zucchini make an incredibly yet not overwhelming comforting pasta dish. Easy to make as a quick dinner or lunch and flavourful enough to serve at a special occasion, this meal is equally simple as it is special. A true family favourite that everybody will love!
Scroll down for recipe in English & German.
---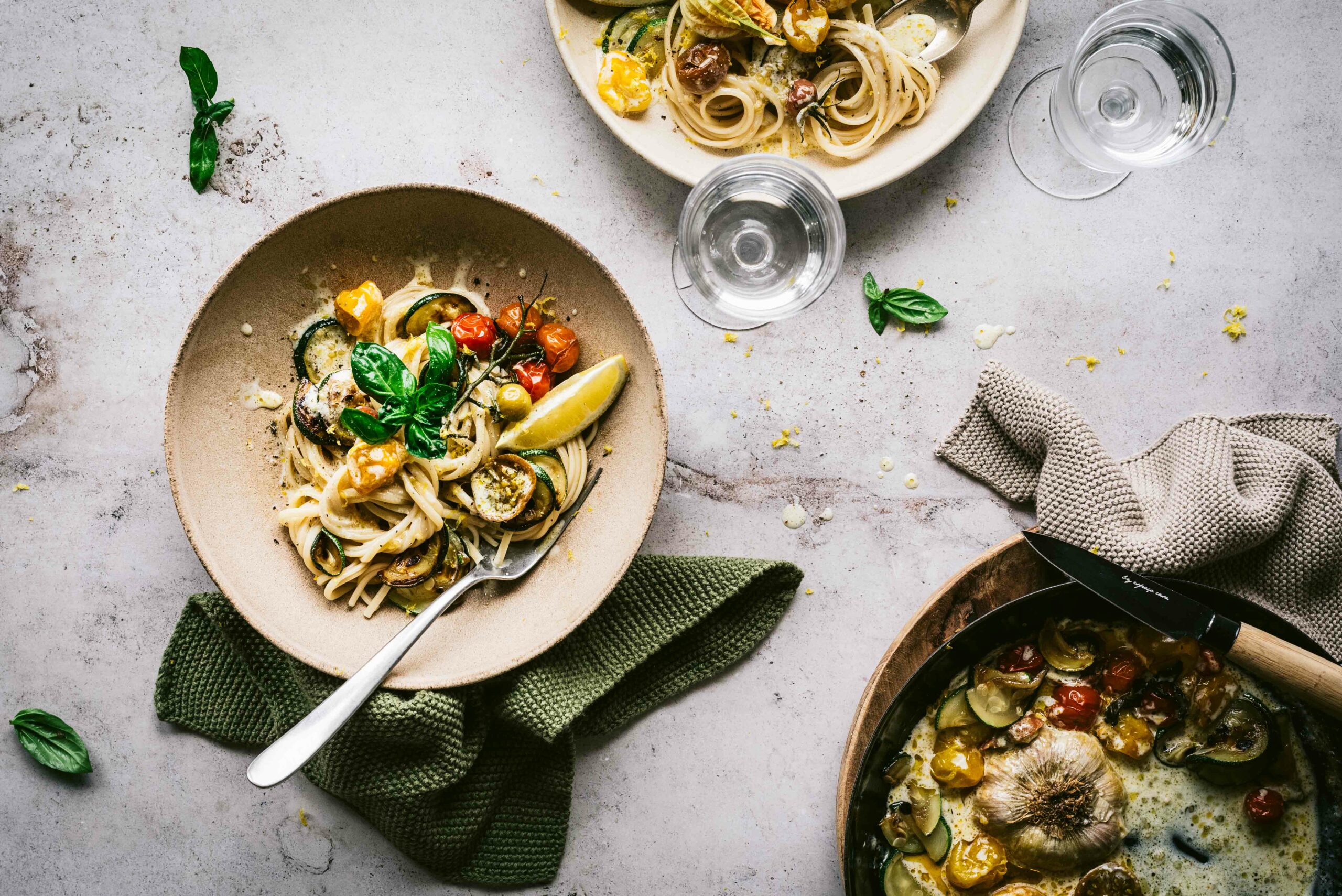 ---
September might just be the perfect month for cooking and trying out new recipes. As the temperatures drop I enjoy it a lot more to crank up that oven and get cooking. And at the same time we're surrounded by a variety of different produce that makes my heart skip a beat. Strolling through the farmer's markets this time of year is like walking through wonderland – the colors, the smells and the abundancy of fruit and vegetables make me instantly happy and leave me wanting to run right back into my kitchen.
So that's exactly what I'm doing!
---
What you have to do to make this meal
As I said before, this pasta dish is really simple and so is everything you need to do to get from a shopping list to a finished plate on your table. But let's start at the beginning.
Zucchinis, cherry tomatoes, lemon, garlic, whole cream, good quality linguini or papardelle, a bit of olive oil and, of course, salt and pepper. Some fresh herbs also don't hurt. I opted for basil but fresh thyme or oregano would also be a nice addition. Sprinkeling extra parmesan on top is optional and, if you ask me, not even necessary with this flavor-bomb. But I also won't judge you if you add a portion of umami-rich grated parmesan cheese for even more comfort and soul soothing.
---
Once you've gathered all your inredients, start by bringing a big pot of water to the boil. Pasta wants to swim like a fish, so do set yourself up for success with this simple rule: for 100g pasta you need at least 1L of water. While the water is coming to the right temperature prepare your sauce. Start with roasting the slizzed zucchini in a pan for a couple of minutes. Then use the same pan to roast the tomatoes with some olive oil and garlic, add the cream and zucchinis back into the pan. Season with fresh herbs and, of course, grated lemon zest, lemon juice, salt and the always welcome ground black pepper.
That's basically it. Add your al dente cooked pasta, stir through and treat yourself and your loved ones to a delicious, comforting meal.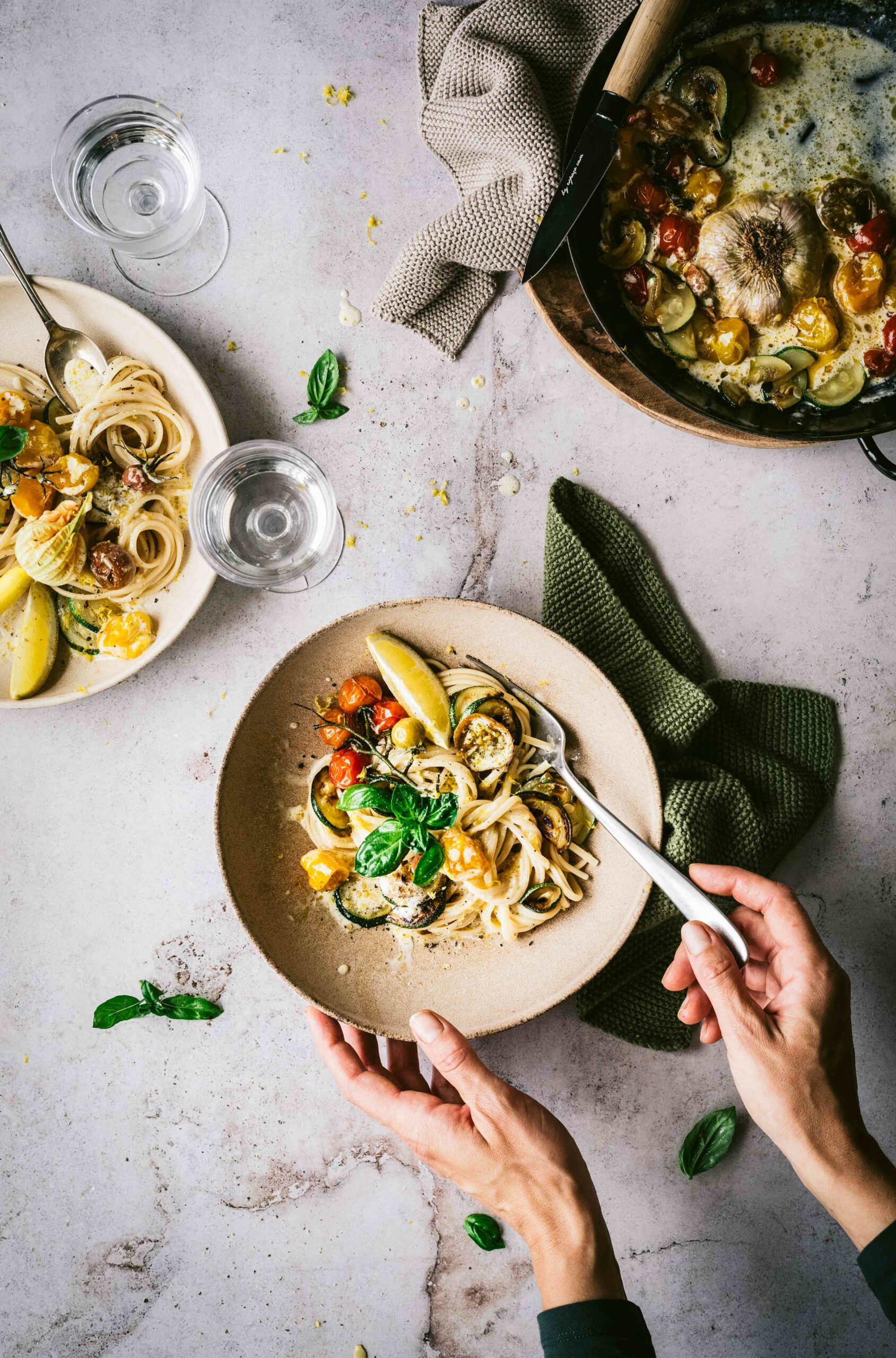 ---
Looking for more simple comfort meals? Try:
Curry Noodle Soup with green veggies
Roasted Hokkaido and Kale Fettuccine
Vegan Moroccan Sweet Potato Stew
Roasted Hokkaido Millet Risotto
Lastly, if you do make this recipe be sure to leave me a comment or share a picture of your meal with me over on @instagram. It always makes my day when I hear from you or even see how the recipe turned out in your kitchen.
Lots of love,
your Anna!
P.s.: Scroll down for the German recipe!