When I'm wandering the internet or scrolling through Instagram or Pinterest, I'm constantly amazed by the abundance of delicious looking recipes out there. I sometimes end up almost drooling all over my screen. Can you relate? And isn't it great, that we have so much goodness ready at the click of a fingertip? I still remember the times when I looked at badly photographed cook books or random pictures people snapped with their point-and-shoot camera to go with a recipe they shared. And I gotta say, I'm happy these times are in the past.
Also, it's no secret, that I enjoy to take part in the occassional food photography challenge or collaboration. In fact, I just challenged myself to follow 9 photography prompts over the last 3 weeks in the #eatcaptureshare challenge hosted by Kimberly Espinel from The Little Plantation. And the picture below is actually one I shared in the challenge. If you wanna check out my other entries, head over to my Instagram account and scroll through my feed.
---
But why am I telling you all this? Well, I wanna let you in on my creative process. I want to let you look behind the surface, so to speak. Coming up with mouthwatering food photos these days is nothing than can be done in the instant of a second. It needs time, it needs planning and, above all, it needs inspiration. Other recipes, food pictures, challenges and collaborations get my creative juices flowing. They inspire me to take out my camera and shoot. And to create new dishes and recipes for you, me and the world.
Sometimes these recipes just end up on my own dinner table, sometimes they don't even make it to be cooked at all. And sometimes I create something that I just need to share with you, even if I haven't cooked it for numerous times (yet). Like this recipe. But before I tell you about the actual recipe, I want to give credit where credit is due. This exact recipe was inspired by one of the greatest recipe creators out there. Tieghan is a powerhouse when it comes to wholesome, delicious recipes, at least if you ask me. And while her catalogue is not vegetarian like mine, I sure enjoy all of her creations (even if I just end up looking at her appetizing pictures). I highly recommend checking her out.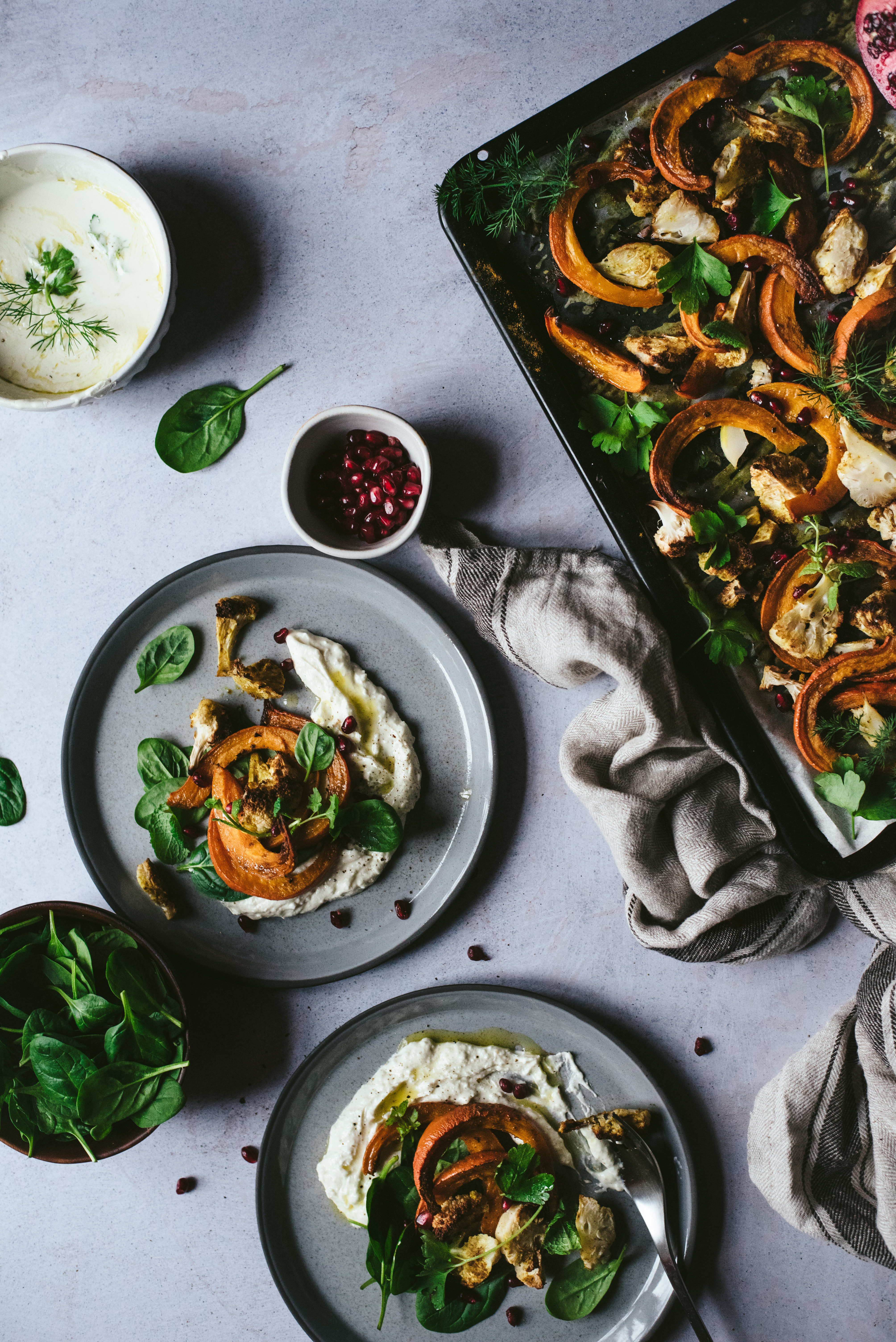 ---
But let's dive into it and talk about this recipe. It is, in fact, super simple. There's the base, which is the creamy whipped feta. Which is topped with a generous serving of fresh baby spinach. If you can't find baby spinach atm, feel free to sub it with another leafy green like arugula or watercress. On top of that, there's the roasted hokkaido and cauliflower. Still warm, yet not hot. All of this is showered with some fresh herbs, juicy pomegranate seeds and a generous drizzle of olive oil. Creating a luxurious mouthfeel and overall a dish that can easily be served at a dinner party. Yet it's easy and quick enough to be your everyday lunch or light dinner.
I created the recipe as an appetizer. Thus, the portion size is for 4-6 people. However, if you serve it for lunch or dinner it'll probably not feed more than two. I suggest you serve it with some crusty rustic bread to soak up all the creamy goodness. And I'm sure there will be nothing more left on your plate than some scattered crumbs. At least that is what happened here.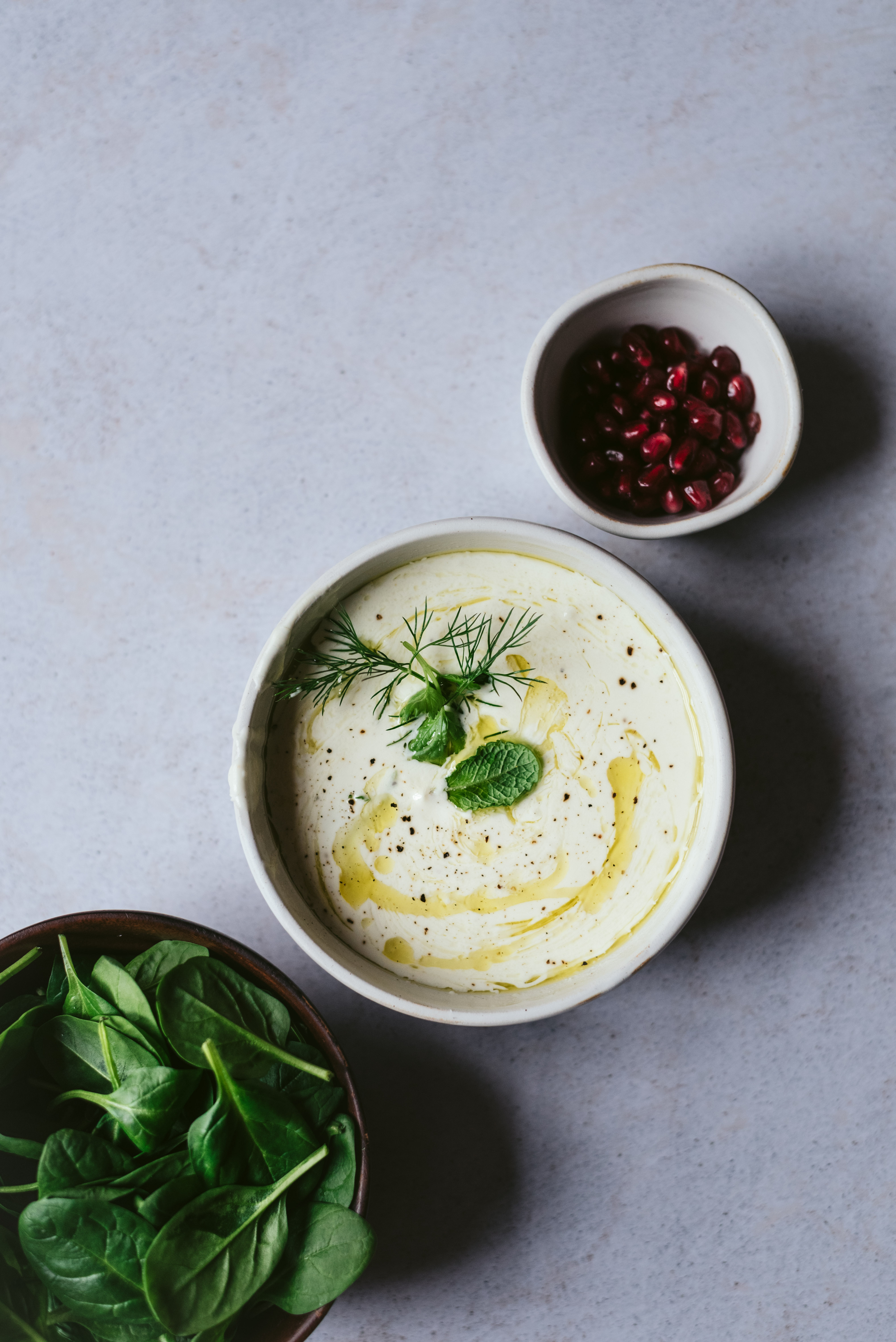 If you happen to make my recipe, it would honestly mean the world to me if you'd left me a comment below or on Instagram. And if you haven't yet, why don't we become friends on Instagram or how about you check out my boars on Pinterest.
Looking forward to see you again soon!
Lots of love,
Anna