To be honest, baking bread is something I do not do so often. But when I do it makes me truely happy. Working the dough, proofing, kneading, shapeing. All these physical tasks are just so rewarding, don't you agree? If you've never baked your own bread, I promise you, there's nothing to fear. While some recipes and doughs are a bit trickier and do need time and caring, this swirled wild garlic pesto bread is fool-proof and it needs nothing more than a bit of kneading with your regular kitchen machine or hand-held mixer and not even 1 1/2 hours for proofing.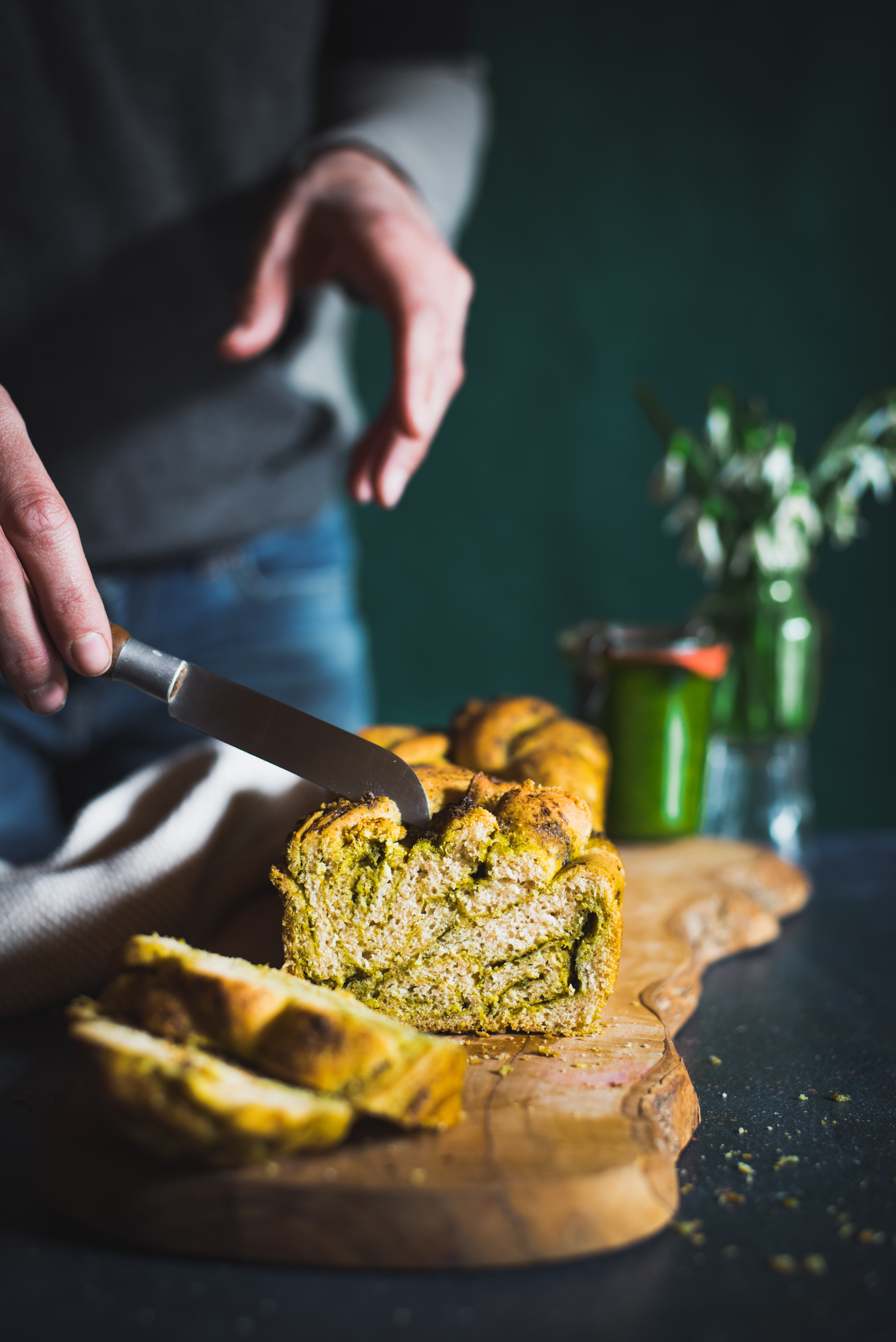 ---
The recipe is enough for 1 tin loaf of bread. And about 2 small jars of pesto, while you'll only need roughly half of the pesto to make the bread. So you'll have additional homemade pesto to either eat with cooked pasta (hello, dinner) or stir into a creamy soup or simple risotto. Either way, I'm sure you'll find a delicious way to use the pesto. If you want some inspiration head over here or here.
Wild garlic pesto is really what makes this easy bread special. However, if you don't have wild garlic available where you live or it simply isn't the season to forage these delicate leaves, you can easily substitute with basil, parsley or another herb of your liking. To me, the moment when wild garlic starts emerging in the Austrian woods is the true sign of spring coming. The days are getting longer, the sun-rays stronger and eventually a garlicky smell starts emerging from the ground. And through dry leaves and fallen branches, vibrantly green leaves begin to make their way towards the sun.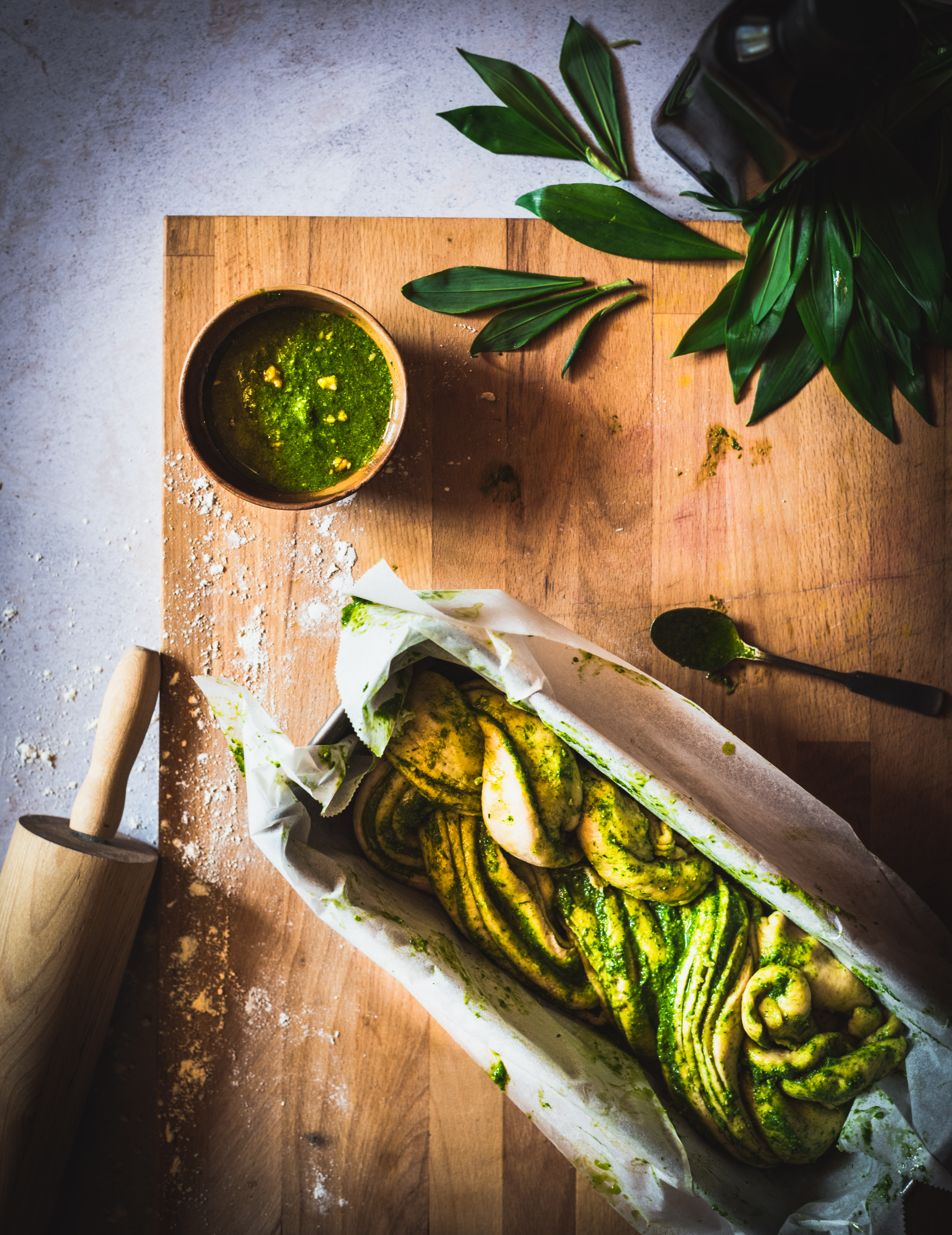 ---
It's those early days of spring that really lend themselves to collect wild garlic. At this point there is almost no risk to accidentially forage lily of the valley or autumn timeless. Two plants which, similarly to wild garlic, have broad green leaves and also grow in humid woods. I have never encountered them nearby wild garlic, but if you're unsure better check with an experienced friend or professionl whether you've really collected wild garlic before using it.
Before I let you go, I wanna talk real quick about the bread or bakba, if you want to call it that. Babka is traditionally a sweet Jewish twisted bread and just like traditional babka, my savory version relies on oil instead of the nowadays found hip butter-dripping recipes. While this makes a more sturdy version, it also works better with the garlicky pesto flavors. And, above all, I can keep the bread vegan without having to go the extra mile to get vegan butter to bake with. The dough comes together easily. A bit of lukewarm almond milk, dry yeast, salt, oil and flour. Pretty basic, right? I use spelt flour, a mixture of whole-wheat and white spelt flour to be exact. This way it's richer and more wholesome but still airy and light.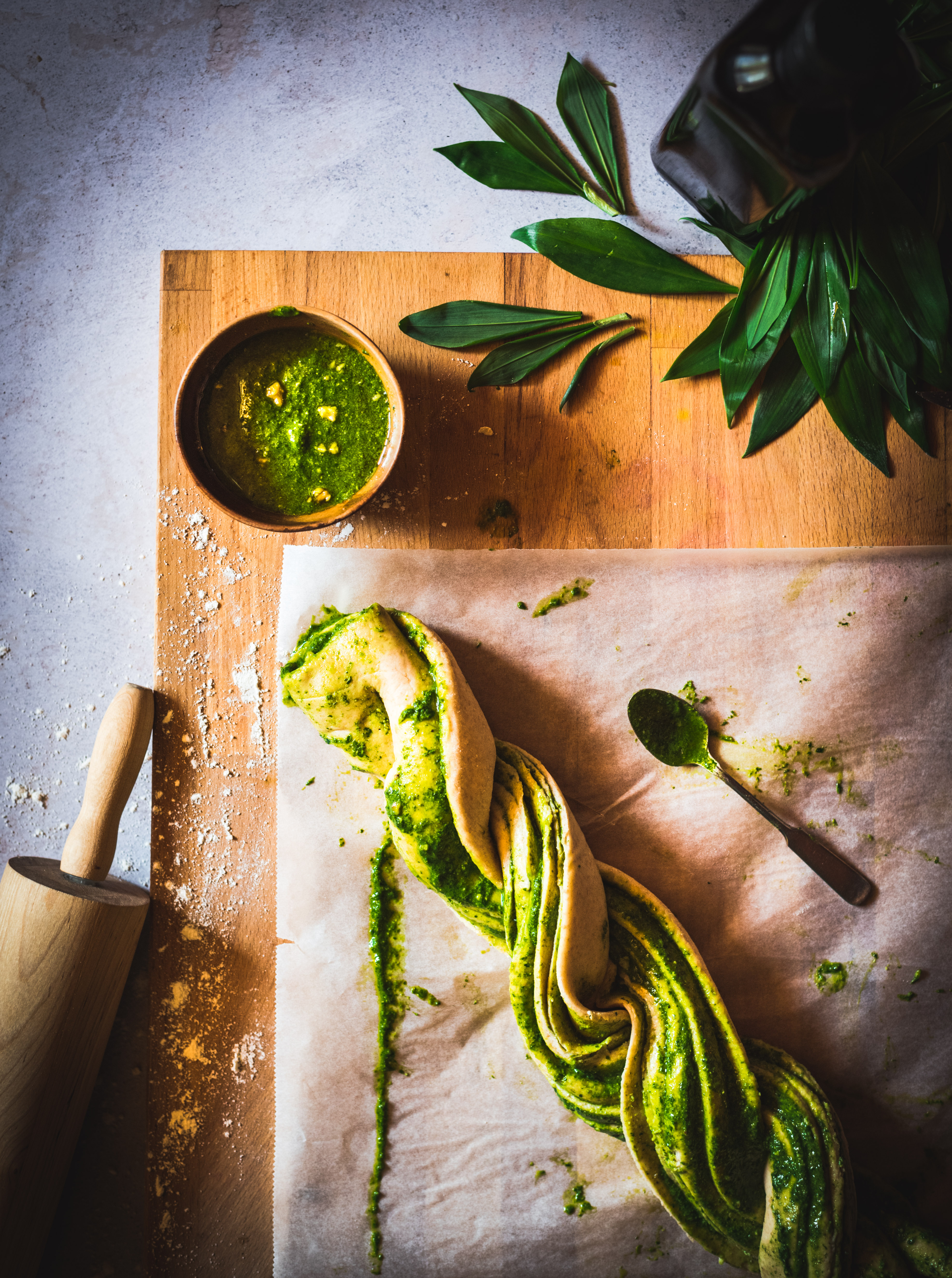 ---
Once the dough has been kneaded into a smooth, elastic ball, it needs to be proven. About 1 hour in a warm, sunny spot will do. If it's a cold day you can also put the dough into the oven with the light on. Just make sure there's really no actual heat coming off from the light source otherwise your dough will get dry and build a crust. After the dough has doubled in size you simply punch it down, roll it into a 1/2-1cm thick rectangle. Spread your homemade pesto over the dough and roll it into a tight log. Now, you could also cut the log into rolls and bake cute little pesto rolls. Or you do what I did. You cut the log into half, lengthwise, and twist the strands into one loaf. Then you transfer it into a sandwhich baking tin and you're good to go.
That's it. Soon garlicky, oily flavors will start filling your kitchen with the most wonderful smell of spring. And after about 40 minutes you're bread is ready to be enjoyed alongside a simple salad, a creamy soup or just as it is. The bread will keep soft and nice at room temperature, wrapped into a cloth, for about 5 days. But it's best enjoyed on the day of baking.
If you make the recipe I'd love to hear how you liked it! Comment below or tag me in a picture on Instagram. You can even save the recipe on your pinterest page if you like.
Take care & stay safe!
Yours, Anna