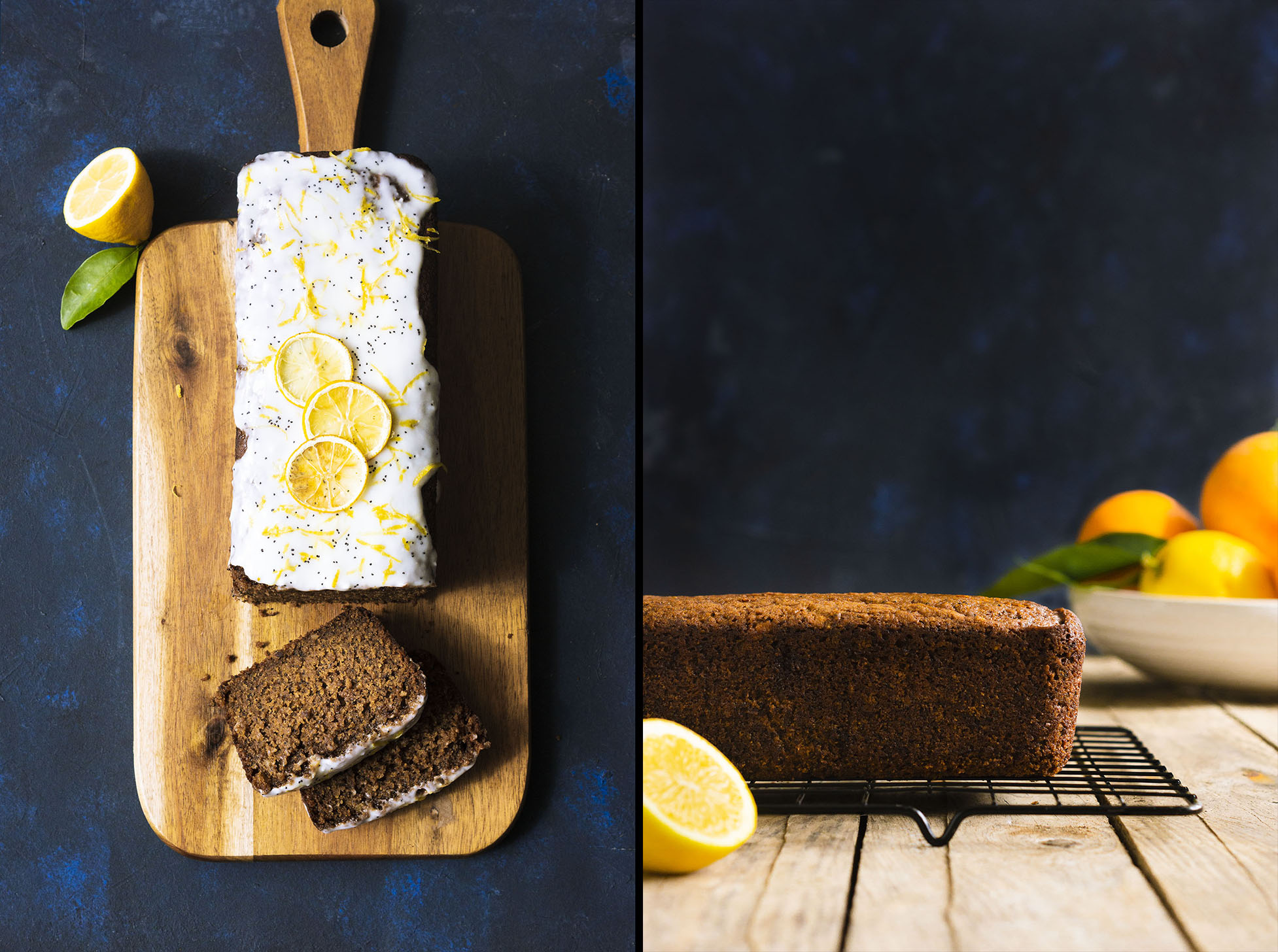 ---
A simple no-mixing recipe brings you this super-moist, vegan loaf cake. Zesty citrus paired with flavoursome poppyseeds, almonds & olive oil. Dress it up with a tangy yoghurt drizzle and some extra citrus zest or enjoy as it is. This easy-to-make loaf cake is a pure delight! Fresh, not too sweet, full of flavours and with a beautiful crumbly texture.
A better choice
When you look through the net you find a lot of lemon or citrus cakes paired with poppyseeds. Most of them feature a light, yellow loaf cake with more or less specs of black poppyseeds. Sometimes they are served plain, sometimes they are glazed with a mixture of lemon and sugar. While I've loved this combination for many years, my citrus poppyseed loaf cake differs hugely from the established recipes. First of all, it's vegan. So, no animal products involved – no eggs, no dairy, no butter. Therefore, it's suitable not only for people following a vegan or dairy free lifestyle but for anybody who is conscious of the impact animal produce production has on our planet or simply said, for anyone, who would like to reduce their impact on our planet and, simultaneously, make healthier food choices.
Which brings me to number two on my list: it's a healthier version of the commonly found version. Instead of butter or margarine I used extra-virgin olive oil in my recipe. And besides regular white flour the dough is made with ground almonds (hello, more healthy fats) and whole spelt flour. Which leads to a slightly darker loaf cake but also to a version with lots of flavour and texture.
As in most of my cake recipes the amount of sugar is on the lower end of the spectrum. And while there are discussions going on whether or not coconut sugar is actually the better alternative to refined sugar, I still found that in this recipe it adds some depth of flavour that is missing in his lighter colleagues.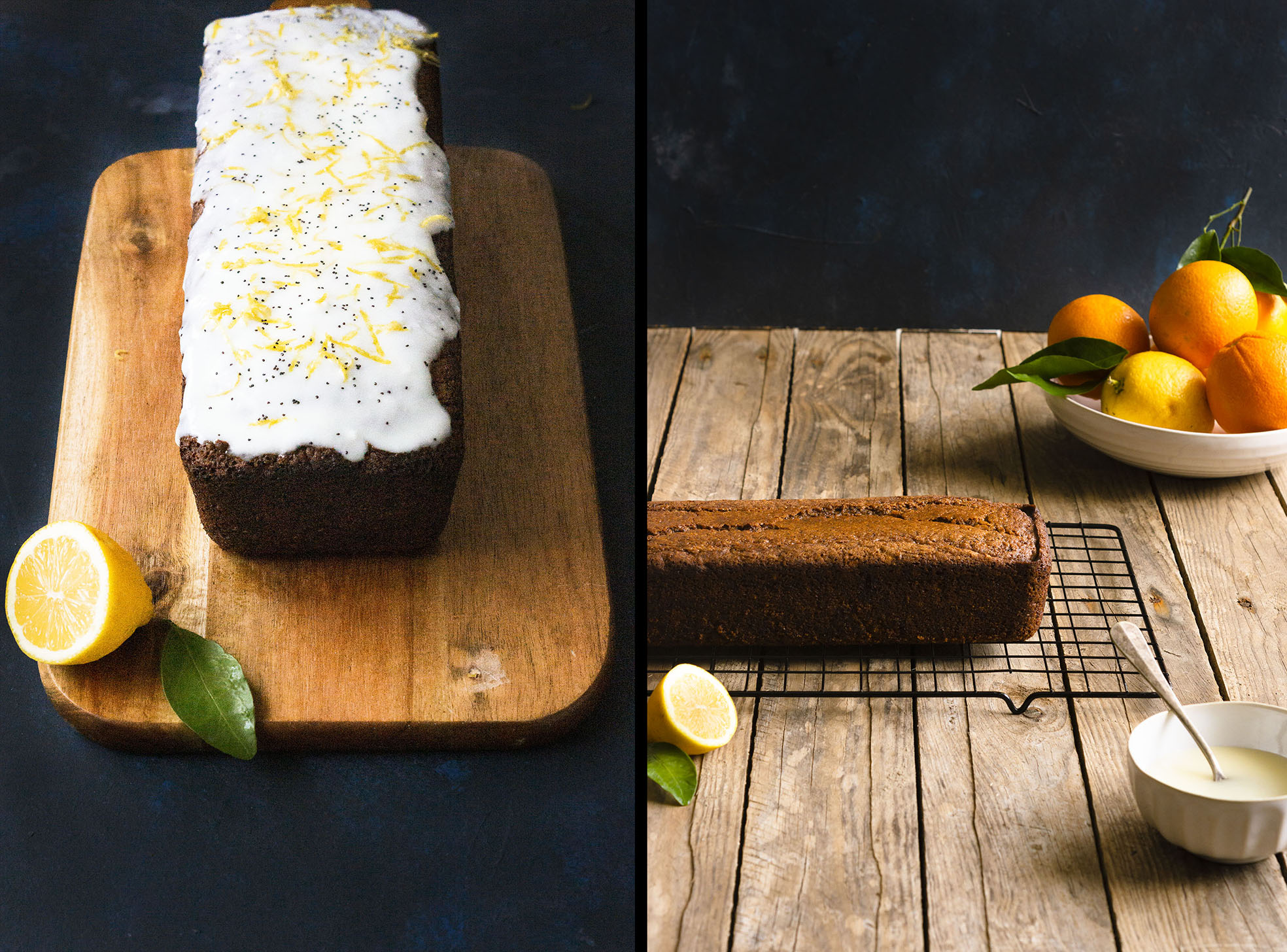 ---
What's my alternative?
Before I leave you with this easy-peasy recipe, I would like to share with you how I ended up creating this cake. When I used to work in corporate in my mid-twenties I had the opportunity to head to London for one or the other occasion. Back then, I was enjoying life at its fullest. Not bothering about my food choices or environmental impact too much. And while I was still living fairly healthy, in the sense that I didn't eat a lot of meat (I was even vegetarian back then for 5 years) and went to the fitness studio, it wasn't my top priority. What I loved most about these trips to the buzzing metropolis was the obligatory coffee break at pret-a-manger (a well-known coffee chain). And while I had my coffee, I blissfully devoured a slice of their lemon drizzle or carrot cake. I still remember the sweet, soft, almost gooey taste and the sugary icing.
Today this has changed into a more mindful direction and I always look for ways to create a pleasant and satisfying eating experience, while keeping my priorities in mind. You all know, I enjoy my occasional piece of cake. But still I enjoy it more and feel better while and after eating, if it's not loaded with sugar and processed. So, when I was reminiscing about old times these cake slices came to my head. Over the last weeks I made several versions of my citrus poppyseed cake and I finally came up with this one.
Now, I do have an alternative to the plastic-wrapped store bought cake that I used to love so much. And I can happily say, I like it even better! And I hope, you'll love it too!