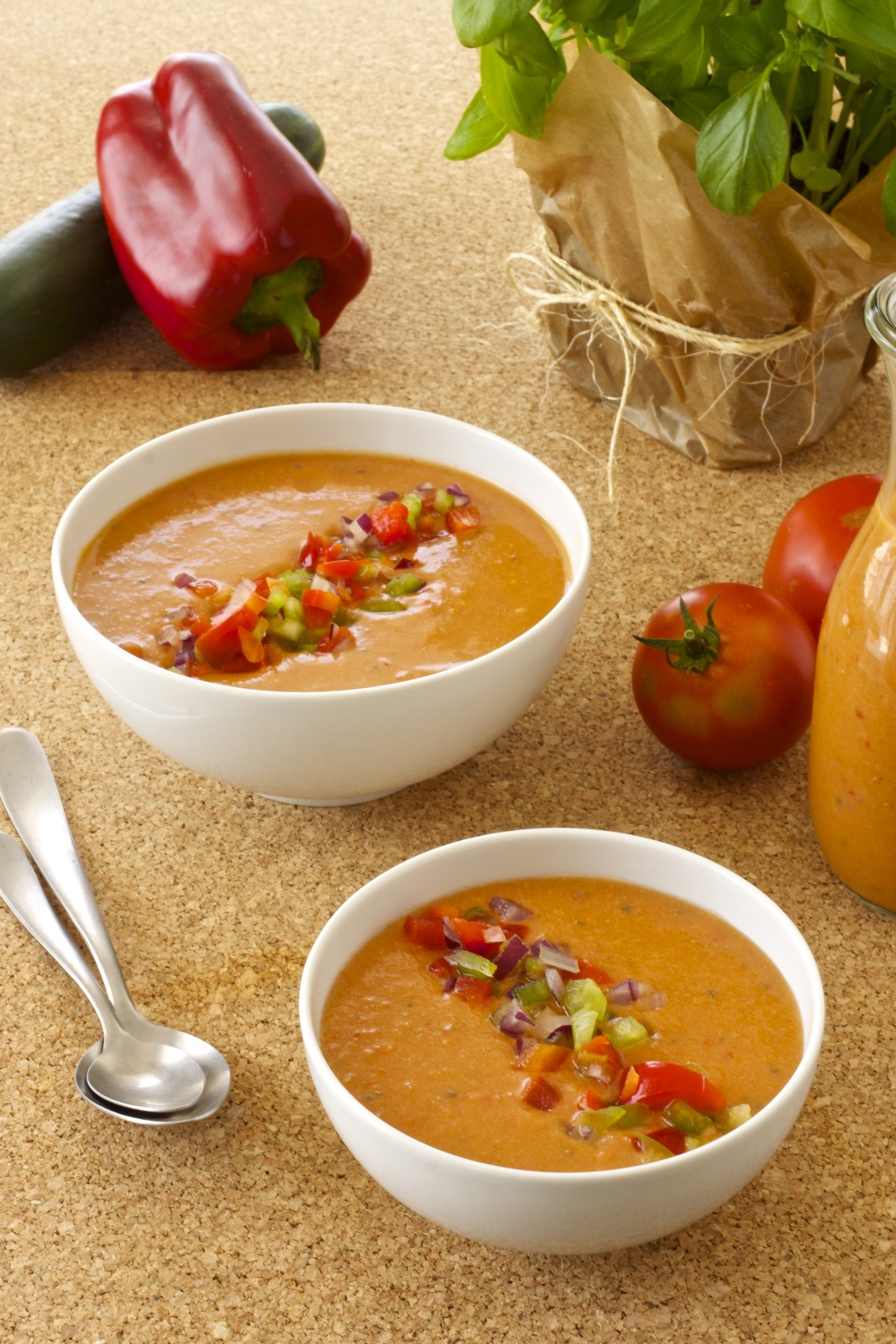 ---
Wow, it's really been a while! Time has been running fast and summer is already at it's peak here in Portugal. Right now I'm sitting in the front yard of my friend's house, enjoying a chilled cup of iced tea while letting the rays of morning sunshine warm my feet. To be honest, the summer here on the central atlantic coast of Portugal hasn't been the hottest or most consistent I've ever experienced. But, there have been really hot days and moments where I wished I had a chilled gazpacho to cool me off from the inside.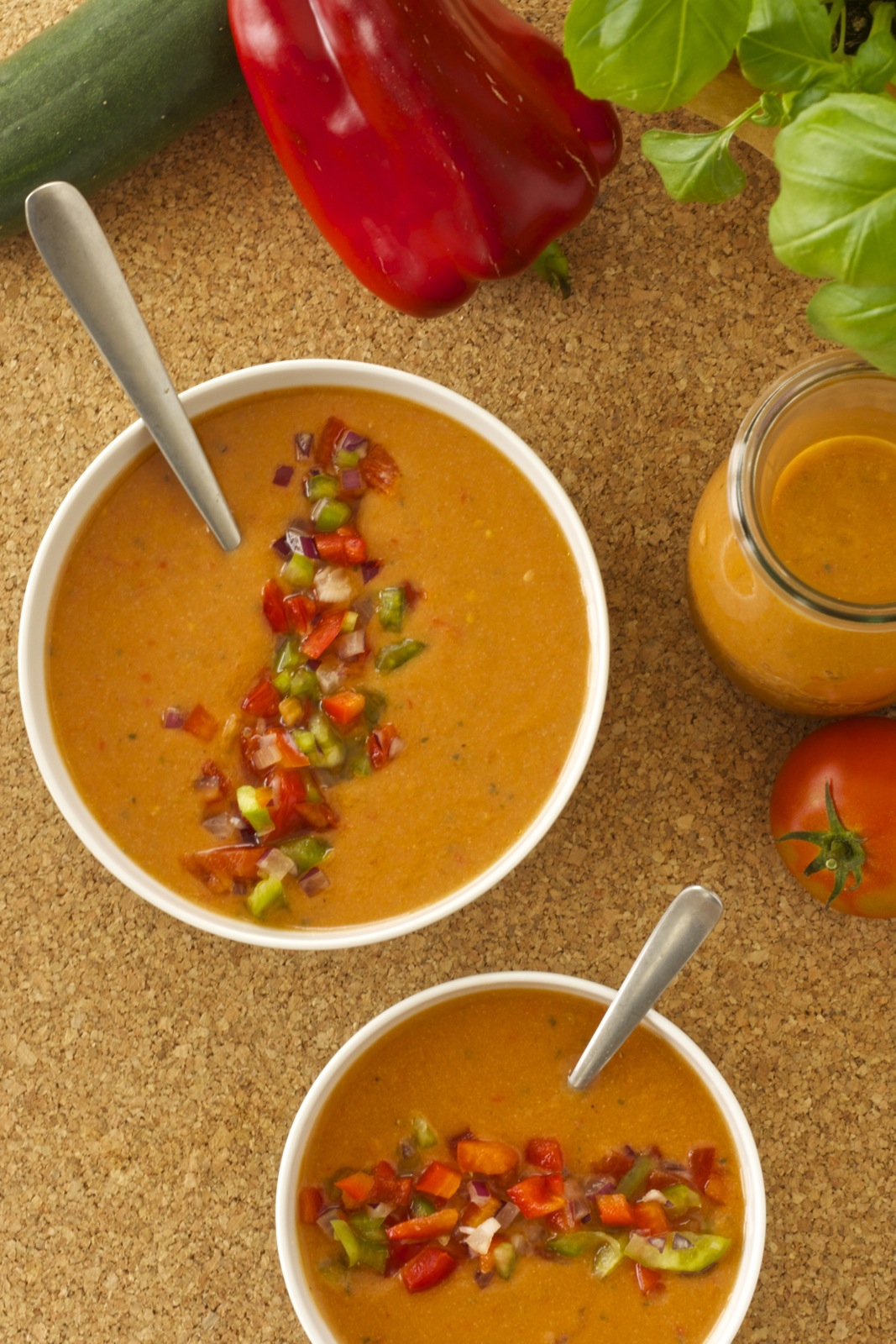 ---
I've already said it more than once, but I'll say it again: I'm a soup addict! I could have soup everyday and usually I like them hot – not warm, but really soothing hot. But there's exceptions to the rule, as always in life 😉 This Chilled Gazpacho is one of them. I will make it when we have lots of sunshine and more than 28 degrees predicted with no wind. It's the perfect make-ahead lunch. Simply blend the ingredients together and place them in little screw-on-jars in the fridge. Whenever you need a savory pick-me-up treat but you don't really feel like eating something heavy, take out a glass and enjoy. Also, it's the perfect addition for any potluck or bring-along get-together. It can be sipped from glasses or slowly eaten spoon by spoon out of a bowl, whichever you prefer.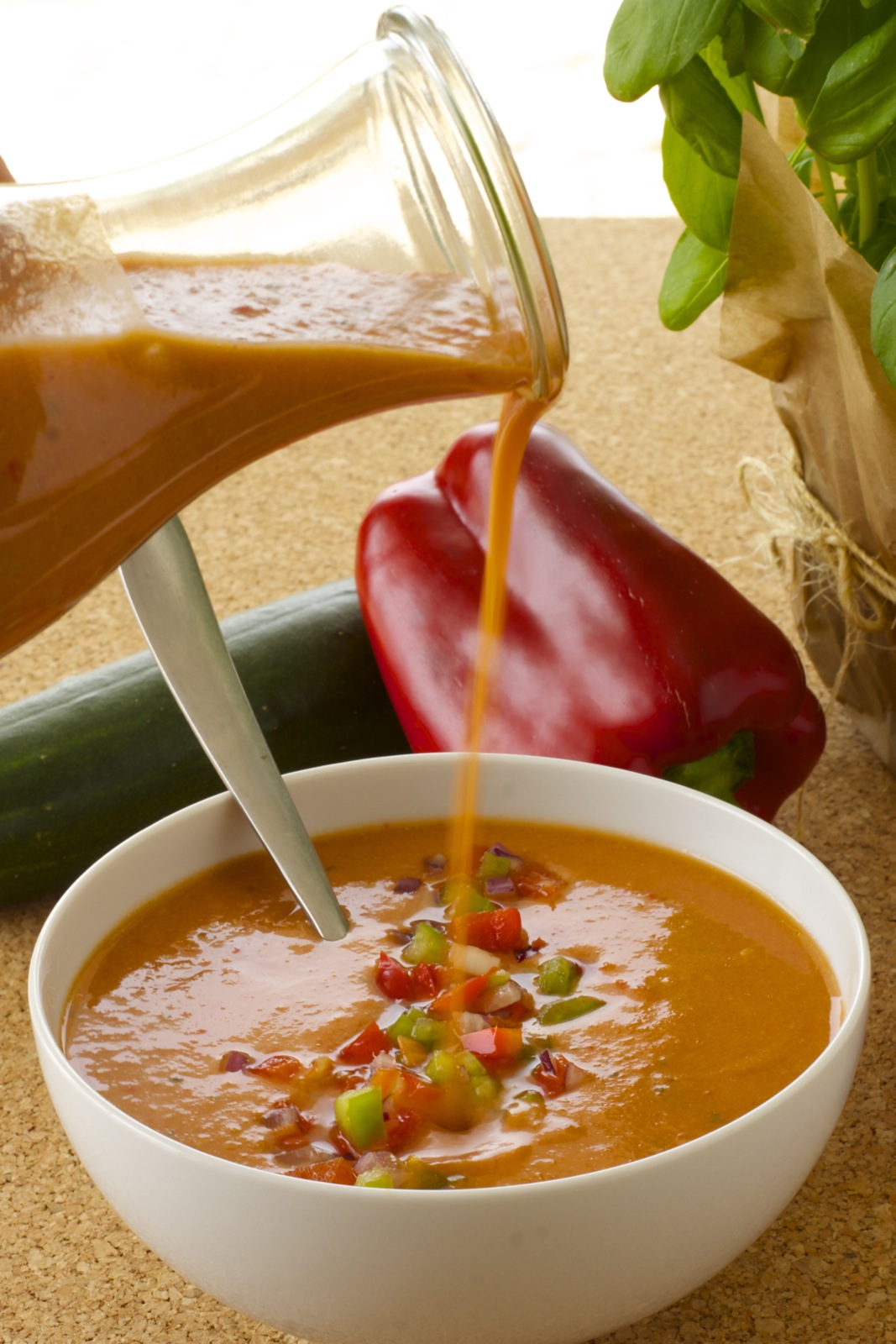 ---
Traditionally, Gazpacho is an Andalusian (Spanish) dish and this is where I've come to love it. I still remember enjoying a glass or bowl of gazpacho or salmorejo (a variety with tomatoes only and traditionally topped with chopped boiled eggs and jamón, i.e. cured ham) on a daily basis, when I visited my friend Serena who lived in Madrid at that time. And I can promise you, there is nothing better to lift your spirits after wandering through Madrid by 40°C or more….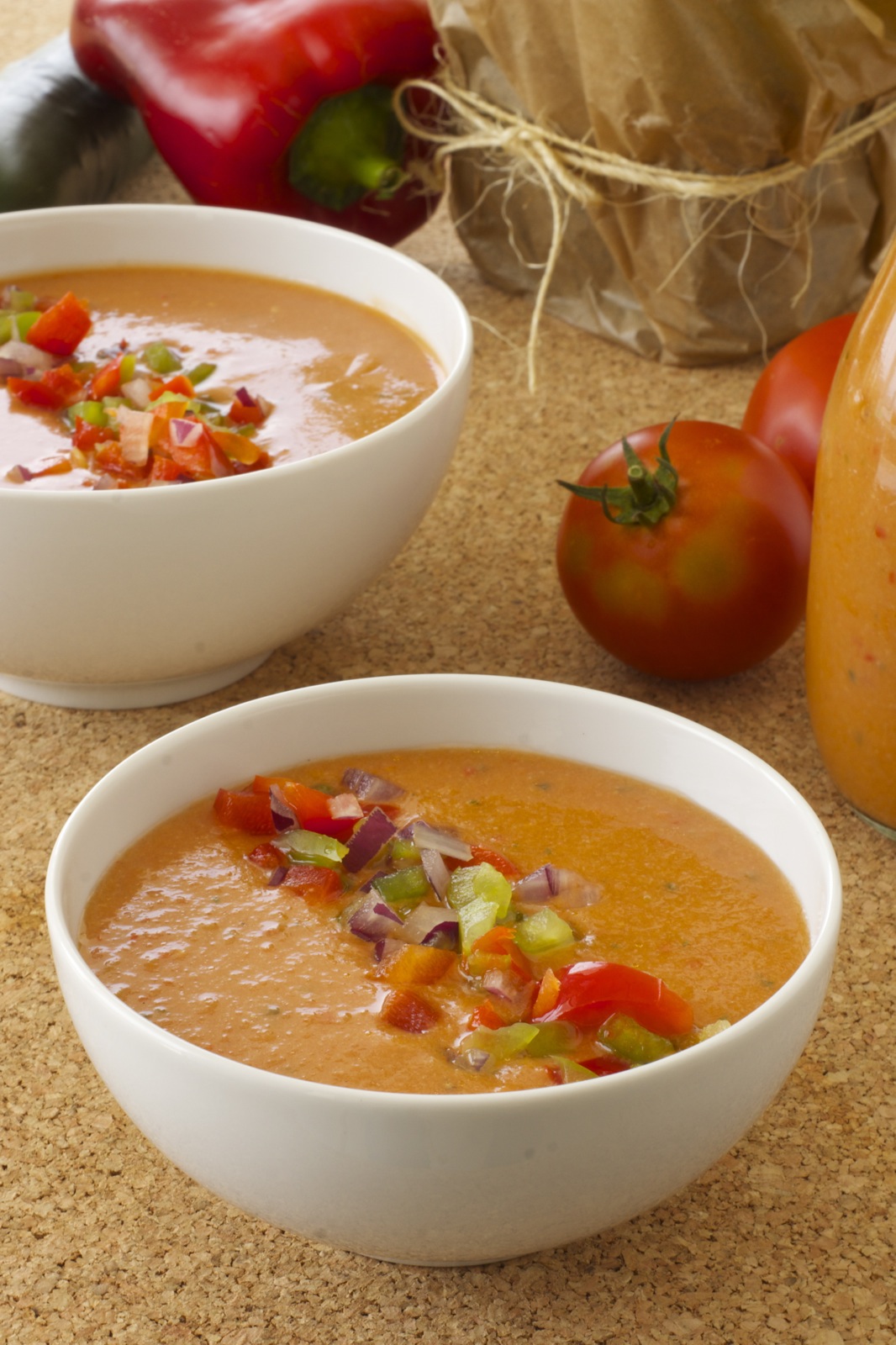 ---
Well, I guess I've said enough. Certainly, my mouth is watering by now! Just one quick heads-up: try to use the ripest summer produce you can find for this easy but sooooooo delicious soup. Your tastebuds will say thank you! Also, this recipe is a great one to use leftover bread that has become to hard to chew. So it's a brilliant way to reduce food waste and, thus, right up my alley. Hope you enjoy it! And let me know in the comments where you'd like to have a bowl of this Chilled Gazpacho right now…
Chilled Gazpacho – for hot summer days
Author:
Prep time:
Total time:
A cool savory treat for hot summer days! The perfect dish to cool you from the inside out. Use the ripest summer produce to get the best flavor experience from this easy yet delicious dish.
Ingredients
125g old, sturdy rustic whole-wheat bread (glutenfree if need be)
500g fresh, ripe tomatoes
1 red & 1 yellow bell pepper (about 150g each)
1 medium English cucumber (about 150g)
1 small white onion (roughly 125g)
2 small cloves garlic
1 small birdeye chili (deseeded if sensitive to heat)
1 tbsp red wine vinegar or sherry vinegar
1 tsp kosher salt
freshly ground black pepper
1 can peeled tomatoes
50-75ml extra virgin olive oil
Instructions
Roughly chop the bread using a sharp knife. Chop the tomatoes, peppers, cucumber, onion, garlic, chili and mix together with the bread in a medium bowl. Squeeze a little to make the juices come out. Season with vinegar, salt & pepper. Cover and chill for at least 20mins.
Place the mixture in a high speed blender or a high 2L measuring cup or pot, if using a handheld blender. Add the peeled tomatoes and 200ml water. Blend until smooth. Adding more water if needed. When you have reached almost the desired consistency start adding the olive oil in a slow stream. Blend until creamy and smooth.
Chill for at least 2 hours, preferably 4-6. Serve with an extra dash of olive oil and some chopped bell peppers, cucumbers, onions or a mixture of all.